Looking for some colorful rainbow snacks for those that love rainbows? Then look no further, we have all kinds of colorful rainbow treats!
Having fun with these rainbow snacks for St. Patrick's day, the month of March, or any day throughout the year you are feeling colorful makes us HAPPY!
If you've spent any amount of time around these parts, then it should come as no surprise, the rainbow is our jam! We love all things rainbow and colorful! Rainbow crafts, treat, you name it!
If you love rainbows as much as we do, then don't miss our most popular rainbow posts including Rainbow Punch Pinata, Rainbow Vertical Garden, and Mini Rainbow Pinatas.
We've highlighted all our rainbow fun and all kinds of other fun kid's crafts and printables in our March Crafts along with our 101+ Easy Craft Ideas for kids.
Rainbow Snacks Ideas
With how much we love rainbows and all things rainbow colors, we had to bring you some of our absolute favorite rainbow snack ideas.
These snacks are all great for a rainbow party, St. Patrick's day snacks, or any school snack throughout the year. These colorful treats are sure to bring healthy rainbow tasty treats to your whole family.
Of course, if you are looking for a fun drink to go along with your snacks, then don't miss our fun St. Patrick's Day drinks.
Here are some of our favorite fun treats.
By Made with Happy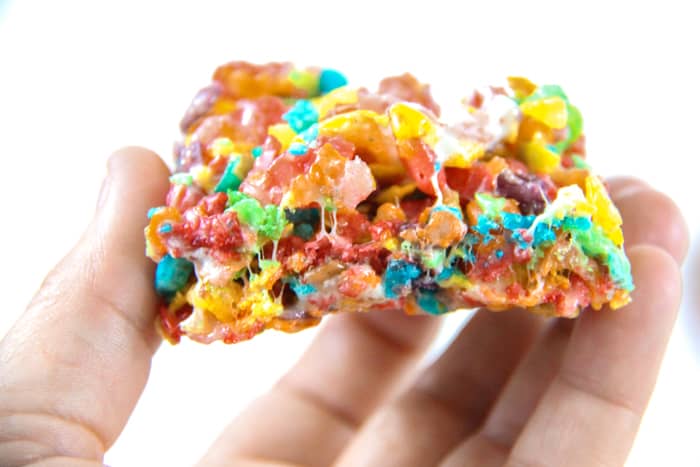 Have the best delicious snack full of lots of bright colors. These are the best rice krispie treats you have ever tasted!
By Made with Happy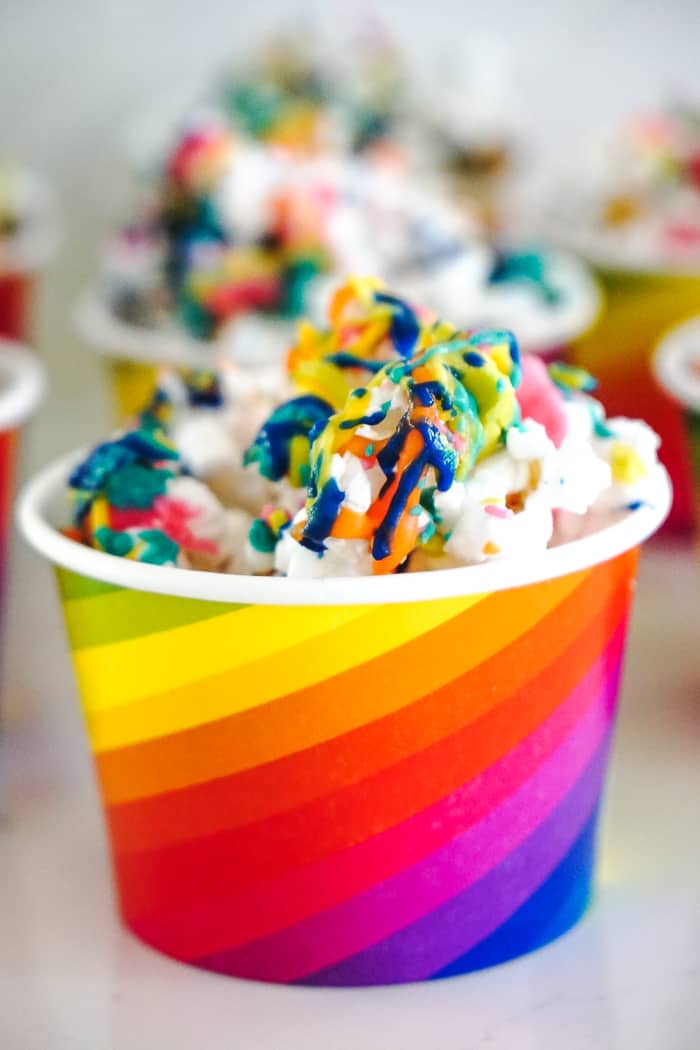 These creative rainbow snack ideas are delicious and the perfect way to celebrate the colors of the rainbow for a St. Patrick's day party. This easy snack is a great way to look for a pot of gold.
By Made with Happy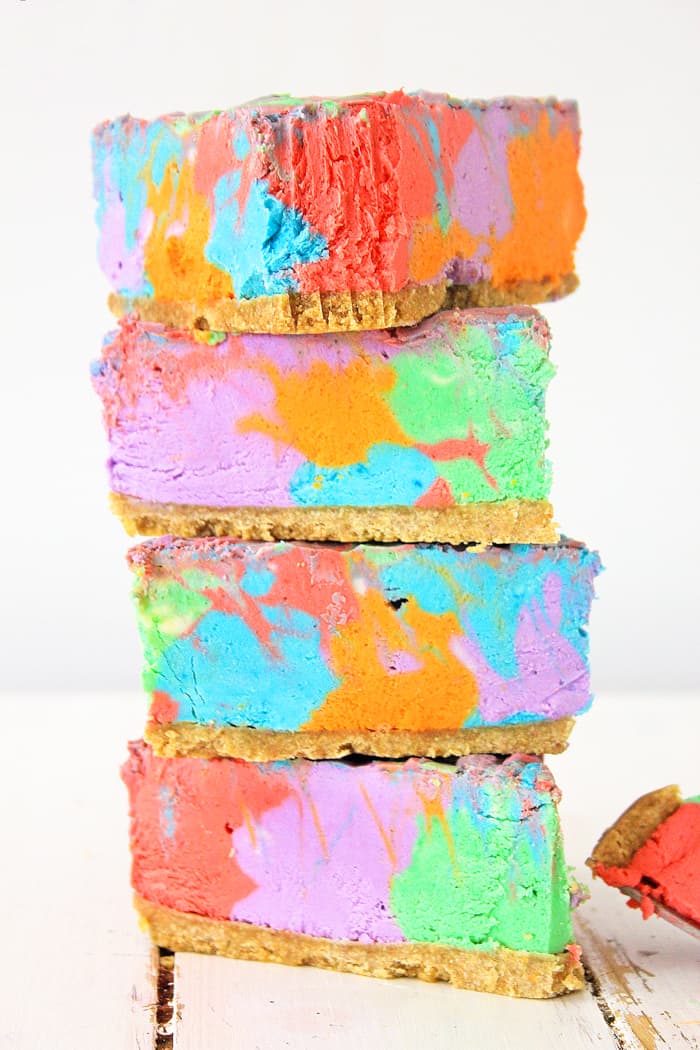 This rainbow cheesecake is great for unicorn parties, or just for a pop of color
By Made with Happy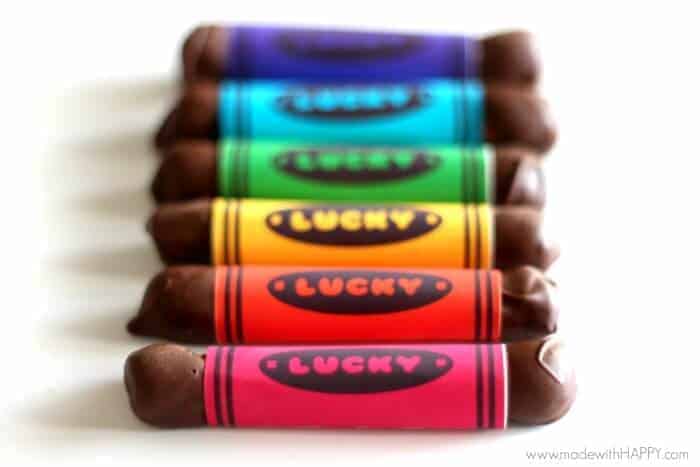 This kid-friendly snack is sure to make St. Patrick's day all kinds of fun. They are so much fun and great for a St. Patrick's Day Party.
By Made with Happy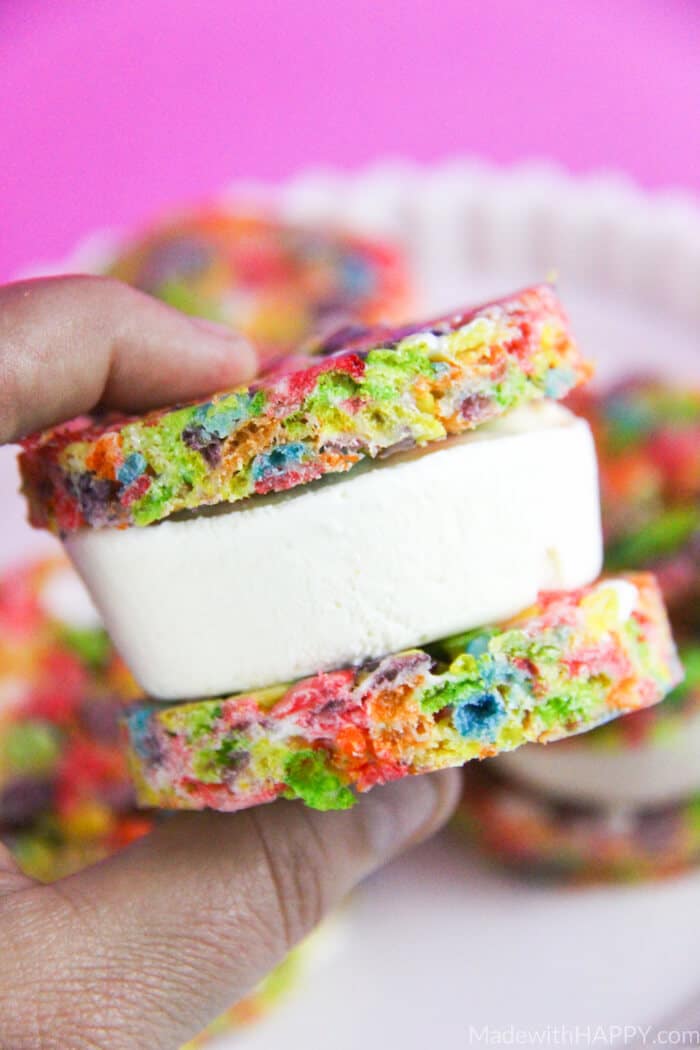 These rainbow ice cream snacks are perfect hot Summer day. They are delicious and full of flavor.
By Hungry Rabbit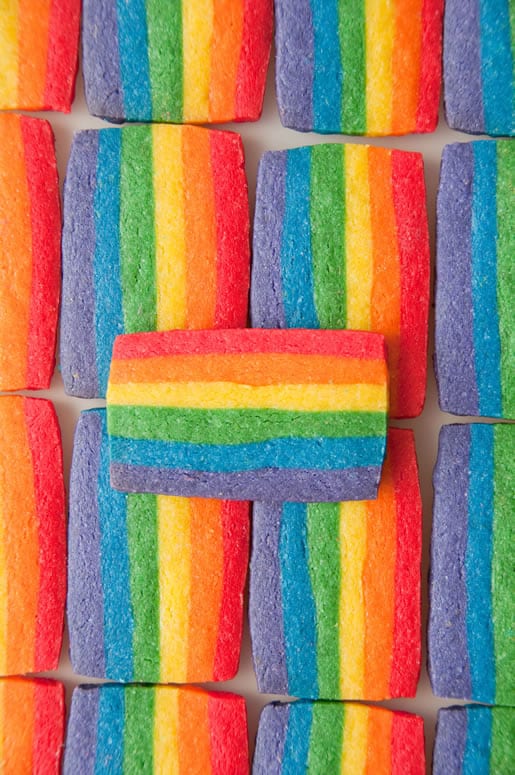 These rainbow sugar cookies are sure to brighten anyone's day. We can't wait to make these ourselves.
By Kristen Duke Photography
These are the perfect rainbow snack for any time someone needs a little pick me up. Cute and all kinds of rainbow HAPPY.
By The Decorated Cookie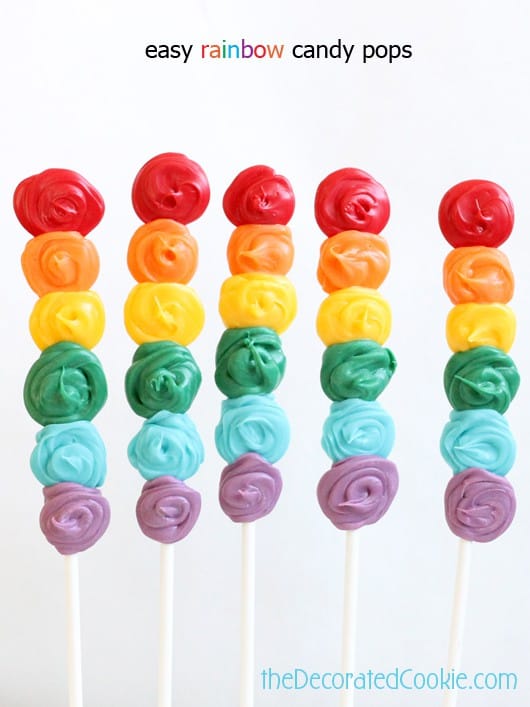 These are a fun way to turn that white chocolate and food coloring into a fun rainbow dessert. Of course, colored chocolate is always a fun way to make these tasty treats too.
By Lil Luna
This healthy snack of colorful fruits is a fun recipe. It's a delicious snack and full of fruity flavors.
By The First Year
These gorgeous rainbow donuts are giving us all the fun feels and are making us all want one of these rainbow donuts.
By The Comfort of Cooking
This easy rainbow cake is sure to make anyone's birthday that much more special.
Like Mother Like Daughter
These are a rainbow version of a fruit cup. From the grapes to the mandarin oranges, these fruit cups are sure to be a hit. Even for the picky eater in the family. They would even be great served in mason jars.
By Delish
This is fun fudge that resembles the rainbow flag. I want my fudge to always be rainbow from this day forward.
By Three Olives Branch
This is an easy rainbow snack mix that is sure to brighten anyone's snack.
By My Name is Snickerdoodle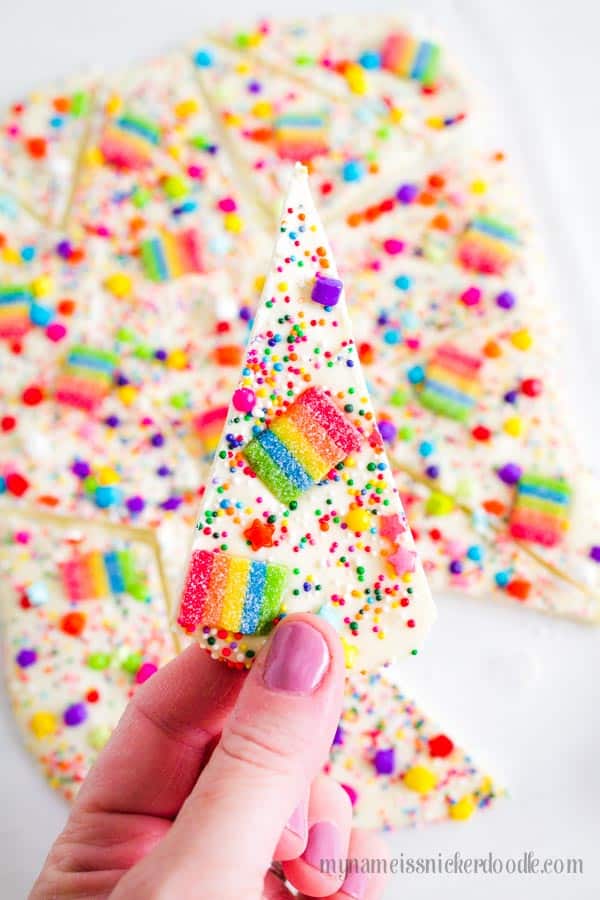 Having fun with this candy bark and making it all the different colors of the rainbow is sure to make anyone happy.
By Well Plated
Fruit pizza is our absolute favorite. Making it in the shape of a rainbow, next-level awesome.
By Brown Eyed Baker
Everyone loves jello! Jelly in ribbon in all the different colors of the rainbow... EVEN BETTER.
By AshleeMarie
These are absolutely gorgeous and almost too pretty to eat. ALMOST. Grab the cream cheese and let's get our rainbow snacks going.
Rainbow Cupcakes
By Dinner Then Dessert
These sweet rainbow cupcakes are a personal size rainbow dessert. Now the problem is to only have one.
By Tablespoon
Is there anything more fun than cutting into a loaf of bread and seeing the color of the rainbow inside?
The First Year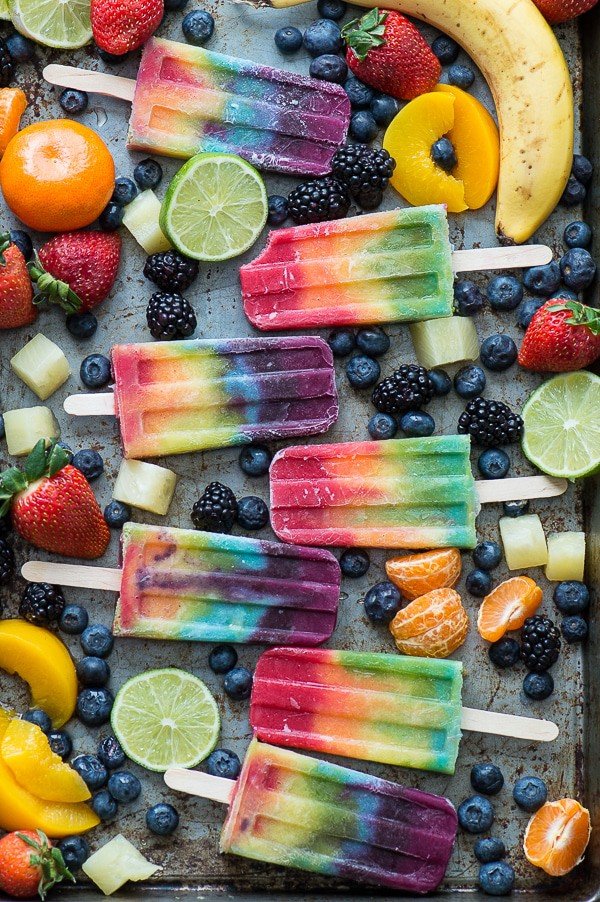 These fruit popsicles are full of lots of fruit and colorful fun. Perfect for an easy snack for snack time or throughout the warmer months.
The First Year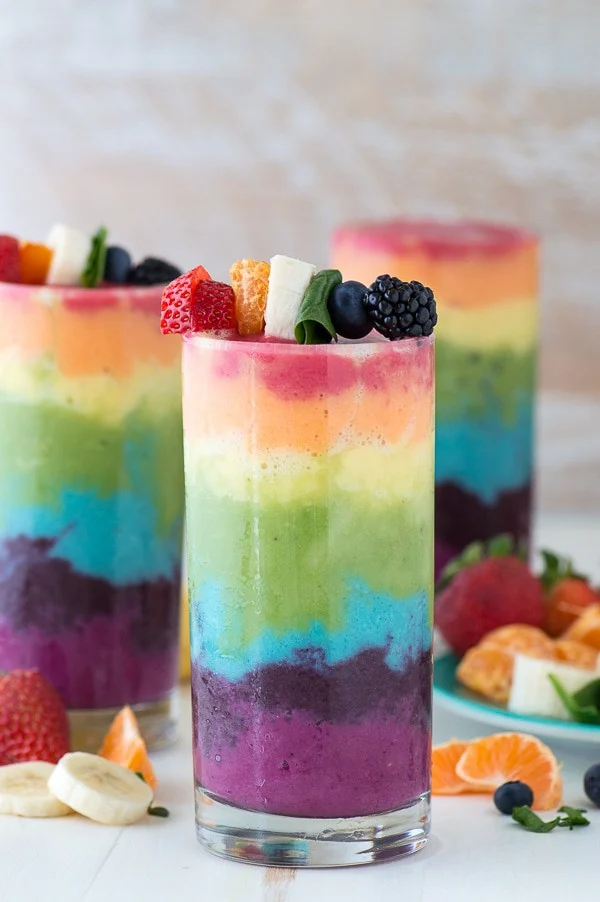 This smoothie is a colorful fruit explosion for your mouth and your eyes. A lot of fruit and flavor.
By Aww Sam
These are bringing all the rainbow colors to breakfast with these delicious pop tarts. Can't wait to make these ourselves.
By Momma Told Me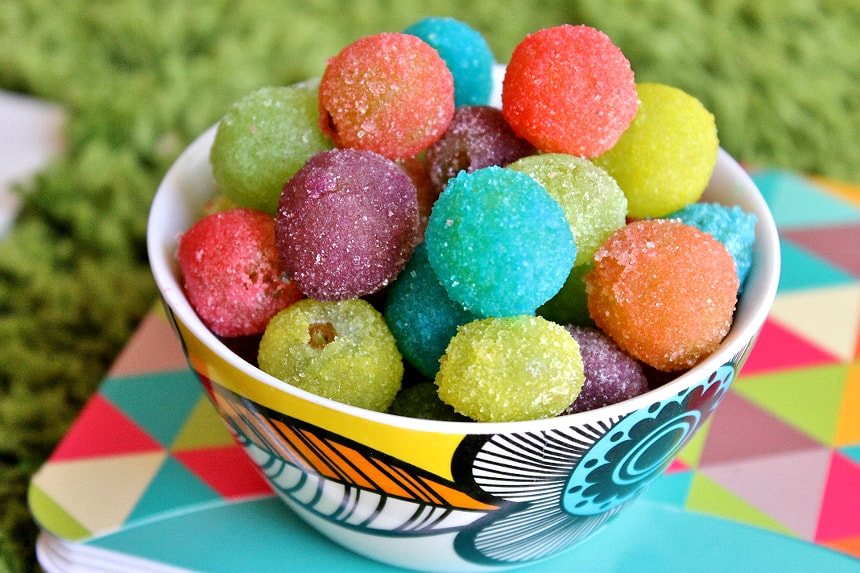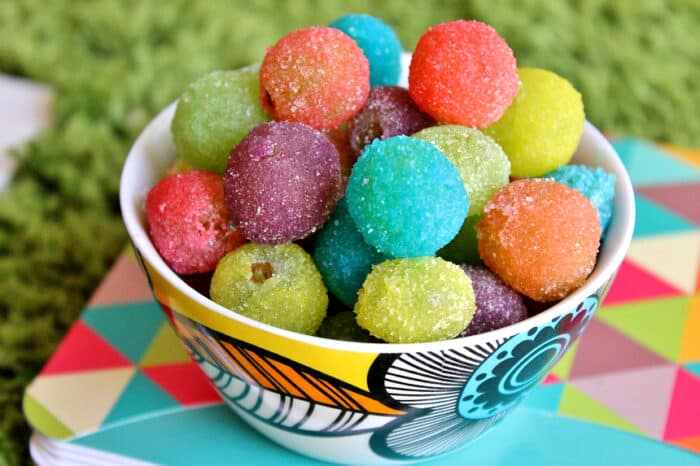 What a fun way to brighten up your grapes. We love how colorful they are.
By Oh My Creative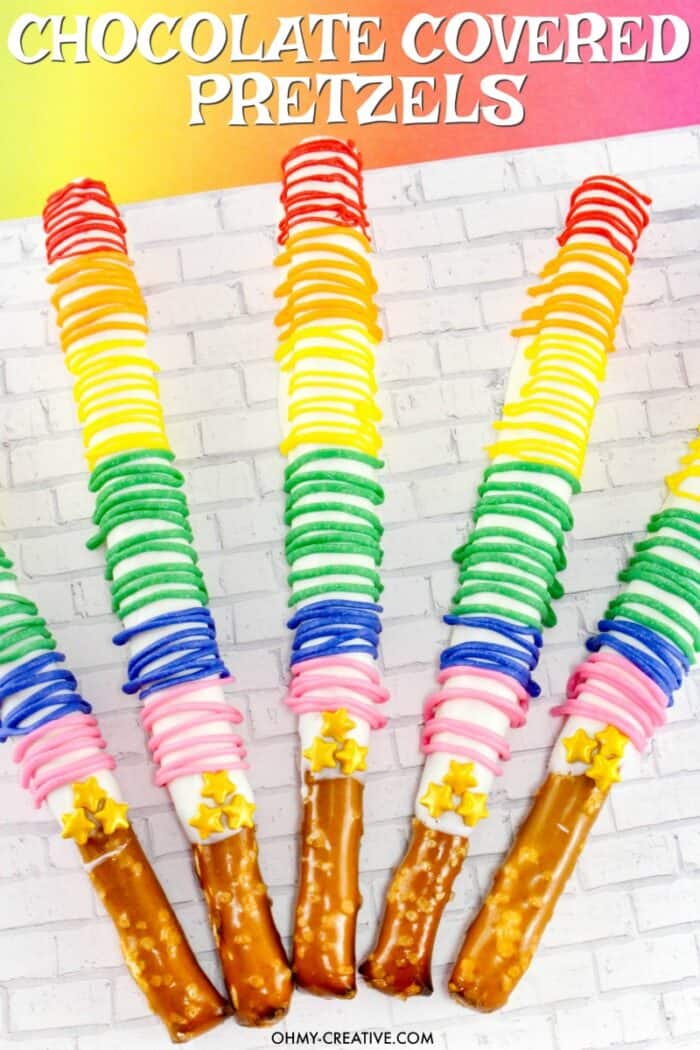 These pretzel wands are an easy snack idea that can bring lots of color and fun.
By Chocolate Covered Katie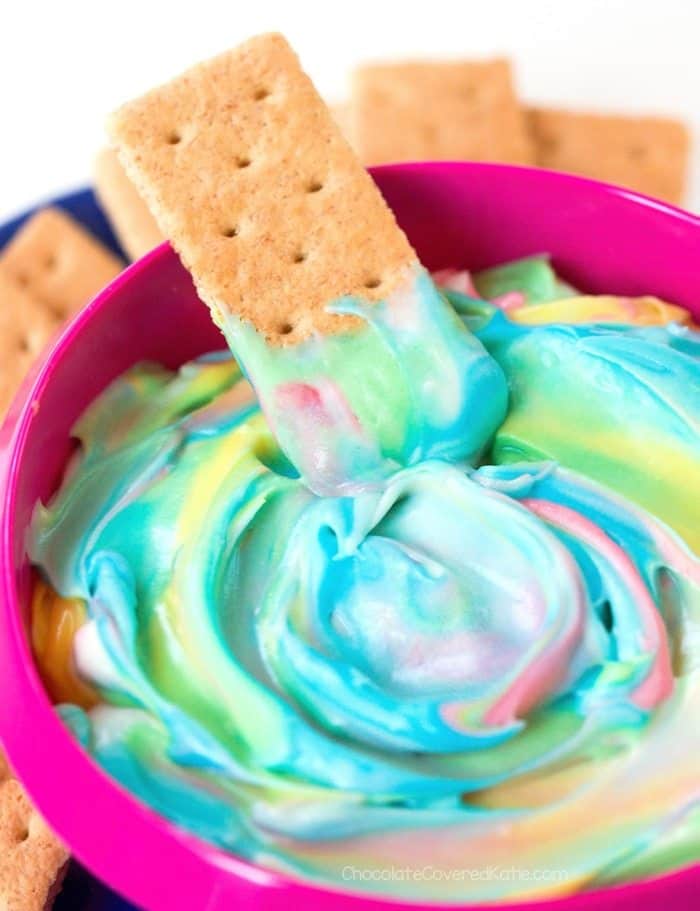 This delicious cream cheese spread is all kinds of colorful and great for the sweet tooth.
Other Rainbow Fun You'll Love
CONNECT WITH MADE WITH HAPPY!
Be sure to follow me on social media, so you never miss a post!
Facebook | Twitter | Youtube | Pinterest | Instagram
Looking for crafts to keep your child busy? Sign up for my 5 Ridiculous HAPPY Activities in under 30 minutes for your kids delivered directly to your inbox!
Find and shop my favorite products in my Amazon storefront here!
RAINBOW SNACKS
PIN IT TO YOUR DIY BOARD ON PINTEREST!
FOLLOW MADE WITH HAPPY ON PINTEREST FOR ALL THINGS HAPPY!