With St. Patrick's Day around the corner, all we think about in our house is rainbow cereal. Every year I make a batch of the world's best rainbow crispy treats, and this year, I decided to take those babies one step further and turn them into the Rainbow Ice Cream Sandwich.
While I was in college, there was a shop in town called Diddy Riese. It was a small cookie shop that not only made a variety of your favorite cookies, for one dollar, they would add a scoop of ice cream in the middle of whatever two cookies you wanted and make it an ice cream sandwich. The line would end up being out the door and down the street on most afternoons. When I think back, it always brings a smile to my face. Not only because those babies were darn delicious, but it was just that they took an already delightful cookie and make it into something even more incredible.
Diddy Reese was my inspiration when making these rainbow ice cream sandwiches.
Our rainbow rice crispy treats truly are the best. Just the right amount of gooey and crispy goodness. With just a few additions, you can turn this treat into the most yummy ice cream dessert.
I really hope you and your family have as much fun with these as we have.
Ingredients:
1 bag mini marshmallows – 6 cups
5 cups fruity pebbles cereal
5 tablespoons butter
vanilla ice cream
ice cream scoop – my favorite
The key to the perfect ice cream patty is the Demarle at Home Straight Muffin Trays
Directions:
Click
here
for the full rice crispy treat recipe. Let the ice cream soften and scoop into half the Demarle at Home muffin trays. Then place into the freezer till it has hardened.
Once you let the treats cool, I recommend using a rolling pin to flatten out the rice crispy treats as much as you can. Using the smallest of the round cookie cutters, cut out as many circles from the treats as you can. I like to pop them into the freezer till they are ready to serve. Then make your sandwiches with two circles and an ice cream patty.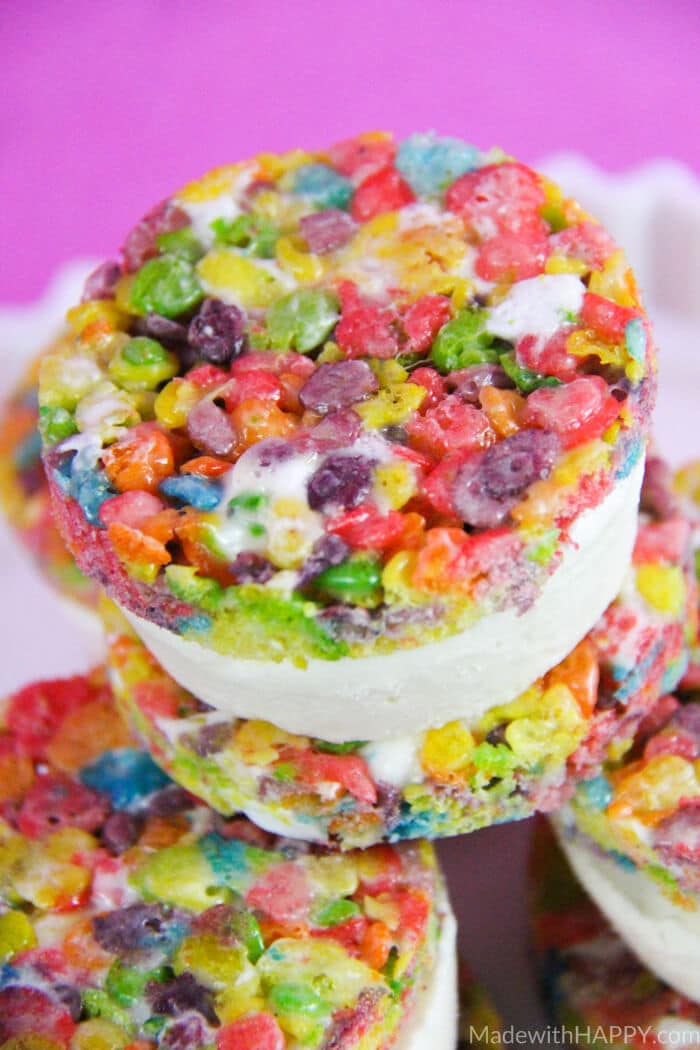 HAPPY Rainbow Ice Cream Sandwich Day!