Who remembers cupcakes in a cone growing up? I totally do!
I am in the midst of helping a friend plan an ice cream birthday party, which then got me thinking about all things ice cream sundaes. Then I thought about how cute it would be to make those fun cupcakes I loved as a kid and make them look like ice cream sundaes!
They are so easy and so fun, that they are sure to be a hit for an ice cream party, or any celebration! Here is how you make them!
Ingredients:
Directions:
Make the cake mix according to directions.
Beat cake mix, eggs, oil and water together for 2 minutes.
Place ice cream cones, standing up, into mini-muffin tin.
Fill cones halfway with the batter.
Into the 350 degree oven for 20 minutes.
Remove cupcakes from oven and let cool.
Scoop frosting into a quart size ziplock bag and cut the tip off.
Frost top of the cupcakes in a circular motion so that it resembles ice cream.
Top with sprinkles and a cherry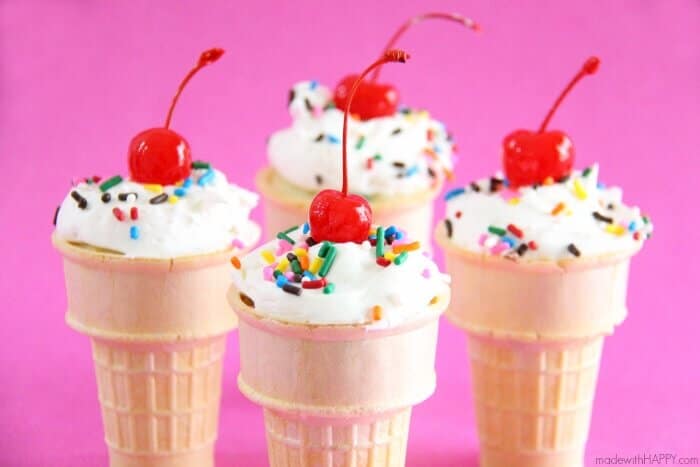 They are so festive and taste absolutely delicious. I'm not going to lie, I kind of want all my cupcakes like this from here on out 🙂
HAPPY BAKING!!