Fall is here you guys and you know what that means… PSL (Pumpkin Spice Lattes)!! Yes! Fall makes me so HAPPY! Does it get any sweeter then waking up to a crispy Fall morning, in your cozy socks, enjoying a PSL, reading the paper and digging into a pumpkin gingerbread cake?? I think not.
Last week, I was strolling the aisles of Target looking to add a bit Fall to the house when I came across something pretty mind blowing. You can now make Pumpkin Spice Lattes at home? WHAT?? Have I been living under a rock or something? Truly, I must be because why wouldn't I have thought of that before?
I love #FallForStarbucks so much and PSL's are my jam.
I of course found myself with a cart full of great Fall goodies. I am all about the golds, coppers, oranges and navy's this fall and even found these great wide mouth mixing bowls with copper handles that I'm absolutely loving for Fall baking.
Speaking of baking, who's ready to make my new Fall favorites….
Mini Pumpkin Ginger Bread Cakes

They are pumpkin-y, they are gingerbread-y and they are mini, which means you can have more than one (who's looking) without guilt.
These little ladies are a great blend of pumpkin and gingerbread and so moist that they can be enjoyed forr breakfast, lunch or dinner.
With a few steps and some fabulous mixing bowls :), you can be eating these this afternoon. Here's how you make them!
Ingredients:
Cake
1 Cup Pumpkin Puree
1 Cup Sugar
I Cup Molasses (Unsulphured)
1 Tablespoon Minced Crystalized Ginger
2 Tablespoons Minced Ginger
2 Eggs
3 Cups All-Purpose Flour
1/4 Teaspoon Ground Cloves
1 Cup Water
1 Tablespoon Baking Soda
Frosting
1Cup Powdered Sugar
2 Tablespoons Plain Greek Yogurt
1/2 Teaspoon Vanilla
1/4 Teaspoon Cinnamon
Directions:
Pre-Heat oven to 325 degrees. Generously spray your muffin or mini bunt cake pan. Note, even if its a non-stick, still spraying the pan.
In a large bowl, whisk together the pumpkin, sugar, molasses, crystalized ginger, ginger and eggs.
In another bowl, whisk together flour and cloves.
Add the pumpkin mixture into the flour mixture and whisk.
In a small sauce pan, bring the water to a boil. Remove from heat and mix in the baking soda. Add the water baking soda liquid to batter and whisk until fully combined.
Transfer batter to baking pan and then into the oven.
Bake for approximately 45 minutes. Insert a toothpick into the cakes and if comes out clean, they are done.
In a small bowl, whisk together the powdered sugar, yogurt, vanilla and cinnamon.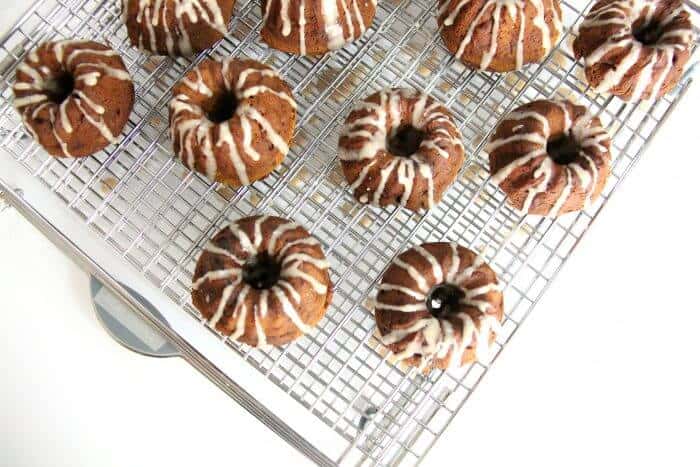 Once the cakes are cool, drizzle the frosting over the top.
And if I was you, I'd head over to Target, grab yourself your favorite FALL inspired Starbucks flavor, make yourself a cup and enjoy these babies for breakfast tomorrow!

HAPPY FALL and HAPPY BAKING!
Like it? Pin it!
You can find some other Fall inspired recipes here.