Looking for a delicious Homemade Carrot Cake Donut, then we have you covered with our Carrot Cake Donuts with Cream Cheese Frosting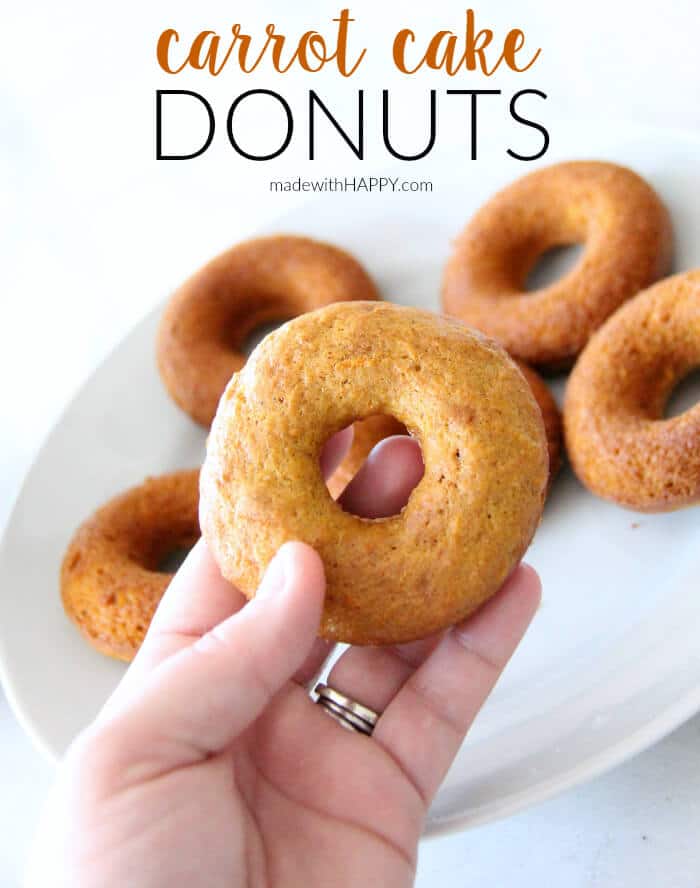 If you ask me, one of the greatest simple pleasures in life involves a hot cup of coffee, a warm donut, and reading the newspaper. Unfortunately, these days most mornings involve lots of rushing around and hustling kids off to school, very little leisurely reading, and some "hot" coffee that's been re-warmed 6 times in the microwave before I finally get to drink it. However, the fact remains that donuts make me HAPPY.
Even if hot coffee is impossible, I can still manage to make donuts at home on the weekends when there's a little more time. I love this recipe because the donuts are baked and frankly frying food makes me nervous. I also love that it includes a cup and a half of shredded carrots which I'm certain qualifies them as healthy food. As a bonus, these do freeze well so make a bunch and thaw as needed on those busy mornings (just skip the frosting until you are ready to enjoy).
Do-nut miss our Donut Coloring Page and Easter Treats
Ingredients:
1 and ½ cup finely shredded carrots (approx. 5)
2 cups flour
1 teaspoon baking powder
1 teaspoon baking soda
1 teaspoon cinnamon
½ teaspoon salt
½ teaspoon nutmeg
¼ teaspoon cloves
¼ teaspoon ginger
2 eggs
⅔ cup brown sugar
⅔ cup vanilla yogurt
½ cup vegetable oil
½ teaspoon vanilla
For the Cream Cheese Frosting
1 and ½ cups powdered sugar
2 Tablespoons cream cheese
4 Tablespoons milk
½ teaspoon vanilla extract
Directions:
Preheat oven to 350 degrees F.
Finely shred carrots until you have 1 ½ cups and set aside.
Mix flour through ginger in a large bowl and set aside.
Mix eggs through vanilla in a separate bowl until combined.
Add wet ingredients to dry and mix until smooth then stir in shredded carrots.
Spoon the batter into a greased donut pan, filling each mold only about halfway.
Bake for 12 - 15 minutes or until firm and lightly golden on the tops.
While the donuts are baking, mix the frosting ingredients in a separate bowl using a hand mixer. Beat on medium speed until smooth.
Once the donuts are removed from the oven and cooled off, dip each donut in the frosting mixture.
Top with sprinkles.
Then for added fun, add rainbow sprinkles!!!
HAPPY DONUTS!