Marshmallow + Rainbow Crispies = MADE WITH HAPPY
For real friends.  I mean, not only are they the best crispy treats AHHHH-ROUND, they are RAINBOW.  YES!
I don't know about you, but for a long time, whenever I would make the traditional rice crispy treats, they were super hard and would cut up the roof of my mouth.  Once I had kids, I decided that I needed a better recipe that was gooey and yummy.  After some tweaking and experimenting, I have come up with a winner.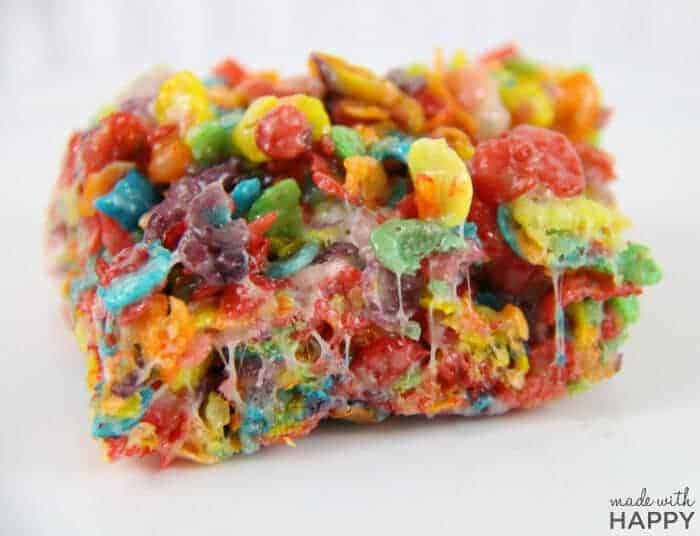 A fun little fact about me is that when it comes to cooking, I big puffy heart creating recipes that use a whole ingredients.  No left overs.  When I buy cereal and get it home and it doesn't fit in my pantry cereal container, it drives me bonkers.  If ingredients call for a half a can of something, I may never make it again because 8 out of 10 times the other half ends up getting thrown out, rather than get used.   Just a little quirk of mine.  I hate being a waster, so many times I end up making recipes that call for a whole bag of something or container.  I tell you this because this recipes is based using the whole bag of mini marshmallows.
The Best Rainbow Crispy Treats
Author:
Cook time:
Total time:
Ingredients
1 bag mini marshmallows – 6 cups
5 cups fruity pebbles cereal
5 tablespoons butter
Instructions
Line the bottom of an 8×8 pan with foil.
Spray with cooking spray and set to the side.
Over medium heat, melt together the butter and 5 of the 6 cups of marshmallows.
Once its completely melted, remove from heat and fold in the cereal.
After all cereal is fully coated, mix in the remaining cup of marshmallows.
Transfer to the pan and lightly push mixture down to even out. (The more compact, the harder your treats)
Let cool and serve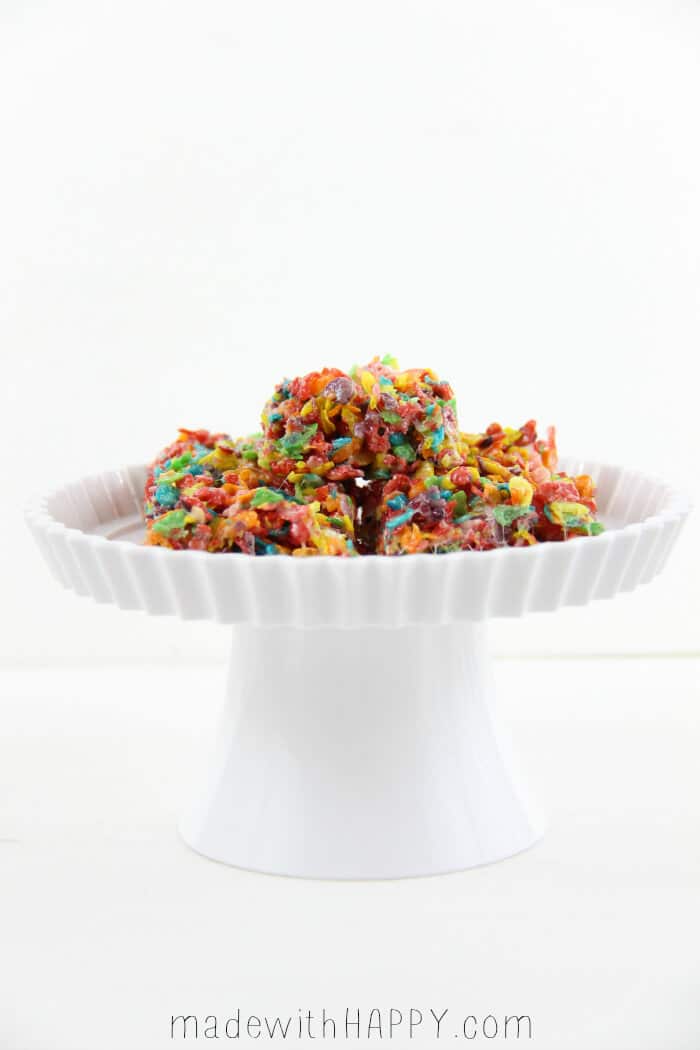 The kids absolutely LOVE these and they are great for a St. Patrick's Day treat.  Go, make, be HAPPY!
Happy Mixing (no baking)!
Like it?  Pin it!