There is something so delicious about Fruit Pizza Desserts during the Summer. It might be the influx of all the berries or the fact that I pretty much love anything dessert, in any case, I am in love with fruit pizzas right now and wanted to share our latest recipe for our go-to Summer dessert.
This post may contain affiliate links. If you buy something through a link, I may earn a small commission at no price difference to you.
There are so many different ways to make fruit pizza. Whether its the "crust" or the way you decorate, there are a ton of different ways to make them. Today I will show you how to make a watermellon fruit pizza.
Fruit Pizza
Ingredients:
Cookie dough
White whipped frosting
1 Flat of Strawberries
2 Kiwis
Chocolate Chips
How To Make a Fruit Pizza Dessert
First start by either making the cookie dough from scratch or using premade dough. I like to use a springform pan, but really any round cake pan will work just as great.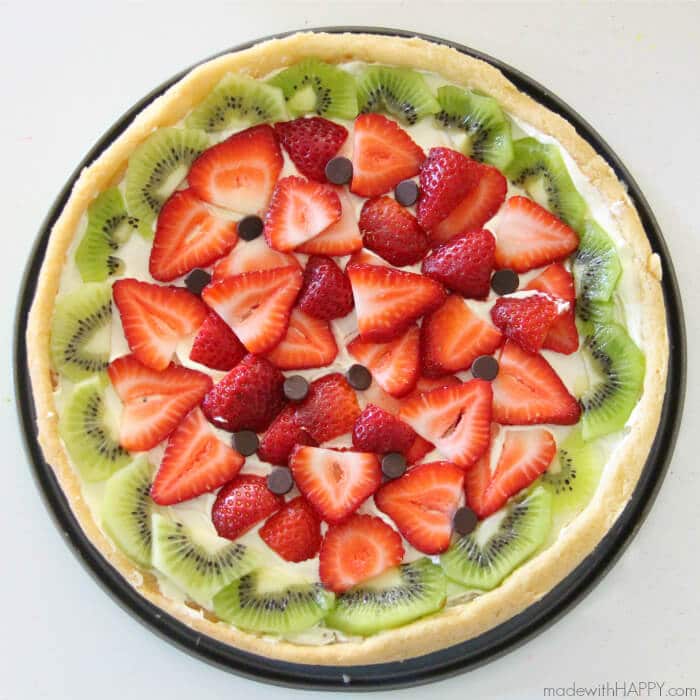 Once you have your cookie dough, I used sugar cookie, place the all the dough at the bottom of your pan and push down to make sure it is evenly spread along the bottom of your circle pan. Cook according to the cookie directions and then remove and let cool completely before decorating.
As I stated above, there are many different varieties of fruit pizzas. We enjoy chocolate chip cookies as well as brownies as the pizza crust.
Once the cookie has cooled, you spread the frosting on the top of the enitre cookie. Slice up your fruit and add it on top of the frosting. For the watermelon shape I made above, I cut the kiwis in half and then sliced them and used that for the green of the watermelon. For the red, I sliced up strawberries, but you could also add raspeberries for the red.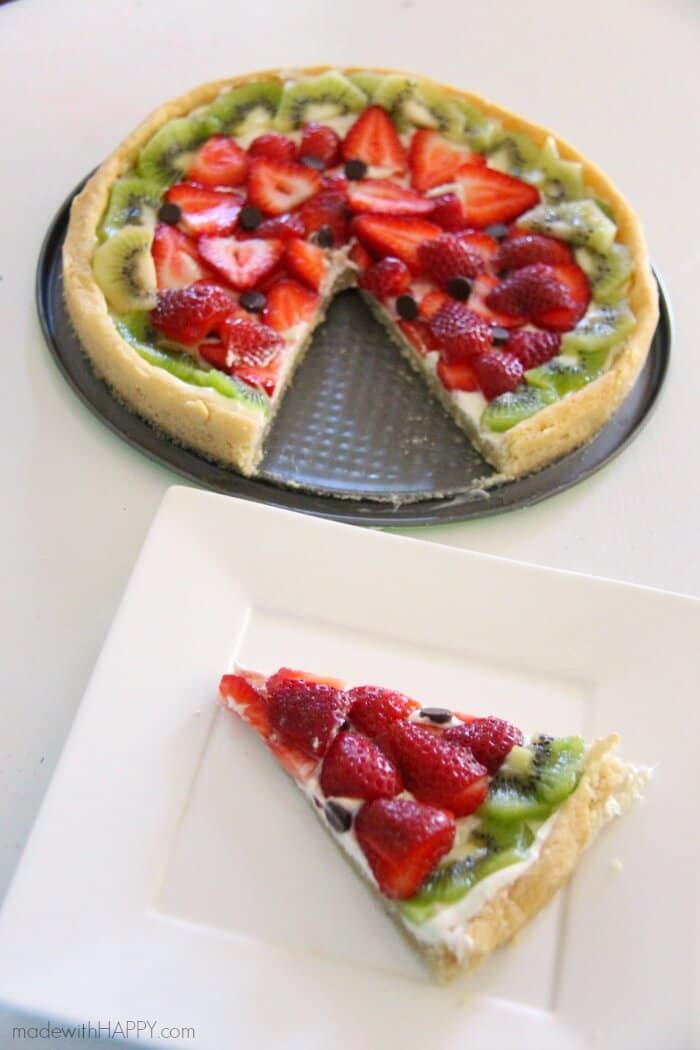 To finish it off, I added chocolate chips as the "watermelon seeds."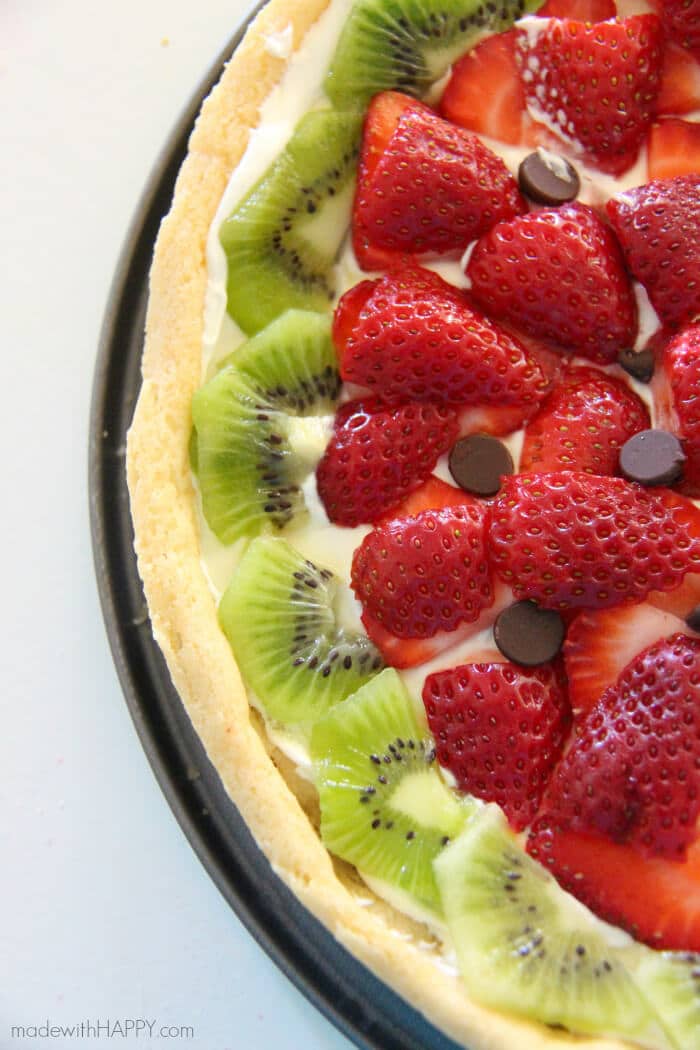 Viola, you have yourself a watermelon fruit pizza.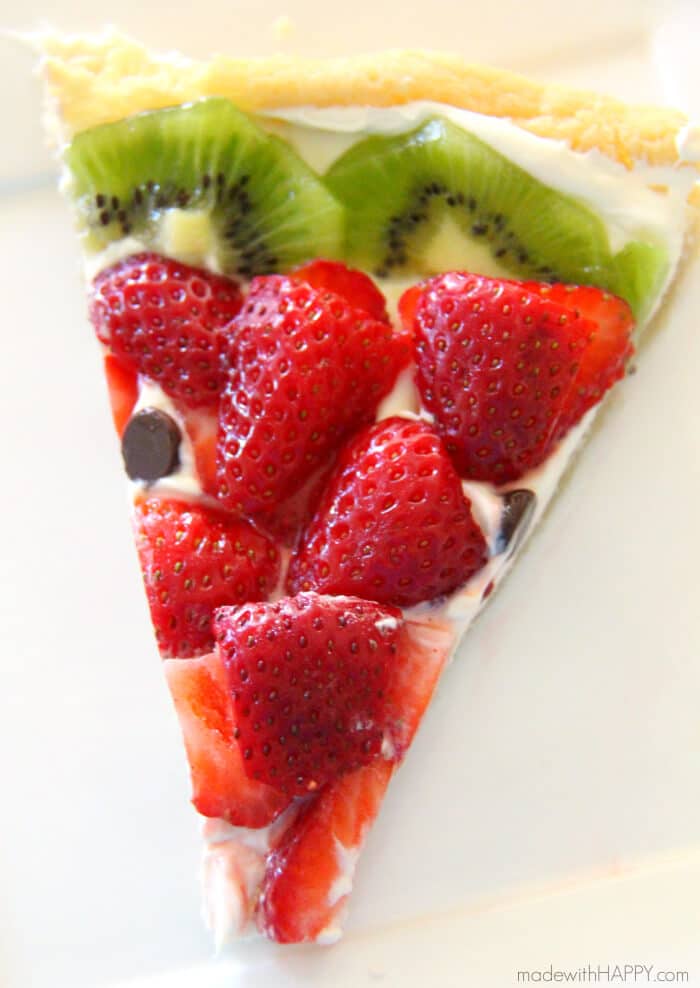 Make sure to cut it as you would a pizza and I promise it will be the hit to any Summer get together!
HAPPY FRUIT PIZZA!
Other Awesome Desserts You May Enjoy
CONNECT WITH MADE WITH HAPPY!
Be sure to follow me on social media, so you never miss a post!
Facebook | Twitter | Youtube | Pinterest | Instagram
Looking for crafts to keep your child busy? Sign up for my 5 Ridiculous HAPPY Activities in under 30 minutes for your kids delivered direct to your inbox!
Find and shop my favorite products in my Amazon storefront here!
FRUIT PIZZA DESSERT
PIN IT TO YOUR FAVORITE BOARD ON PINTEREST!
FOLLOW MADE WITH HAPPY ON PINTEREST FOR ALL THINGS HAPPY!