Learn how to make this easy and fun coffee filter butterfly tie-dye craft for kids! A perfect easy craft to try for Spring time.
This coffee filter butterfly is a fan favorite throughout Spring and throughout the year. The love of butterflies is not limited to one season for sure.
Have some springtime fun with these beautiful butterfly crafts using only a few supplies that you may already have at home!
Make this easy and fun coffee filter butterfly tie-dye craft with your kids! I love this activity and it's perfect for springtime. With just a few materials you probably already have at home your kids can make beautiful butterflies. They can play with them or hang and display their work!
Check Out These Other Butterfly Crafts!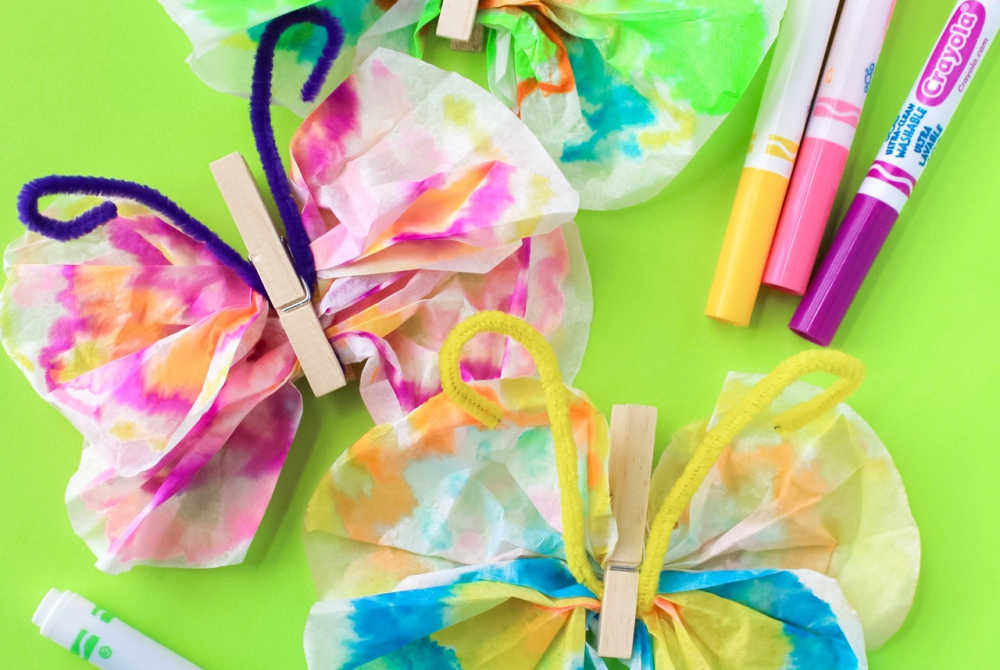 Coffee Filter Butterfly Tie Dye Craft
This is one of my favorite crafts from when I was teaching in the classroom. My students loved making these butterflies so much! Now I love doing it at home with my sons. It's so simple but it feels like magic seeing the colors together make tie-dye. I enjoy it as much as my kids!
Materials Needed
Coffee filter
Clothespin
Pipe Cleaner (chenille stem)
Spray bottle with water
Bin - not necessary but helps prevent mess
How to Make a Coffee Filter Butterfly
Older kids can do this craft independently or with little supervision. For younger kids and toddlers, you'll need to help but they can do a lot of it on their own as well.
Start by drawing any designs on one side of a single coffee filter. Use a few different colors that complement each other.
Spray it with a bit of water and make sure the whole design is sprayed.
Set aside to fully dry.
Repeat the same steps on another filter. You can do the same design or a different one.
When both filters are dry, fold each piece accordion style and use a pin to secure in the middle. Adjust and open the filter to make it look like butterfly wings.
The last step is to add antennae using the pipe cleaner. Curl at the ends slightly.
I love this craft so much because it reminds me of my childhood. It's such a classic kid's craft and I know your kids will love making it too! Plus, it's magical to see the marker design turn into a tie dye when the water hits it.
Looking for more easy spring kid's craft ideas? Check out these posts:
CONNECT WITH MADE WITH HAPPY!
Be sure to follow me on social media, so you never miss a post!
Facebook | Twitter | Youtube | Pinterest | Instagram
Looking for crafts to keep your child busy? Sign up for my 5 Ridiculous HAPPY Activities in under 30 minutes for your kids delivered directly to your inbox!
Find and shop my favorite products in my Amazon storefront here!
COFFEE FILTER BUTTERFLY
PIN IT TO YOUR DIY BOARD ON PINTEREST!
FOLLOW MADE WITH HAPPY ON PINTEREST FOR ALL THINGS HAPPY!