If you're ready to get out and enjoy the beauty of Mother Nature, you need to be certain that you have this fun Camping Scavenger Hunt as well. It's not only a lot of fun, but it's a great way to have the kids (and adults!) scrambling around to find all the items on the list.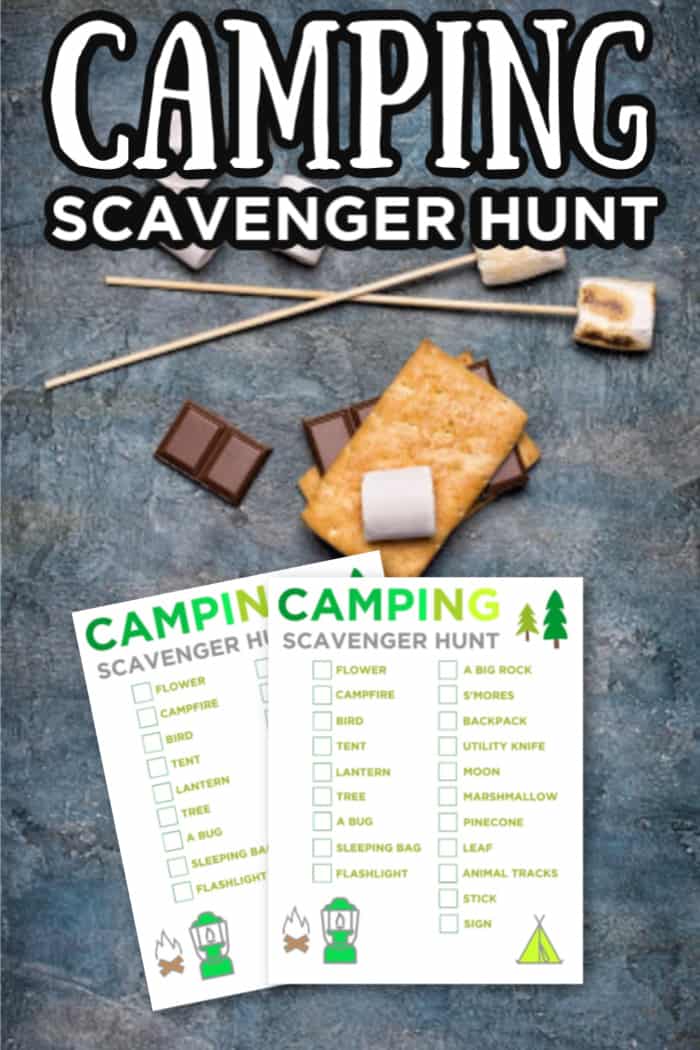 Camping scavenger hunts have many perks and bonuses about them that are great for young kids and older children too.
Not only do these free printables add a lot of fun camping ideas to your outing, but they're such a simple way to enjoy a fun family camp trip as well. This is a fun way for the whole family to get involved on their next camping trip.
Anytime you can step away from the daily distractions of the world and spend some quality family time together outdoors, it's always a winning choice! These printable scavenger hunts have a list of items great for a nature walk for kids of all ages.
How to have a fun scavenger hunt
Since outdoor scavenger hunts are pretty much fun on their own, you really don't have to think outside the box too hard to make this printable scavenger hunt full of fun.
While you'll be able to use all the scavenger hunt ideas on the printable below, don't forget that you can always add to the list as well.
This means that you can add more to the list, take or change out some, or just add on more for the kids to find!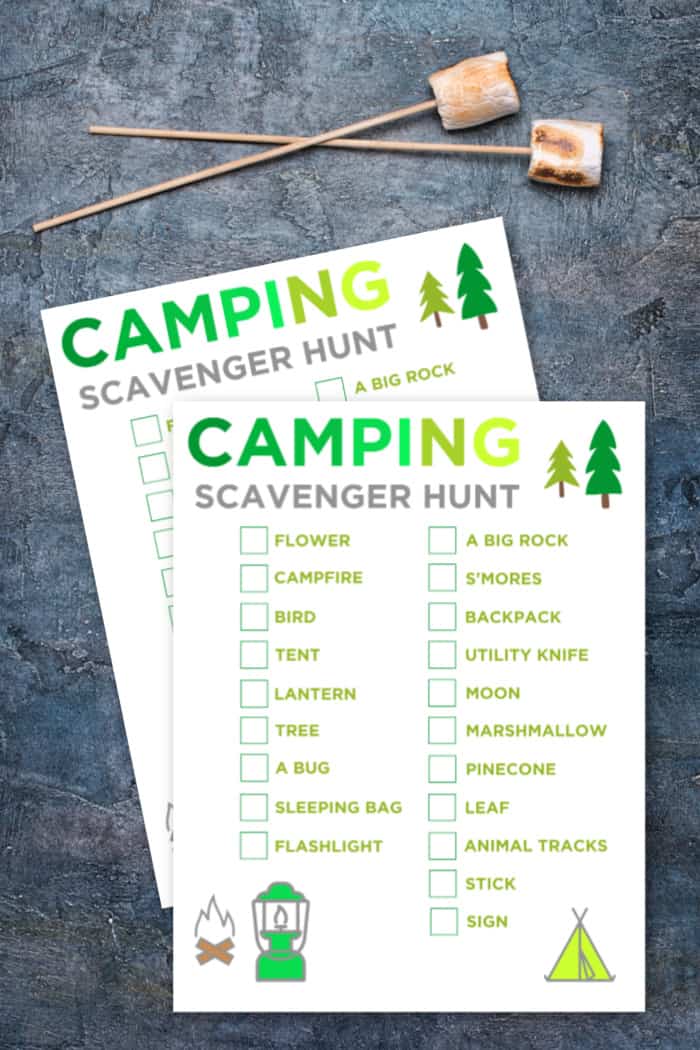 What will the kids be looking for on their free camping scavenger hunts?
Below is just a small sampling of what the kids will be looking for on their fun scavenger hunt. Make it a friendly competition and see who can find what first!
Flowers
Campfire
Birds
Backpack
S'mores
Animal Tracks
Sleeping Bag
As you can see, there are a few things on the list that are going to be easier to find than others.
If you have younger children in the family, have them, partner up and do the camping scavenger hunt together. Because it's always more fun to do things in a team than alone, right?
Fun Ideas for an Outdoor Scavenger Hunt?
While this scavenger hunt is perfect for when you're actually going camping, don't forget that you can easily incorporate this into your daily lives as well.
Who says that you actually have to wait until you're camping to be able to hunt for these items?
This is a great idea for a birthday party, a sleepover, or just a fun idea to get the kids active and moving. Having them search the house for camping items is certain to keep them busy and active for hours.
What are the benefits of having kids do scavenger hunts?
Truth be told, scavenger hunts are really great for kids. It gets them up off the couch and pulled away from their screens. They are sure to be running around and using their creativity.
A campground scavenger hunt can be a good idea for those young children with sensory challenges. Consider this a sensory scavenger hunt in nature or on your next family camping trip or summer camp.
We love doing scavenger hunts in our house because they're really just good and simple fun. The kids certainly get a kick out of running around the house and I love the fact that they're just up and moving in general.
The best part about scavenger hunts is that the kids can do them over and over again. A treasure hunt for younger kids or a little friendly competition for small groups.
We highlighted this kid camping fun idea along with some other fun kid's crafts in our Summer Crafts for Kids along with our 101+ Easy Craft Ideas for kids.
You also do not want to miss our 101+ Free Kids Printables full of Crafts & Coloring Pages like this one.
Other Fun Scavenger Hunts You Might Enjoy
Click here for the full list of different scavenger hunts including a seasonal scavenger hunt for each holiday and season.
Grab Your Free Camping Printables
Download your free printable Camping Scavenger Hunt today to get started asap! Enter your email address in the form below and you will be taken to the free camping scavenger hunt.
*For personal use only.
CONNECT WITH MADE WITH HAPPY!
Be sure to follow me on social media, so you never miss a post!
Facebook | Twitter | Youtube | Pinterest | Instagram
Looking for crafts to keep your child busy? Sign up for my 5 Ridiculous HAPPY Activities in under 30 minutes for your kids delivered directly to your inbox!
Find and shop my favorite products on my Amazon storefront here!
CAMPING SCAVENGER HUNT
PIN IT TO YOUR FAVORITE BOARD ON PINTEREST!
FOLLOW MADEWITHHAPPY ON PINTEREST FOR ALL THINGS HAPPY!