This Indoor Scavenger Hunt for Kids is not only super simple and fun, but it comes with a free printable full of awesome scavenger hunt ideas as well. This means that with little to no effort on your part, the kids will be having a blast indoors!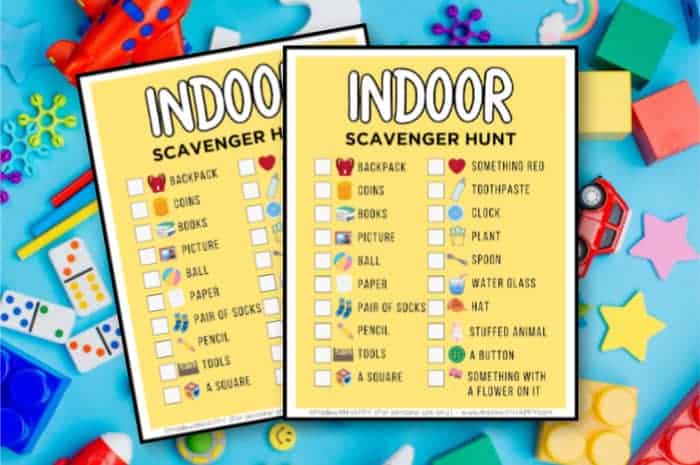 This indoor scavenger hunt is great for kids of all ages and is a great way to have them engaged and active with one another, too. This is the same fun way a traditional scavenger hunt is turned into a fun activity and fun game for the whole family.
Scavenger hunts are a great activity for any age group of people. They can be played in so where you find one clue and then the next clue in order. Or just run around and find all the items in any order. Whatever way you play is sure to be the best thing everyone had fun doing that day.
Scavenger Hunts and List for Kids
Scavenger hunts are some of our favorites. You won't want to miss some of our other popular scavenger hunts including; Color Scavenger Hunt, Nature Scavenger Hunt, Summer Bucket List, and Camping Scavenger Hunt.
We highlighted this Printable Game along with some other fun kid's crafts in our January Crafts for Kids along with our 101+ Easy Craft Ideas for kids.
You also do not want to miss our 101+ Fun Coloring Pages For Kids and 101+ Free Kids Printables full of Crafts & Coloring Pages.
Now is the time to be thinking outside the box on all sorts of activities for the upcoming summer months. While it's without a doubt that the kids will want to be outside exploring nature (outdoor scavenger hunt), there is also the understanding that there are a lot of things to do inside, too.
Because let's face it...you never know when Mother Nature will strike and rainy days keep everyone cooped up inside for days on end. It's a good idea to have this free printable indoor scavenger hunt on hand and ready for the next time bad weather days hit.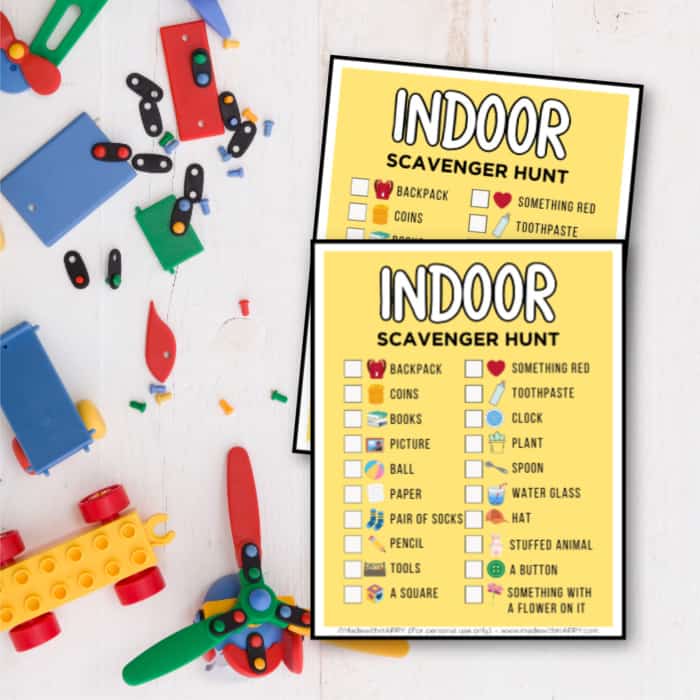 Scavenger Hunt For Kids At Home
I am a big advocate of scavenger hunts. Not only do they get the kids up and moving, but they're also a way to add some fun and excitement easily to the day as well.
And while we've had some fun with this Color Scavenger Hunt many times, it's also fun to have a hunt for random items around the house, too!
Just in case you need some ideas this winter season. You never know when you will have rainy days or need some winter fun, here are some ways to stretch it out and make that excitement last.
Use it during the nighttime and have a flashlight hunt
Flashlight hunts are the best! Using a flashlight to find objects around the house just adds a whole new element of fun and surprise. Not to mention, the kids think it's pretty great, too!
You don't even have to really change up the items that they're looking for because the darkness and beam of a flashlight is an easy activity to do for you. Different ways to look for the same list of things.
Family Game Night
Family game night doesn't always have to be just board games. Have fun with printable games like bingo, charades, and printable scavenger hunts, like these indoor activities.
Are you ever really too old to join in on a simple scavenger hunt? I think not! Instead of just leaving all the searching fun up to the kids, join in with them and see what you can find!
You can even pair up members of the family and go head to head and see which "team" is victorious. Have a prize ready because the winner is going to want something to show off their win!
Branch off and add in more items to find
Even though this free printable scavenger hunt is full of great items to find, you can always add more to it easily. Just print it off and write in some other really cool items that the kids need to look for around the house. (and if you're really creative, tie in some chores with it as well such as "penny at the bottom of the dirty dishes in the sink" - but to get the full points, those dishes need to be cleaned first! LOL).
It's like making your own scavenger hunt each time.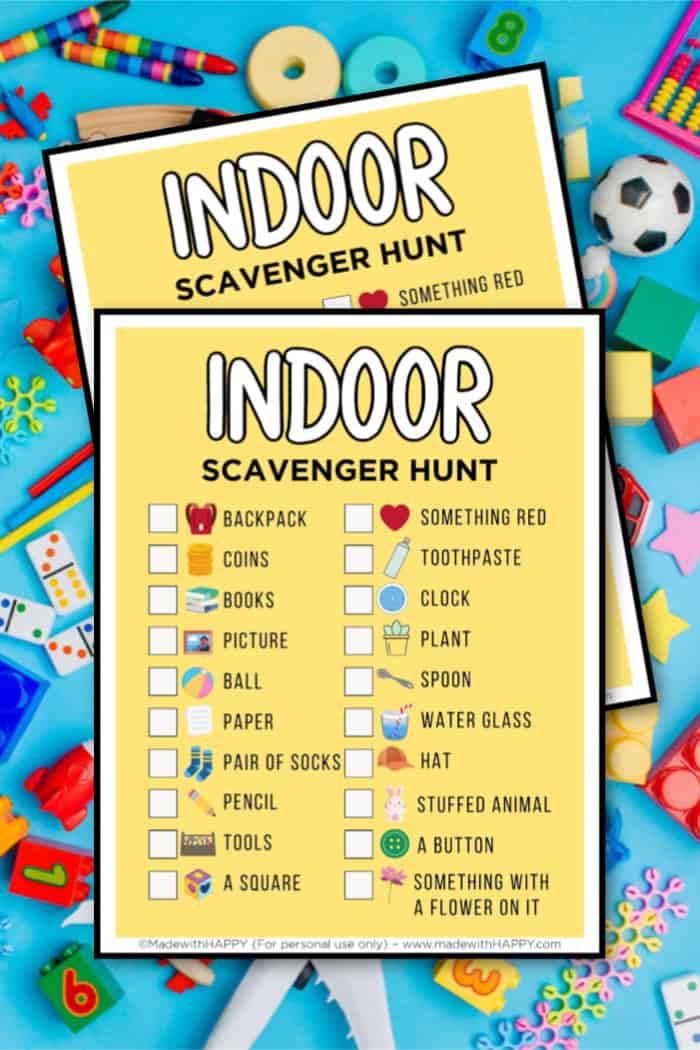 What are some of the items listed on this Indoor Scavenger Hunt?
Remember, this is just a small sampling of the list of items. To get them all twenty of the number of items, print out the free printable lists below!
Backpack
Tools
Plant
A Button
Something Red
As you can see, there's a wide variety of things to find! (Just make certain you have them in your house or the kids will be looking forever!)
The other really cool thing about this scavenger hunt printable is that while it has the words, it also has pictures of the items, too. It makes it like a photo scavenger hunt for the little ones.
This means that younger kids who can't quite read yet can totally join in on the fun with the older kids! Are you ready to get the fun and free printable for everyone in the family to enjoy? Check it out below to get started!
Indoor Scavenger Hunt Questions
Now that you are ready to have an indoor scavenger hunt, here are a few questions you might have.
How do you do the virtual scavenger hunt?
The easiest way to do this scavenger hunt virtually is to email out this indoor scavenger hunt list. Then set a timer and make each person run and find one item on the list at a time. Then the first person back wins.
How long should a scavenger hunt last?
Typically it should run between 30 to 45 minutes. If you would like for it to run quicker, make sure to place each of the items on the list is easy to find places around the house. If you would like for it to last longer, I recommend having them bring each item back to you to check it off.
What are the rules for a scavenger hunt?
The rules for the indoor scavenger hunt can be however you want to set them up. If you are running it virtually, I recommend having each player bring back each item before moving on to the next. If you are running at home and want them to find all the items before coming back, set the rules for that.
Other Kids Crafts and Printables You Might Enjoy
Grab Your Indoor Scavenger Hunt Printable
Simply enter your name and email address in the form below and you will be taken to the printable indoor scavenger hunt pdf. In case you do not wish to enter your email, please visit my shop here.
CONNECT WITH MADE WITH HAPPY!
Be sure to follow me on social media, so you never miss a post!
Facebook | Twitter | Youtube | Pinterest | Instagram
Looking for crafts to keep your child busy? Sign up for my 5 Ridiculous HAPPY Activities in under 30 minutes for your kids delivered directly to your inbox!
Find and shop my favorite products in my Amazon storefront here!
INDOOR SCAVENGER HUNT FOR KIDS
PIN IT TO YOUR FAVORITE BOARD ON PINTEREST!
FOLLOW MADEWITHHAPPY ON PINTEREST FOR ALL THINGS HAPPY!