This Family Charades game is loads of fun! It's a great way to spend time together on family game night, try this spin on classic charades instead.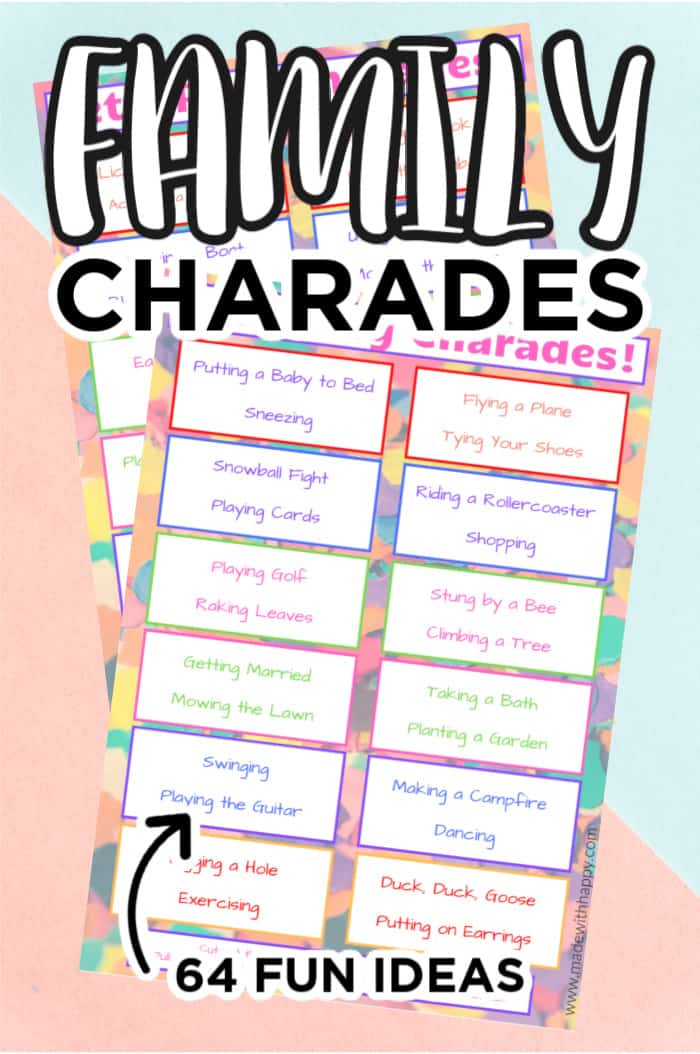 There is fun for the whole family with the free printable family charades games.
There's certain to be laughter, conversation, and a lot of love.
These printable charades are sure to be a fun game for the whole family all year long. Great for a rainy day or for some added fun at your Summer picnic. Truly a game for any season.
Printable Charades
Playing charades is such a fun and simple game that everyone in the family can enjoy as well. The great thing about charades is that it allows everyone to get up, move their bodies, and use their imagination as well.
Every time we play this game as a family, we spend half the time trying to catch our breath because we're all cracking up so hard!
We highlighted printable games along with some other fun kid's crafts in our December Craft Ideas along with our 101+ Easy Craft Ideas for kids.
You also do not want to miss our 101+ Printable Coloring Pages For Kids and 101+ Printables For Kids full of Crafts and Coloring Pages.
How do you play this family charades game?
This is the best part. Playing this game of Family Charades isn't hard at all. Since we've included the printable word list that gives you the charades that you need to do, all that's left is that all the players take turns acting out whatever is on the printable. It's just that simple.
Every family tends to have their own party game rules when it comes to charades but there is one rule that stands firm - There's no talking at all in charades, And this is what makes the game so fun!
Spending your time trying to act out what is on the clue is certain to draw in some laughs!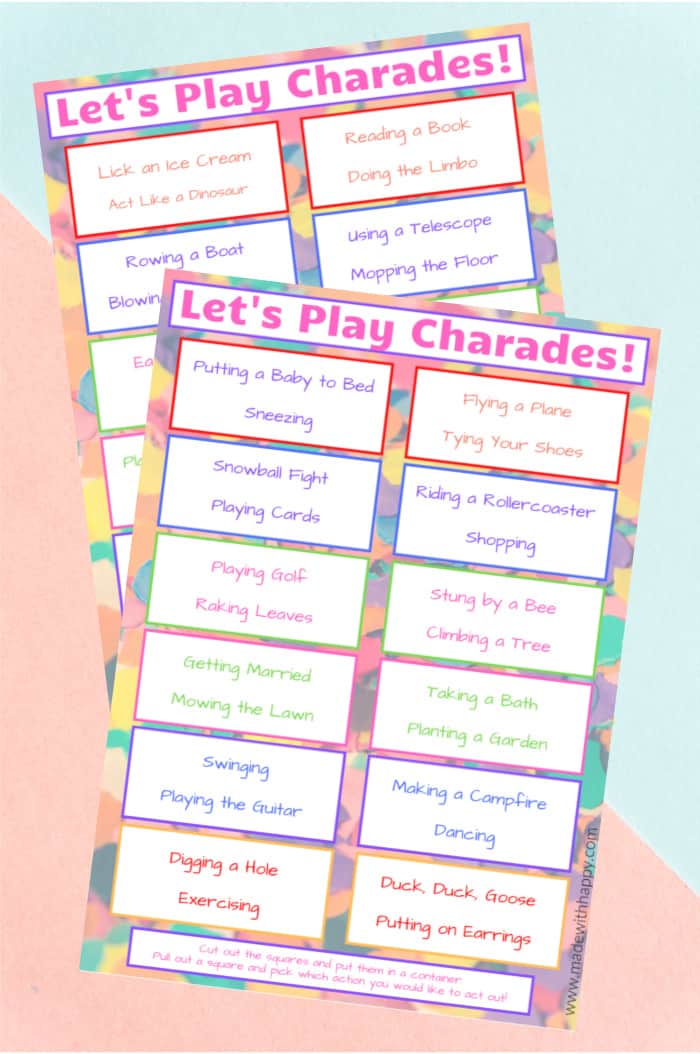 What are some charade ideas that are on these family charades' printable games?
This free printable is packed full of fun ideas. Some of the simple family charades ideas to act out include:
Lick and ice cream cone and act like a dinosaur
Row a boat while blowing out candles
Ironing clothes while sawing a log
How much fun are these?! We love using these because it combines two actions which really adds to the fun!
Can anyone of any age play charades?
Totally! But if you have a younger child who can't read quite yet, you'll just need to pair up so that you can help them. We play charades with partners all the time and it's really quite fun.
You and your team member can split up the cues and take turns acting out the charade. And who knows, you just might find that playing charades as a team is a way more fun game than playing alone.
If you're looking for a fun addition to your family game night, this is printable that you need. We've taken this with us when we've gone camping as well and had a total blast playing charades around the campfire!
As long as you're able to print it off, you can literally take this charade printable with you anywhere that you're headed.
This would be a great addition to your next family vacation or even a summer fun way for the kids to have fun at home this summer. And the best part about this game? You and the kids can make up even more wild and wacky charades to add to the fun!
Just write down the fun ideas and add them to the pile. Mix them up with the other charades and let the fun and chaos ensue. This family charades game is going to bring your family so much happiness and joy!
Charade Questions
Now that you are ready to play family charades, here are a few questions you might have.
What must you not do when playing charades?
There is no pointing. No talking, words, or sounds. No lip movement at all. Only acting out the charade card.
Why do you touch your nose in charades?
When you touch your nose in charades that typically means that you are guessing correct or close. Whether it's the category or guess for the charade.
Is sign language allowed in charades?
If you know sign language, then that is technically talking with your hands, so NO.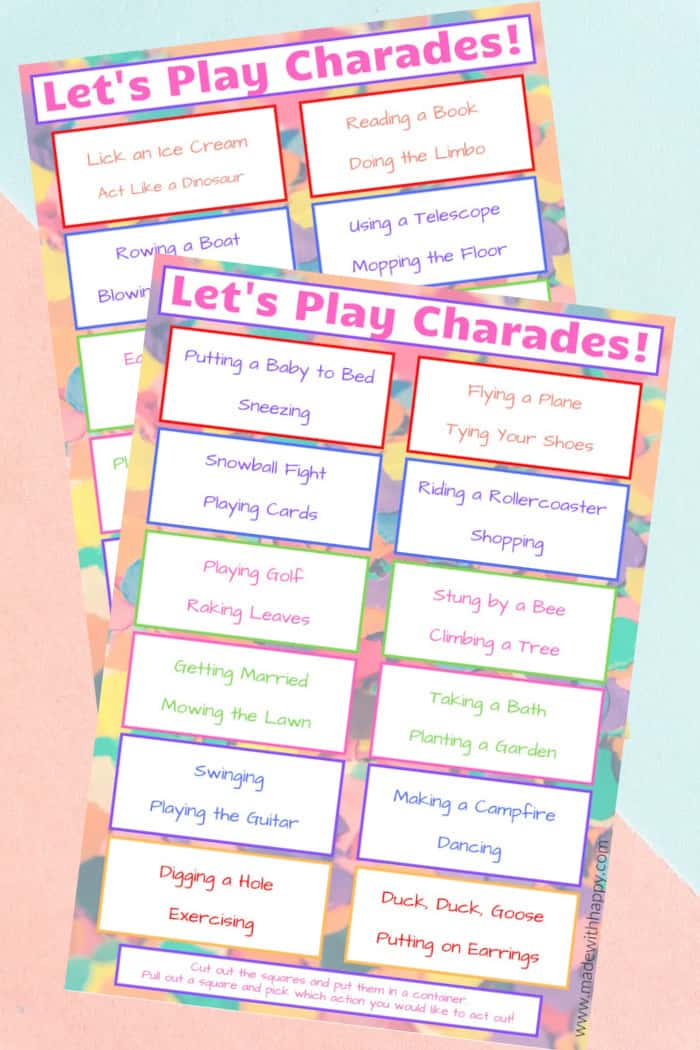 Grab Your Printable Game Pieces
Other Printable Games You Might Enjoy
CONNECT WITH MADE WITH HAPPY!
Be sure to follow me on social media, so you never miss a post!
Facebook | Twitter | Youtube | Pinterest | Instagram
Looking for crafts to keep your child busy? Sign up for my 5 Ridiculous HAPPY Activities in under 30 minutes for your kids delivered directly to your inbox!
Find and shop my favorite products in my Amazon storefront here!
FAMILY CHARADES
PIN IT TO YOUR FAVORITE BOARD ON PINTEREST!
FOLLOW MADEWITHHAPPY ON PINTEREST FOR ALL THINGS HAPPY!