Celebrate your child's big day with these happy birthday coloring pages printables. There are both girl and boy printable happy birthday coloring pages.
This Happy Birthday Coloring Pages printable is perfect for a fun birthday party or a way to spruce up those birthday invitations as well! When it comes to adding some creativity and fun to your child's big day, these Happy Birthday coloring pages are certain to bring a smile to their face!
Birthdays are a big deal at our house. We love any opportunity to celebrate them. If you love birthdays like we do, then you will not want to miss some of our other popular birthday posts including: Printable Birthday Countdown, Cubs Birthday Party, and Sprinkle Number Birthday Cake.
You also do not want to miss our 101+ Fun Coloring Pages For Kids and 101+ Free Kids Printables full of Crafts & Coloring Pages.
You also do not want to miss our 101+ Free Kids Printables full of Crafts & Coloring Pages.
Happy Birthday Coloring Pages for Kids
Do you have a birthday celebration coming up and you're looking for fun ways to showcase that special day?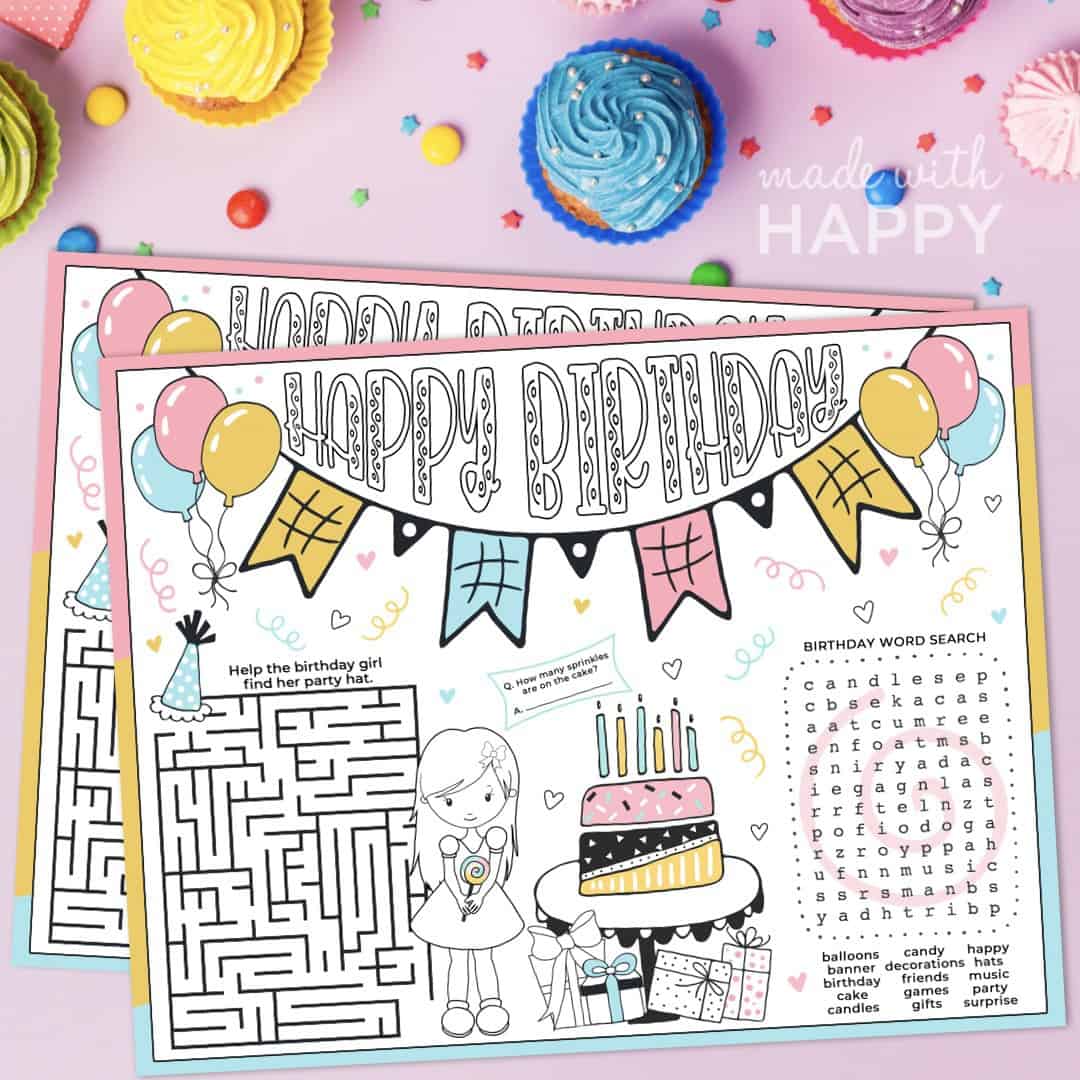 It's no secret that kids love coloring but they also love to have fun coloring as well. Since they're going to be focusing on their big day and looking for ways to stay busy, these coloring sheets can be a nice added touch to have as downtime between the birthday cakes and the birthday gifts.
One simple way to incorporate this free printable into the day is to print it off and have it sitting and waiting in their birthday card. Another fun idea is to have these printable happy birthday coloring pages just sitting and waiting on the table.
What is included in this free birthday printable for kids?
Since this printable freebie is only one page, there are multiple things for them to do! From a fun maze to a word search, your little one will love that there is a printable dedicated to them and their birthday!
Since every family celebrates birthdays a bit differently, here are a few fun ways that you can incorporate this fun birthday printable into their birthday with ease. (It's just that simple to bring a smile to their face!)
Have it sitting out on the table for right when they wake up in the morning
If you have a birthday breakfast for them, have this printed out and wait for them to do. They'll get to chow down on some good food and work on this printable, too.
Let them print it out on their own
Some kids are independent and want to do everything themselves. If this is the case, let them print out this printable on their own so that they can do it whenever they want.
Print it out and have it waiting in the car
Some people travel for their birthdays as well so if that is the case in your household, have this coloring page printed out along with markers so that your birthday kiddo can work on it while you're driving to and from. It'll help pass the time and keep the focus on the fact that it's their birthday, too!
Your birthday girl is going to love having this printable all to herself. She'll be able to sit back, enjoy the show, and be creative all while having fun.
Grab this free printable so you can easily make this one of the best birthday celebrations, ever! It's such a fun addition to all the excitement that will be happening during the day!
Download Your Happy Birthday Printables
Birthday Girl Printable
Birthday Boy Printable
Other Coloring Pages For Kids
CONNECT WITH MADE WITH HAPPY!
Be sure to follow me on social media, so you never miss a post!
Facebook | Twitter | Youtube | Pinterest | Instagram
Looking for crafts to keep your child busy? Sign up for my 5 Ridiculous HAPPY Activities in under 30 minutes for your kids delivered directly to your inbox!
Find and shop my favorite products in my Amazon storefront here!
HAPPY BIRTHDAY COLORING PAGES PRINTABLE
PIN IT TO YOUR FAVORITE BOARD ON PINTEREST!
FOLLOW MADEWITHHAPPY ON PINTEREST FOR ALL THINGS HAPPY!