Have some real family game night fun with these 108 free printable animal charade cards. Free game fun for the whole family.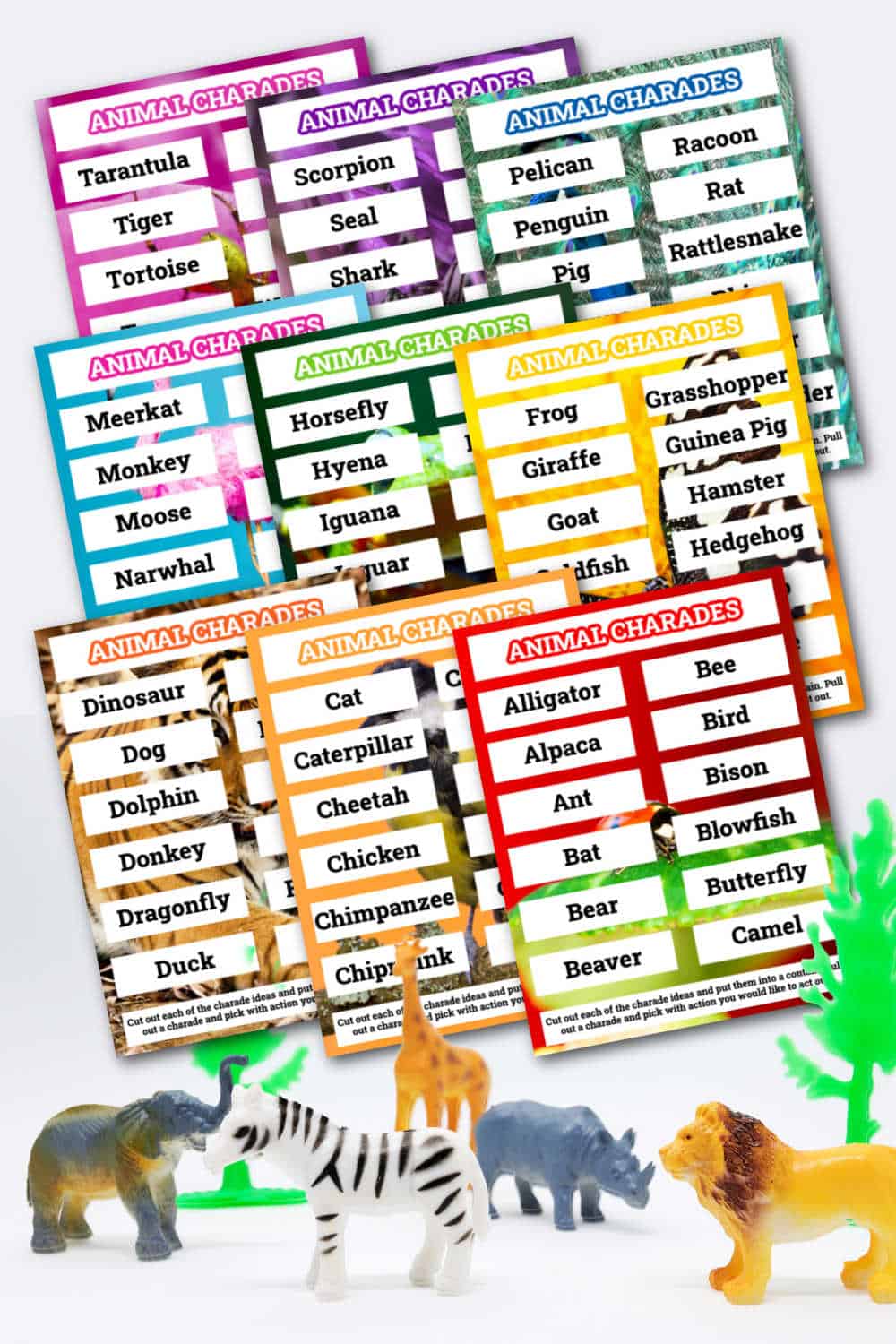 This fun animal charades game is full of hours of fun!
We all love playing games, but nothing beats games that involve the whole family! What I have for you today is something so fun and exciting that you can play it with your kids on family game night for hours. I'm talking about a fun game of animal charades!
Don't miss our other fun charades games Halloween Charades and Family Charades
Animal Charades Game
In case you don't know what animal charades are, it's a fun game with two teams. Each team member has to act out the animal, and the others have to guess what it is. If they give the correct answer, their team gets a point.
If that sounds fun, imagine how enjoyable it is going to be when you actually play it!
And, to make playing the animal charades games easy for everyone, I have created a set of 9 printable animal charades cards.
Why Play Animal Charades?
Animal charades are a fun way to spend game nights. It is an enjoyable activity that brings all the family members together to spend quality time with each other.
My family and I love playing the animal charades game on weekends, holidays, or whenever we have friends and family over. It is a great way to help younger children learn about different animals and the animal sounds associated with them.
This makes it a great game that is fun, educational, and loved by kids of all ages. And with my free printable animal charade cards, it becomes even more entertaining.
Don't Miss These Other 101+ Animal Crafts
How to Play the Animal Charades Printable Game?
If you are new to animal charades, let me give you a brief overview of how it is played.
My set of 9 free printable animal charade cards consists of the names of 12 zoo animals on each card. You simply have to download and print the cards and cut out each animal's name.
Once everything is ready, it's time to place all the animal cards in a bowl and shuffle them. Now, make 2 teams with equal members. The game starts with one team member from each team taking out a random card from the bowl.
Here comes the fun part! You have to perform animal actions in front of your audience so they can guess the name of the animal. The team that guesses the most animals wins this fun game!
Free Charades Ideas
My animal cards consist of different animals. From sea creatures to birds, farm animals, reptiles, bugs, and pet animals, you will find all sorts of creatures. You can use these free charade printables for preschool games or play on a family game night.
There are more than 100 animals to choose from, which means you can enjoy a fun charades game for hours at a time! Pick one and act out an animal name.
So, what are you waiting for? It is fun, it is educational, it is entertaining, and most importantly, it's free!
Get your fun animal charades game now! And if you want to stay updated about more free printable games and fun DIY arts and crafts activities for the next rainy day, subscribe to my newsletter.
You will not want to miss our Animal Bingo either!
Check out these other Animal Printables!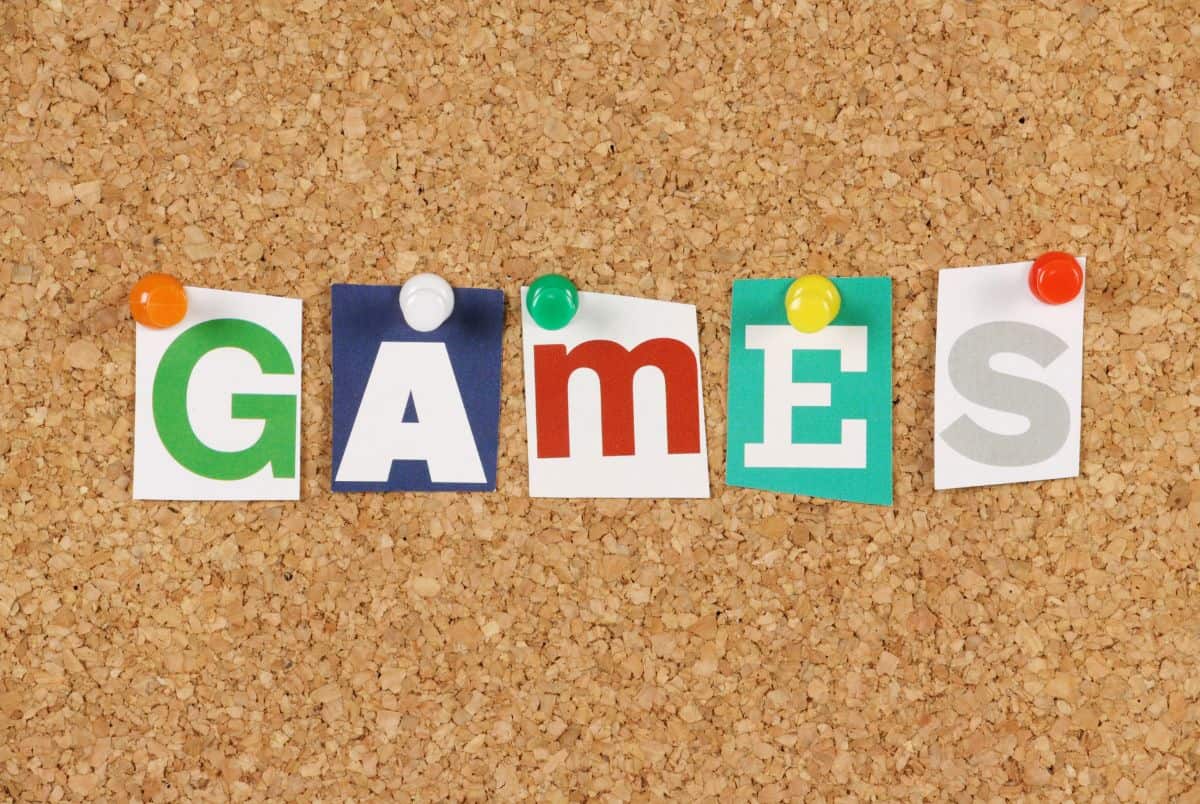 Other Free Printable Games You'll Love
We highlighted this Animal Activity along with some other fun kid's crafts in our October Crafts in conjunction with World Animal Day on October 4th. It is also part of the fun in our Easy Kids Crafts.
You also do not want to miss our 101+ Printable Coloring Pages For Kids and 101+ Printables For Kids full of Crafts and Coloring Pages.
Enter your name and email address in the form below and be taken directly to the free printable Animal Charade Cards pdf file. If for any reason you do not want to enter your information, you can find the Animal Charades Ideas in our shop.
*For personal use only
CONNECT WITH MADE WITH HAPPY!
Be sure to follow me on social media, so you never miss a post!
Facebook | Twitter | Youtube | Pinterest | Instagram
Looking for crafts to keep your child busy? Sign up for my 5 Ridiculous HAPPY Activities in under 30 minutes for your kids delivered directly to your inbox!
Find and shop my favorite products in my Amazon storefront here!
ANIMAL CHARADES
PIN IT TO YOUR DIY BOARD ON PINTEREST!
FOLLOW MADE WITH HAPPY ON PINTEREST FOR ALL THINGS HAPPY!