Celebrate the month of October with your kids and learn lots of October Fun facts including birthstones, flowers, and holidays.
This October Fun Facts month is full of all kinds of holidays, fun, and a whole lot of HAPPY. Learn with us all about October with these fun facts and we have some added crafts and printables that are sure to make you love this 10th month as much as we do!
Before we get into all of HAPPY October, don't forget to check out last month's September Fun Facts too!
The Month of October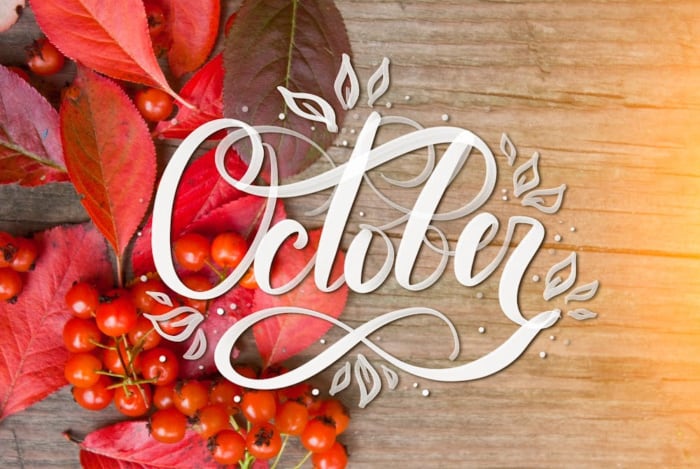 The month of October is a fun and HAPPY month! Some of the stats about this month include:
What Month is October? October is the 10th month of the year in the Gregorian Calendar (12-month calendar).
How Many Days are In October? There are 31 days in the month of October
While the current calendar has October as the tenth month of the year, that wasn't always the case. October was the eighth month of the Roman calendar (Julian Calendar). January and February didn't exist at the beginning of the year.
October Symbols
Each month of the year has a few different symbols within the month. There are birthstones associated with each month, as well as a monthly flower and astrological symbols.
These are all based on the month you were born. These are for the people that are born in October - October Babies!
October's Birthstones - Opal and Pink Tourmaline
October Birth Flowers -

Cosmos and Marigolds

Astrology Zodiac Signs of October - Libra and Scorpio

Libra - September 23rd - October 22nd
Scorpio - October 23rd - November 22nd
Holidays in October
October is in the middle of the Fall season (Autumn) in the northern hemisphere (above the equator). It is Spring in the southern hemisphere. In North America, most locations experience lots of falling leaves and cooler temperatures.
Don't forget to celebrate all the Fall fun, check out our Happy Fall Coloring Page, Easy Fall Crafts, Fall Printables, Fall Bingo, and Fall DIY Projects.
In terms of October Holidays here are a few:
International Coffee Day - October 1st
National Golf Lovers Day - October 4th
National Taco Day - October 4th
Cinnamon Roll Day - October 4th
International Ships-in-Bottles Day - October 4th
National Walk and Bike to School Day - October 5th
World Smile Day - October 7th
World Octopus Day - October 8th
I Love Yarn Day - October 8th
Christopher Columbus Day - October 10th
Indigenous Peoples' Day - October 10th
National Apple Day - October 21st
National Pumpkin Day - October 26th
World Cat Day - October 29th
National Candy Corn Day - October 30th
Halloween - October 31st
Floating Holidays or Monthly Celebrations
Interesting Facts About October
The name October got its name from the Latin word octo with means eight. This is based on the early Roman calendar.
The World Series of baseball begins in October.
More United States Presidents have been born in October more than any other month. U.S. Presidents include - Jimmy Carter (October 1) - Rutherford B. Hayes (October 4) - Chester A. Arthur (October 5) - Dwight D. Eisenhower (October 14) - Theodore Roosevelt (October 27) - John Adams (October 30)
Like September's Harvest Moon, October's full moon is known as the Hunter's Moon. October's full Moon, known as the Hunter's Moon, arrives on Sunday, October 9.
Yosemite National Park is created by United States Congress on October 1st, 1890.
The Soviet Union launches the Sputnik 1 probe into orbit on October 4th, 1957.
On a leap year, October 31st falls on the same day of the week as February 29th. In a common years, it falls on the same day of the week as February 28th.
Some celebrities whose birthdays are in October include - Matt Damon, Hugh Jackman, Bruno Mars, Gwen Stefani, and Julia Roberts
The owl is the bird of the month of October.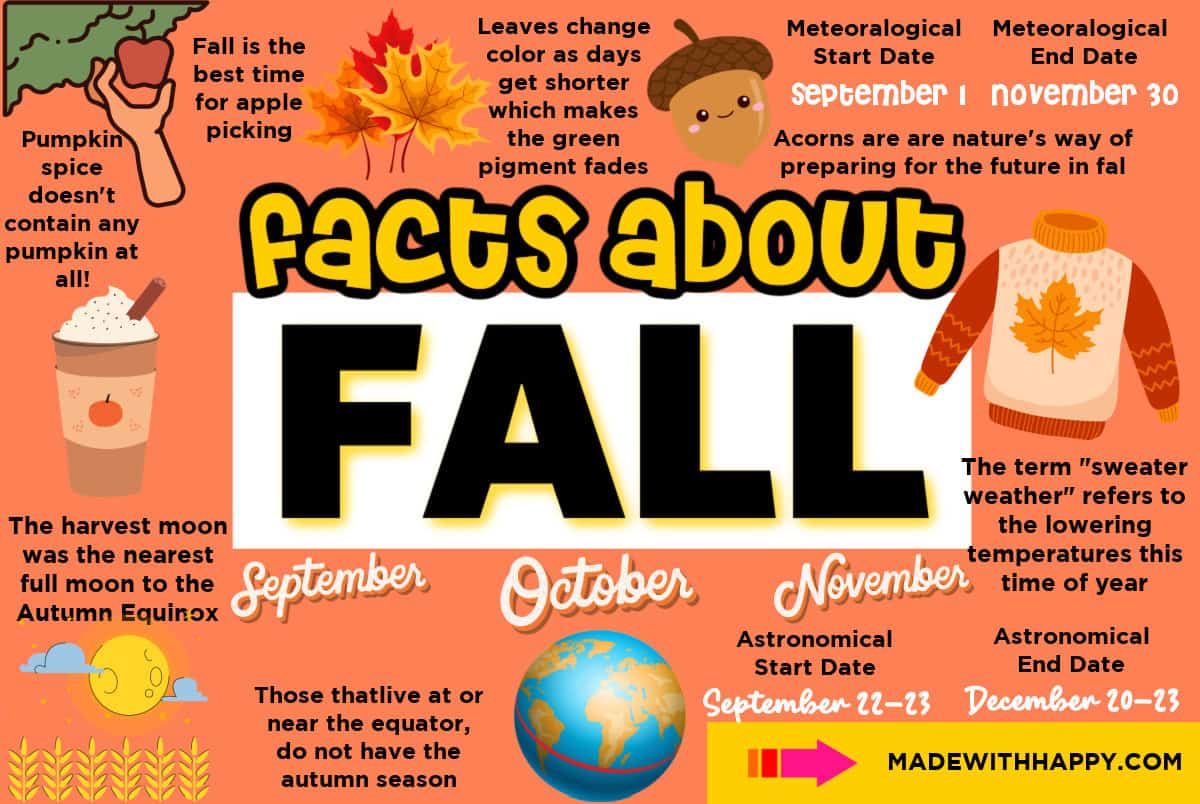 Fall is a magical season when the leaves change color and create a beautiful mosaic of red, orange, and yellow hues.
October is the perfect time for pumpkin picking, and carving pumpkins into spooky Jack-o'-lanterns is a fun Halloween tradition.
During fall, animals like squirrels are busy collecting nuts and acorns to store for the winter months ahead.
Fall is a season of harvest festivals, where people come together to celebrate the bounty of crops and give thanks for their abundance.
Halloween, a thrilling October event, is celebrated with costumes, treats, and spooky decorations, making it one of the most exciting times of the year.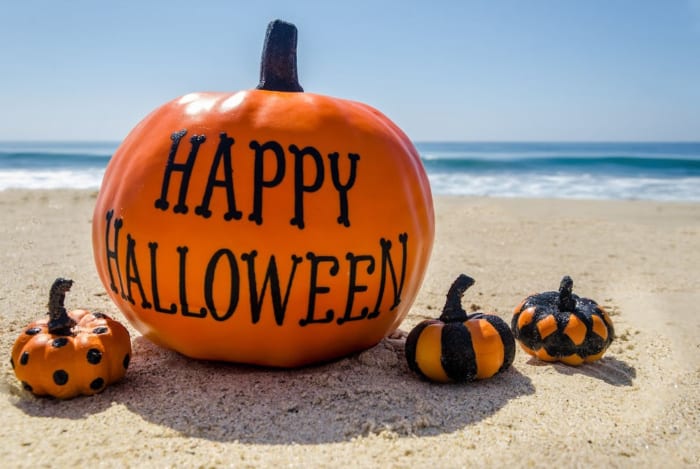 Other Fun October Activities
October is a month full of all kinds of Fall fun leading up to Halloween. We have lots of different crafts, printables, fun facts, and coloring pages for October.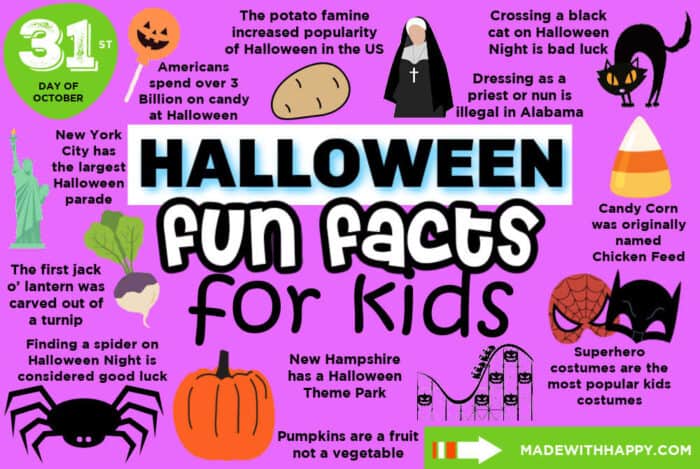 Learn all the fun and history of Halloween like how spiders and black cats are on opposite sides of being lucky.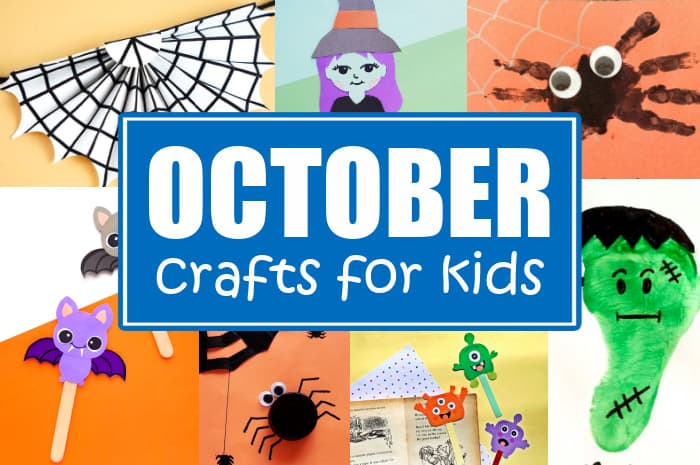 Fill the month with lots of different crafts full of Fall, Pumpkins, Halloween, and more.
Have some October fun with this free printable October coloring page.
Happy October! Especially happy with this free printable October word search.
Other Monthly Fun Facts You'll Enjoy
Download The Free Printable October Fun Facts Sheet
Simply enter your name and email in the form below and you will be taken directly to the free downloadable fun facts sheet.
*For personal use only
CONNECT WITH MADE WITH HAPPY!
Be sure to follow me on social media, so you never miss a post!
Facebook | Twitter | Youtube | Pinterest | Instagram
Looking for crafts to keep your child busy? Sign up for my 5 Ridiculous HAPPY Activities in under 30 minutes for your kids delivered directly to your inbox!
Find and shop my favorite products in my Amazon storefront here!
OCTOBER FUN FACTS
PIN IT TO YOUR DIY BOARD ON PINTEREST!
FOLLOW MADE WITH HAPPY ON PINTEREST FOR ALL THINGS HAPPY!