We're sharing how to make Cinnamon Roll Waffles in a waffle iron topped with a delicious fluffy cream cheese glaze.

Easter is almost here, my friends.  While I know most of us are full speed ahead to spring, I could have sworn we rang in the New Year two weeks ago!  Regardless of how I'm feeling, Easter is just a hop, skip and jump away.  (See what I did there… hop…. tehehehe)  It's only right that with this special holiday, the breakfast we serve is special as well.
Of course I'm also realistic.  No one wants to spend hours in the kitchen before church, egg hunts and family get together.  Therefore, I came up a fun spin on my one hour cinnamon rolls.  Making them into waffles!  Yes!  Cinnamon Roll Waffles with a Cream Cheese Glaze.
Don't they look divine?  The key to these tiny pieces of heaven is not cooking them too long.  There is nothing worse than a hockey puck on your special morning.
Also, just to add another special touch, we decided to serve some more of the glaze in a regular size plastic egg.  How fun is that?  This allows your family and friends to adjust their own amount of glaze depending on their liking.  One little tip, a lot of the plastic eggs have tiny little holes at the bottom, use a small piece of tape to cover the holes before you fill them.
Here's how we did it.
Print
Cinnamon Roll Waffles with Cream Cheese Glaze
Ingredients
**Dough**

3/4

cup

milk

1/4

cup

butter

3 1/2

cup

flour

1/2

teaspoon

salt

1

package instant yeast

1

egg

1/4

cup

water

**Cinnamon Filling**

1

cup

brown sugar

1

tablespoon

ground cinnamon

1/3

cup

butter

**Cream Cheese Frosting**

4

oz.

Philadelphia Cream Cheese Block softened

1/2

cup

powdered sugar

3

tablespoon

milk
Instructions
In a small sauce pan, on medium heat, heat both milk and butter. As soon as the butter is melted remove from heat and let sit till lukewarm.

In a bowl, mix together 2 1/2 cups flour, salt, and yeast till combined.

Using an electric mixer, fitted with a dough hook, add milk mixture to the flour mixture.

Add the egg and water.

Slowly add the remaining 1 cup of flour into the bowl a little at a time until the dough balls up and pulls away from the sides. Approximately 5 minutes.

Remove dough hook and place damp cloth over the dough and let sit for approximately 10 minutes.

In another bowl, mix together the brown sugar, cinnamon and softened butter.

Once your dough has risen, using a floured surface and rolling pin, roll out the dough till its approximately a centimeter thick in a rectangle shape.

Spread the brown sugar mixture across the top of the rolled out dough.

Starting at one end, begin to roll the dough into a tube shape.

Cut cinnamon rolls between a 1/2 inch to 1 inch thick.

Into a hot waffle iron they go till they just begin to golden.

For the cream cheese glaze, whisk together the softened cream cheese, powdered sugar and milk.

Drizzle glaze over the waffles as well as fill a plastic egg with extra glaze for each serving.
We have just the classic waffle maker, but any waffle maker would work just fine.  Cook as you would a light and fluffy waffle in terms of timing.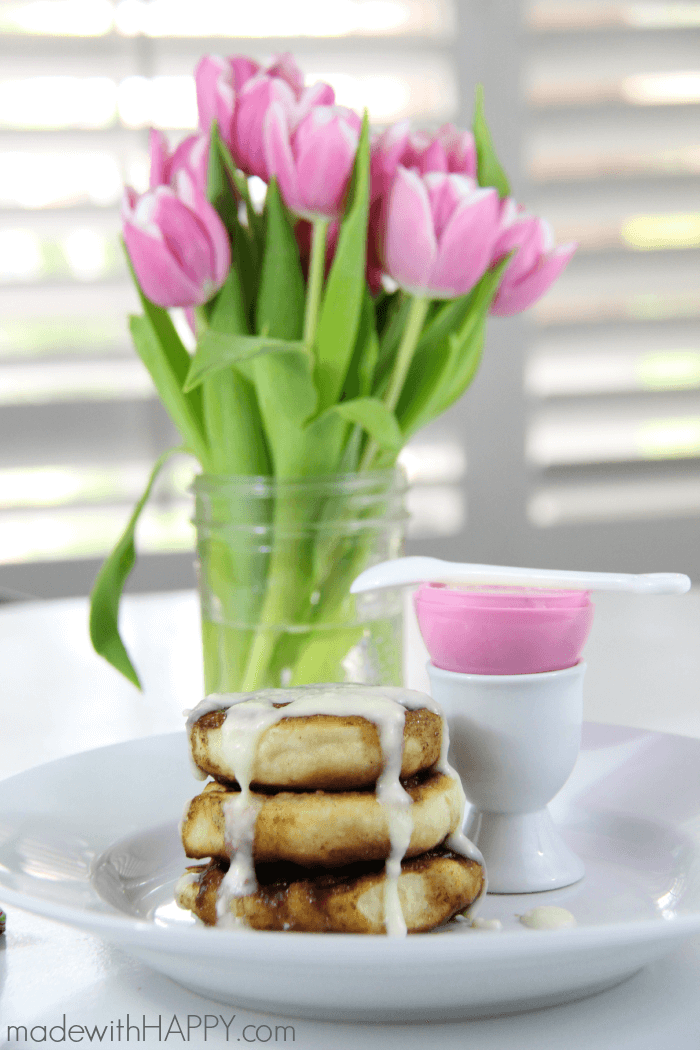 Thank you to Philadelphia Cream Cheese for allowing me to partner with them to come up with a delicious recipe for the Easter season!  Do you have any favorite Easter recipes using Philadelphia Cream Cheese?  I'd love to hear your favorites!  **Note: I came up with this recipe and it is not an original Philadelphia Cream Cheese recipe