I recently attended a super fabulous event where some friends where we discussed healthy tummies and I let them in on some changes I had been making to my diet. While we talked health and food, I also shared with them that about these new morning smoothies I've been making and loving.
The event itself was super informative. My friends and I spoke about tummy health and the importance of diet and exercise, but how important overall gut health is to your well being. One huge lesson I learned at the event, was that over half your immune system is in your intestinal tract. So if your intestinal tract isn't functioning properly, then your immune system is compromised! WOW! I shared with my friends that day something that may have never shared with you all, but that earlier this year I was tested for some food intolerance and it came back with a number of them. DOH!!!
Some of you may ask, what does an intolerance mean? That means, that I'm not necessarily allergic to any foods, but that when it comes to digestion, there are specific foods that my body is intolerant to and has a hard time digesting. On the top of the list that my body is intolerant to, is dairy. I was in disbelief really, since my single favorite food group is cheese. Kicking and screaming, I cut out dairy. The first couple of weeks of eliminating dairy, I have to be honest, I didn't feel much different. It wasn't until I realized that while I was eliminating the bad things in my diet, there were some good cultures and bacteria that I was getting in dairy. It was then that I started Renew Life Probiotic once a day. Once I started that, I could definitely see a difference.
Before I go any further, let's talk tummies and probiotics for a sweet second. Things you may or may not know
A proper functioning tummy or gut, contains a balance of both good and bad bacteria. This helps with digestion and immune health.
There are more than a 100 trillion bacteria of many different strains inside your digestive tract that have to stay in balance to keep your body healthy.
70% of our immune systems is located in our intestinal tract (That is a lot!)
When its out of balance you could all kinds of tummy troubles including (bloating, constipation, diarrhea, fatigue, headaches, and weight gain among others)
Experts agree that taking a probiotic supplement like Renew Life Ultimate Flora Probiotic is a good way to help replenish the good bacteria and get your gut back in balance.
For me, when dairy went out the window, I started to struggle with what to have for breakfast in the morning. I started trying some different types of protein shakes and came to this one that I enjoy. I started making them and putting all the dry ingredients into a jar for each day of the week. Then in the morning, I just pour one over ice, add the liquid and enjoy. Seeing all the jars, my friends started asking for the recipe. So here you go.
Ingredients:
1 scoop - Protein Powder - I use pea powder as it doesn't contain whey
2 teaspoons Macha Green Tea Powder
1 tablespoon - Organic Cocoa Powder
1 tablespoon - Chia Seeds
1 tablespoon peanut butter - or peanut butter powder
1 scoop vitamin c powder
1 cup coconut milk
1 handful spinach or kale - or if you have greens powder, a scoop of that works too.
Blend then all together and you have yourself a delicious morning smoothie.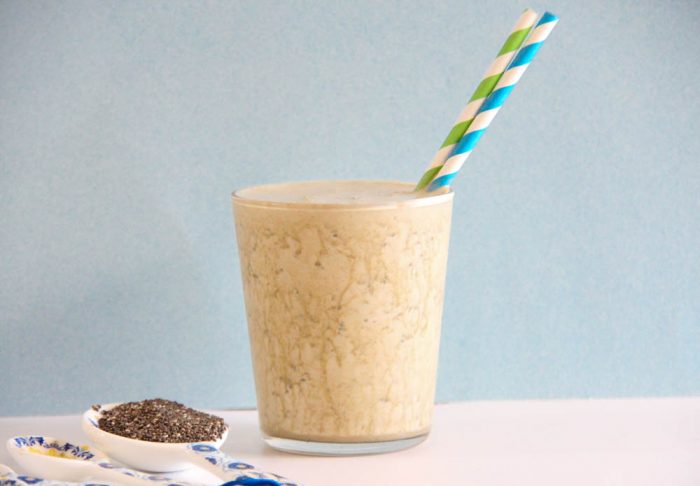 By adding these morning smoothies along with a daily Renew Life Probiotic and I'm HAPPY to report, my gut is feeling a thousand times better. It really is so important to listen to your body and make sure along with lots of water, you are taking care of your insides as much as we tend to take care of our families.

HAPPY Breakfast and HAPPY Bellies