Avocado Toast is our new favorite breakfast, lunch and snack.
Snacks at our house have become quite bland over the last few months. Its a combination of being busy, and not meal planning as well, our snacks have consisted mostly of a piece of fruit or carrots. I know, blah right? While we do enjoy those snacks, I have decided to think through snacks as I do meals and come up with some awesome additions.
WASA Crispbread is great when thinking about snacks. I like to think of them as the perfect blank canvas for snacks. They are great with sweet, savory and any combination. My kids love them with nut butters, or on the sweeter side with some cream cheese and jam. Being in California, our go-to snacks lean towards avocado any chance we get.
I don't know if you know this, but WASA has been around since 1919 and is part of the Barilla Group. The same people that bring you Barilla Pasta and our family's favorite Barilla Gluten Free Pasta which has also has recently been named one of Parents Magazine's "Top 25 Allergy Free Foods." YES!!!
Truly there are more like 101 ways to do avocado toast, but today I'd thought I'd share with you my 6 favorites that are quick simple and so good, they will have you making them everyday. True story!
Avocado Toast 6 Ways
All our recipes start with a half an avocado mashed up and spread over a 100% Multi Grain Wasa Crispbread. For added flavor, a pinch of salt and squeeze of lemon brings out the best with the avocado in my opinion.
Tomato, Basil and Balsamic Avocado Toast
A few grape or cherry tomatoes halved, one leaf of basil and a few drops of your favorite basalmic turns this into a party in your mouth.
Lox, Onion and Capers Avocado Toast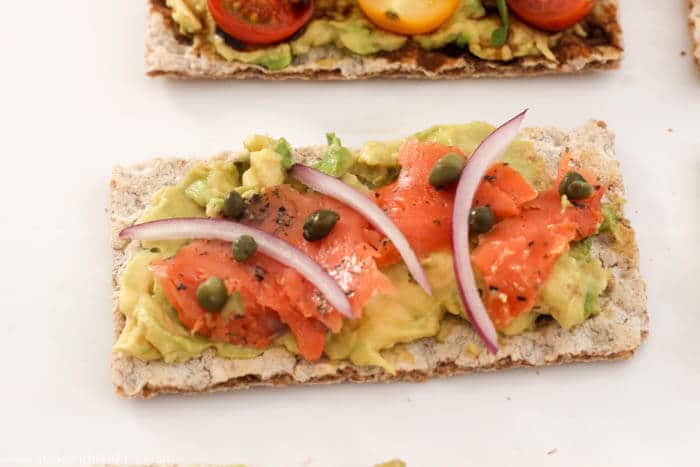 For those that enjoy lox for breakfast or brunch are going to love this with avocado. You have the deliciousness of the brine smoked salmon, the bite of the onion and then capers make just everything better in my opinion. I have a secret… I eat this every chance I get. SOOOOO GOOD!
Prosciutto and Arugula Avocado Toast

If you have never had the combination of prosciutto, avocado and arugula, then you are truly doing your mouth a disservice. The prosciutto is a bit salty, and the arugula is a bit spicy, the avocado is smooth and delicious.
Salsa and Tortilla Strips Avocado Toast
This might seem like a no brainer, but I sometimes forget this one. When you're looking for a snack and you see the salsa in the refrigerator. What I love about this, is that is portion controls my chip and salsa intake. Its filling and satisfying and gives you all the goodness you love of chips salsa and guacamole. I like to use blue tortilla chips, but corn tortilla chips are just as tasty.
Cotija Cheese and Sriracha Avocado Toast
For those that don't know, Cotija cheese is a Mexican dry cheese similar to parmesean. Its dry, salty and oh so tasty. That paired with the spicy sriracha makes for a fabulous snack that will wake up those taste buds.
Fried Egg and Pepper Avocado Toast
This is great for snack or I've been know to have it for breakfast with a cup of coffee. The egg, pepper and avocado pair together awesome and is quick and simple and gives you some great protein to start your day.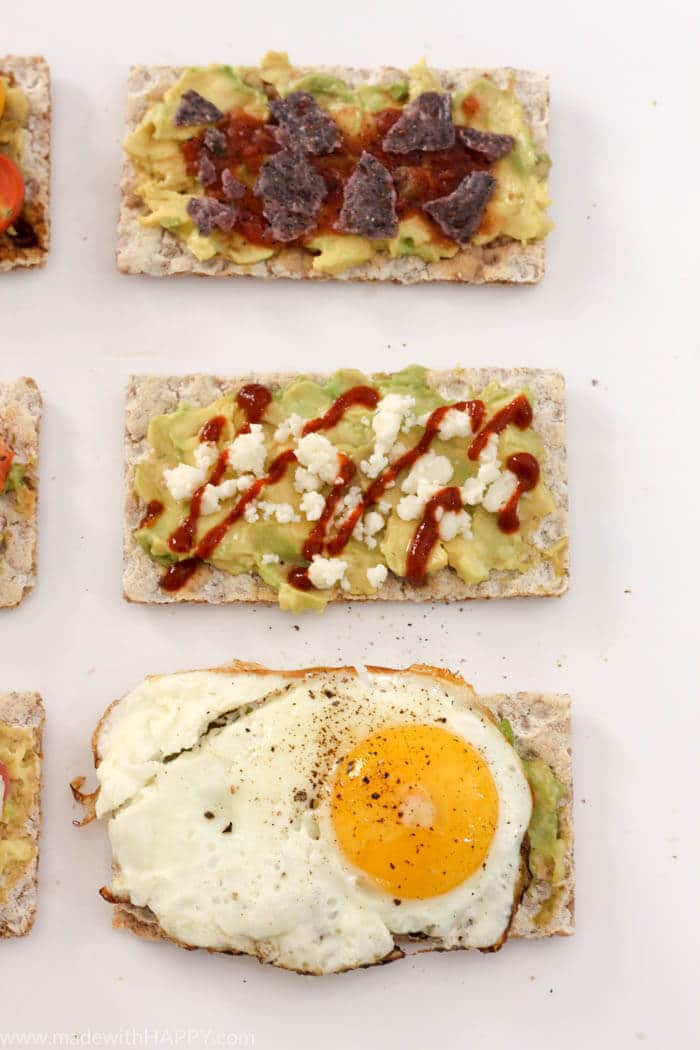 You can find WASA Crisps at your local Walmart and don't forget to get cash back on your purchase using Ibotta.
HAPPY SNACKING!