Hello!!! From the looks of my feeds, we are all back to school and in full swing. We're getting used to making lunches and making time for homework. The one thing I'm slacking on has been breakfasts before school. I'd be lying if I said we aren't cereal-ed out over at our house. I need to change things up and I'm excited because while looking through all the great link-ups last week, I came across some great ideas for breakfast.
Seriously, how good do these all look? SOOOO GOOD.
I really wish I could have these Sausage Pancake Bites Recipe from Must Have Mom right now. Okay, I'm off to make them.
I'm pretty sure these omelet breakfast stuffed bell peppers from MommaDJane could be eaten all day long.
My kids would love these easy to make breakfast balls from The Kids Activity Blog, wouldn't yours?
How about homemade pancakes? I'm always looking for an easy recipe like this delicious looking stack like this one from The Diary of a Real Housewife.
I always forget about how easy and yummy smoothies are in the morning. This Apple Cheery and Almond Breakfast Smoothie from Delightful E Made is going to be made tomorrow morning!
---
Thank you all for your Submissions! Looking forward to seeing what you have for us this week! Don't forget, if you were featured, please feel free to grab the button below and display it!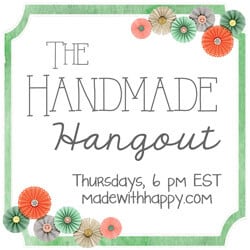 Our Hosts
ME --> Alli from Made with HAPPY
Blog - Facebook - Twitter - Pinterest - Google+ - Instagram
Allison from A Glimpse Inside
Blog - Facebook - Pinterest - Instagram - Twitter - Google+
Becca from From Gardners to Bergers
Blog - Facebook - Pinterest - Twitter - Hometalk - Google+
Heather from Twin Dragonfly Designs
Blog - Facebook - Twitter - Pinterest - Google+ - Instagram
Kim from Too Much Time on My Hands
Blog - Facebook - Twitter - Pinterest - Google+ - Hometalk - Instagram - Bloglovin
Valerie from Occasionally Crafty
Blog - Facebook - Twitter - Pinterest - Google+ - Instagram - Hometalk