Your breakfast will be taken to a whole new level with these hearty breakfast stuffed peppers.
Good Morning My HAPPY Friends!
I love breakfast and when I can fit all my favorites in one little food container, it makes me just a little giddy inside. I was testing out some other containers like avocados and while those are delicious, I found that I couldn't get all the goods in there without taking all the avocado goodness out. Which then lead me to think about the stuffed peppers I was making for dinner and then ding ding ding... light bulb... Breakfast + Peppers = AWESOME!
Without further adieu, here is how you make HAPPY Breakfast Stuffed Peppers
Ingredients:
3 peppers
½ pound breakfast sausage - cooked
1 clove garlic - minced
½ cup cheese - shredded
1-2 chopped green onions (2 tablespoons)
salt and pepper for taste
Directions:
Pre-heat oven at 350 degrees
Start by cutting the peppers in half and hollow each out removing seeds.
Add a pinch of salt and pepper into each half and then into the oven for 20 minutes.
Brown your sausage in a pan along with the garlic. Set aside.
Once you pull the baked pepper halves out, add a scoop of sausage to each pepper.
Then a pinch of shredded cheese, and a pinch of chopped green onion.
Lastly, crack and egg over the top of each pepper and then into the oven for another 15-20 minutes to where the eggs whites are fully cooked.
Breakfast stuffed peppers are a simple recipe to make and are a perfect brunch recipe for any size family. Have guests coming to stay with you? Put these ingredients on your shopping list!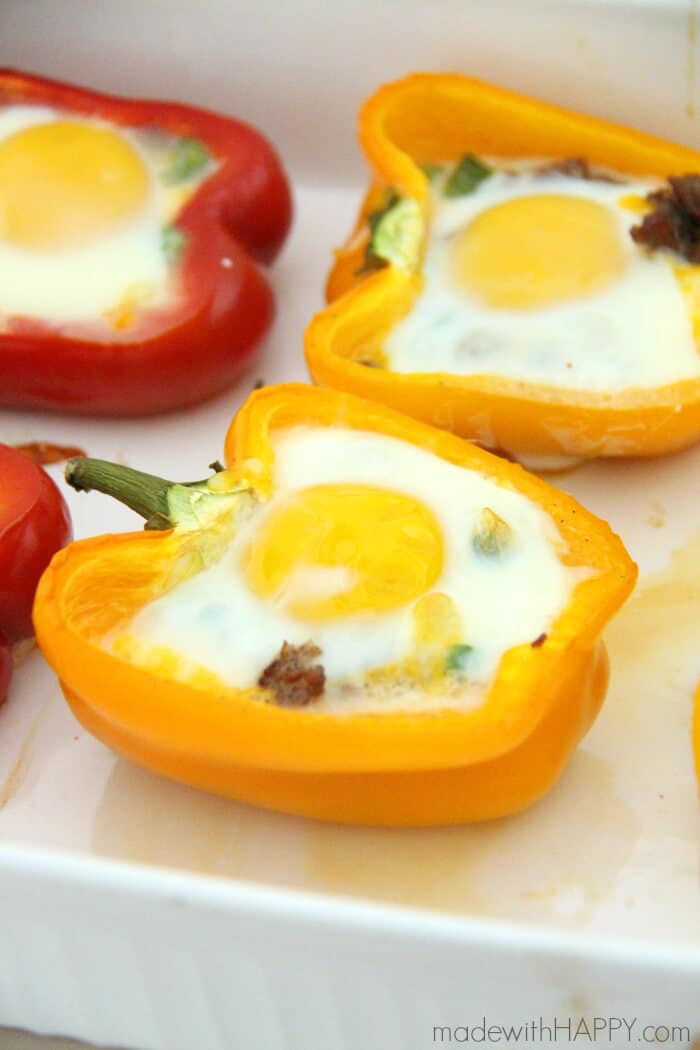 The savory garlic sausage, cheese, onion and egg inside a simple sweet pepper is so so good you guys!!! These breakfast stuffed peppers are the perfect weekend breakfast recipe. You may want to run out and make them for this weekend, and I encourage you to do that! Your family and or guest will be thank you for the best breakfast they've had all year!
HAPPY BRUNCHING!!!
OTHER BREAKFAST FAVORITES
Like it? Pin it!
Breakfast Stuffed Peppers
Your breakfast brunch certainly isn't complete without some BREAKFAST SMOOTHIES and AVOCADO TOAST.