When apple season is upon us and we want to teach all the apple facts for kids. These printable worksheets are fun and educational.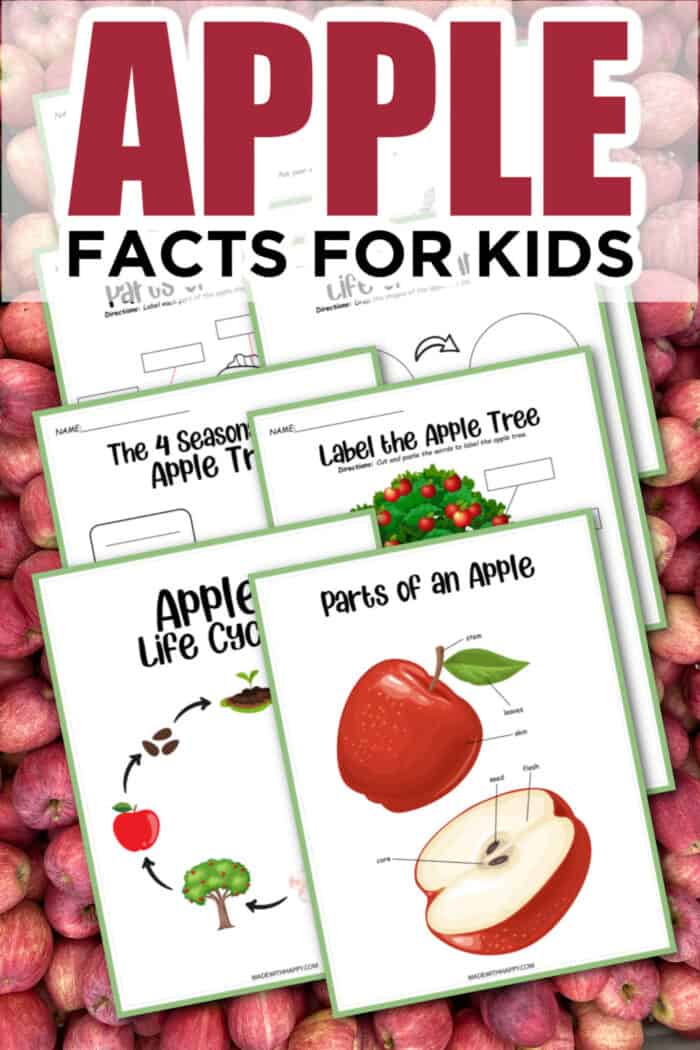 These Apple facts for kids are full of fun graphics and games to make learning that much more fun!
Fall is one of our favorite times of the year. The season is full of fun activities for the whole family. There is apple picking, sunflower mazes, pumpkin patches, and all kinds of fun. What is also great about the Fall is that it's back to school.
Back to school means, tying in lots of your family's fun activities into learning and crafting. You have a few days' worth of fun from one apple-picking outing. We have an apple craft, apple drawing, apple tree coloring page, and apple handprint painting. Then we have these worksheets all about apples.
Fun and educational!
Fun Facts About Apples
Learning fun facts about apples can be so fun.
We are big fans of having educational worksheets or printable games with us as we set out on adventures like apple picking.
It is great to have these fun facts about apples and the apple life cycle with you as you explore the apple orchards and each apple tree.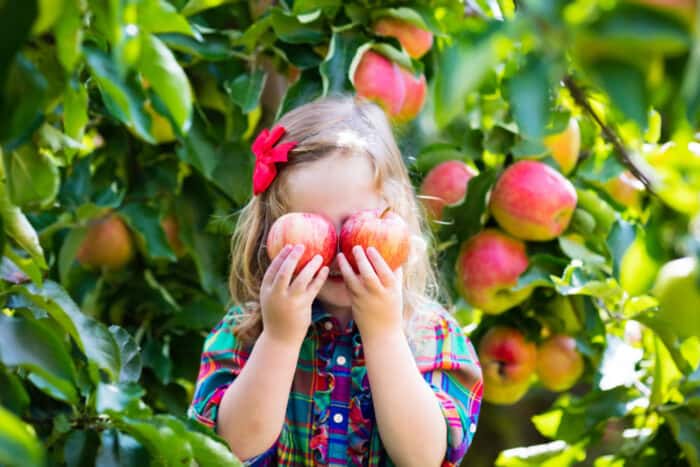 If you are looking for some additional fun facts about apples, here are my fun facts to include when learning about Apples
In the United States, there are approximately 2500 different varieties of apples grown. There are close to 7500 types of apples across the world. So many more varieties than the popular apples like the granny smith or red delicious we see in our stores.
Apples are part of the rose family. Yes, roses are like delicious-smelling flowers.
Apples are good for your health! The skin is full of fiber and antioxidants. Apples contain vitamins, minerals, and many benefits to keeping your body healthy. There is good reason for the saying eating an apple a day keeps the doctor away.
Twenty-five percent of what makes up an apple is AIR! Yep, air! Like the air you breathe. That is why if you put an apple in water it will float!
It takes 36-40 apples to make 1 gallon of apple cider. Yum, apple cider!
Fall Printables
The Fall months (September, October, and November) bring all kinds of fun activities and items within nature. Fall is when we start to see pinecones, sunflowers, acorns, and of course pumpkins!
We'd like to have fun printables to go along with many of these items for a little extra education! If you are looking for other fun printables for Fall, then do not miss our other popular posts including Leaf Activities, Pumpkin Life Cycle, Turkey Facts, and Sunflower Life Cycle.
We highlighted this Fall Printable and Fall Crafts along with some other fun kid's crafts in our September Crafts, October Crafts, and November Crafts along with our Kids Crafts.
You also do not want to miss our 101+ Fun Coloring Pages For Kids and 101+ Free Kids Printables full of Crafts & Coloring Pages.
All About Apples
We are firm believers in always learning. Whether it's grocery shopping, gardening, or a day of fun apple picking. That is why having a fun apple activity packet on hand for these moments is great.
Our worksheet includes:
Apple Life Cycle
Parts of Apples x 2
Life of an Apple
Label the Apple Tree
The Four Seasons of an Apple Tree
My Apple Observation
Does it Float
Other Fall Activities You'll Love
Download Apple Facts Printables
Enter your first name and email address to download the free files. Or if you'd prefer, you can purchase a set in my shop here.
*For personal use only
CONNECT WITH MADE WITH HAPPY!
Be sure to follow me on social media, so you never miss a post!
Facebook | Twitter | Youtube | Pinterest | Instagram
Looking for crafts to keep your child busy? Sign up for my 5 Ridiculous HAPPY Activities in under 30 minutes for your kids delivered direct to your inbox!
Find and shop my favorite products in my Amazon storefront here!
APPLE FACTS FOR KIDS
PIN IT TO YOUR DIY BOARD ON PINTEREST!
FOLLOW MADE WITH HAPPY ON PINTEREST FOR ALL THINGS HAPPY!