Celebrate the month of February with your kids and learn lots of February Fun facts including birthstones, flowers, and holidays.
This February Fun Facts month is full of Valentine's Day, Groundhog Day and Super Bowl fun, and a whole lot of HAPPY. February is full of romance and some important people in history including George Washington, Abraham Lincoln, and Martin Luther King Jr.
Learn with us all about February with these fun facts and we have some added crafts and printables that will make you love the 2nd month as much as we do!
Before we get into all of HAPPY February, don't forget to check out last month's January Fun Facts too!
The Month of February
The month of February is fun and a HAPPY month! Some of the stats about this month include:
What Month is February? February is the (2nd month) the second month of the year in the Gregorian Calendar (12-month calendar).
How Many Days are In February? There are 28 days in the month of February except on Leap Year where there are 29 days every four years.
While the current calendar has February as the second month of the year, that wasn't always the case. The early Roman calendar (Julian Calendar) only had 10 months and January and February didn't exist.
Leap Year
Julius Caesar introduced a new calendar system, the Julian calendar where he added a day to the end of February every four years on February 29th. This is Leap Day. This added day synchronized with the seasonal year.
February Symbols
Each month of the year has a few different symbols within the month. There are birthstones associated with each month. A monthly flower and astrological signs based on a February birth month.
These are all based on the month you were born. These are for the people's February Birthdays - February Babies!
February's Birthstone - Amethyst. It is considered a symbol of friendship, trust, protection, commitment, and love. Garnet is also said that the one who wears it will be kept safe during travel.
February's Birth Flower -

Violets and Primrose

Astrology Zodiac Signs of February - Aquarius and Pisces

Aquarius - January 20th – February 18th
Pisces - Febrauary 19th - March 20th
Holidays in February
February is the third of the Winter months in the northern hemisphere (above the equator). It is Summer in the southern hemisphere. In North America, most locations experience lots of snow, and cooler temperatures.
Don't forget to celebrate all the Winter fun, check out our Happy Winter Coloring Page, Winter Crafts For Kids, Winter Printables, Winter Bingo, and Winter Word Search.
In terms of February Holidays here are a few:
National Dark Chocolate Day - February 1st
National Freedom Day - February 1st
Groundhog Day - February 2nd
National Hedgehog Day - February 2nd
National Tater Tot Day - February 2nd
National Ukulele Day - February 2nd
National Golden Retriever Day - February 3rd
World Nutella Day - February 5th
National Kite Flying Day - February 8th
National Make a Friend Day - February 11th
International Day of Women and Girls in Science - February 11th
Abraham Lincoln's Birthday - February 12th
Valentine's Day - February 14th
George Washington's Birthday - February 22nd
Tell a Fairy Tale Day - February 26th
International Polar Bear Day - February 27th
Leap Year - February 29th
Floating Holidays or Monthly Celebrations
Ash Wednesday
Super Bowl (2nd Sunday)
Presidents' Day (3rd Monday)
Jell-O Week (2nd week)
Random Acts of Kindness Week (3rd week)
Black History Month
National Bird Feeding Month
Library Lovers Month
National Cherry Month
American Heart Month
National Embroidery Month
National Grapefruit Month
Interesting Facts About February
February in the United States is the snowiest month.
It is the shortest month of the year
The Welsh call February "y mis bach" which means "little month".
February is the Latin word "februum" which means purification or to cleanse.
The Roman King Numa Pompilius added January and February to the original 10-month calendar.
About 0.07% of the US population is born on Leap Day.
Some celebrities whose birthdays are in February include - Jennifer Aniston, Chris Rock, Michael Jordan, Harry Styles, Drew Barrymore, Sheryl Crow, Michael Bolton, Rebel Wilson, and Rashida Jones
It is observed on February 2nd in the U.S. and Canada
It comes from a United States Pennsylvania Dutch superstition dating back to the 1800s.
Every year the groundhog, named Punxsutawney Phil, comes up out of his burrow to see his shadow on a clear day. If he sees his shadow, the belief is that the groundhog will then retreat into his den for another six weeks of winter. If it is cloudy and he does not see his shadow, that means that Spring will arrive early.
Punxsutawney Phil is only right about 40% of the time.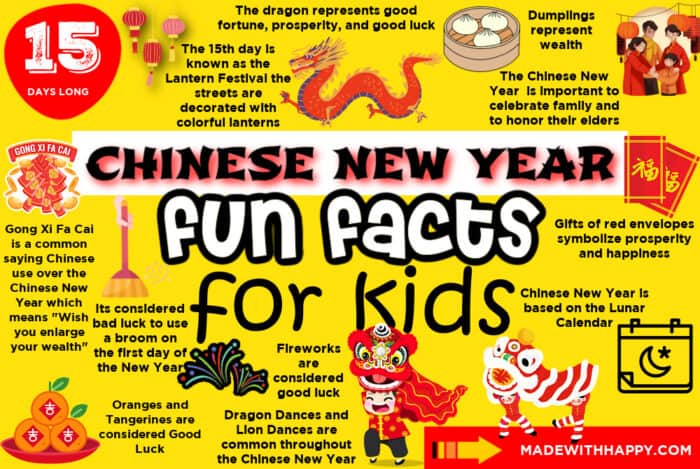 The Chinese Calendar follows the movement of the moon and sun. The Chinese New Year falls between January 21 and February 21 each year.
The Chinese New Year is the one of most important holidays for the Chinese people.
It is celebrated by close to ¼ of the world's population.
There are quite a few symbols of good luck including the Dragon, Oranges, and the color red!
The first Valentine's Day was in Paris on February 14, 1400
250 Million roses are grown for Valentine's Day.
American send over 145 Million greeting cards each year.
Lovebirds are actual birds called Agapornis birds and travel in pairs.
Teachers are the number one receiver of Valentine's day cards.
Presidents Day Facts
It's called President's Day, but the federal holiday is officially called Washington's Birthday. It now celebrates all the birthdays and lives of U.S. presidents.
George Washington and James Madison are the only presidents who signed the Constitution.
Abraham Lincoln was the tallest president (6 feet 4 inches) and James Madison was the shortest president (5 feet 4 inches).
The White House in Washington D.C. is the official residence of the sitting United States president.
Black History Month Facts
While Rosa Parks was credited with starting the civil rights movement, there was a 15-year-old Claudette Colvin that was arrested 9 months earlier for refusing to give up her spot on the bus.
Thurgood Marshall was the first African American appointed to the U.S. Supreme Court in 1967.
Jackie Robinson was the first African American to play Major League Baseball in 1947 when he joined the Brooklyn Dodgers.
Barack Obama became the first Black president of the United States in 2008.
Mardi Gras Facts
Mardi Gras is the final day of carnival celebrations and Fat Tuesday before Ash Wednesday, the beginning of Lent.
The largest Mardi Gras celebration takes place in New Orleans, Louisiana
It's illegal to not wear a mask onboard a Mardi Gras Float
The celebration goes by different names throughout the world. Other names include Fat Tuesday, Shrove Tuesday, Pancake Day, and the Tuesday of Carnival.
Other Fun February Activities
The beginning of the year is all about starting new and resetting. In February there are lots of Valentines Day , Chinese New Year, and Groundhog Day fun too. We have lots of different crafts, printables, and coloring pages for February.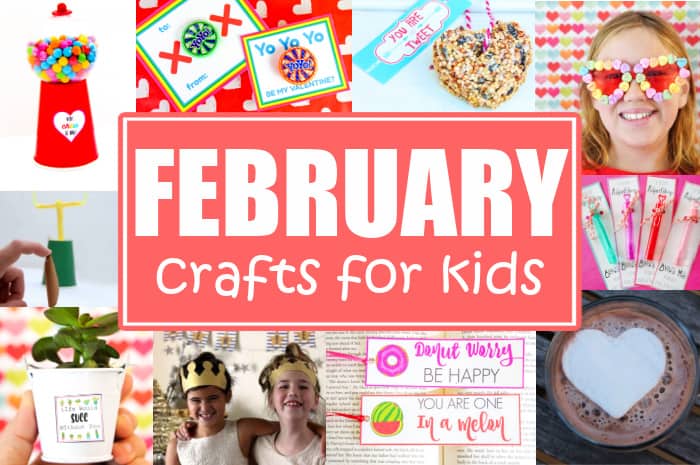 Fill the month with lots of different crafts full of Winter, Valentines, Chinese New Year, and more. Crafts and Valentines Printables for kids to hand out and a whole lot of fun!
There are many February crafts, but here are some of the holiday crafts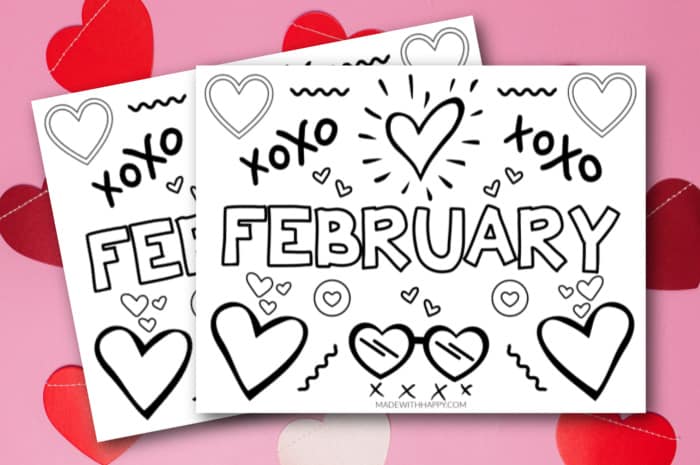 Have some February fun with this free printable February coloring page.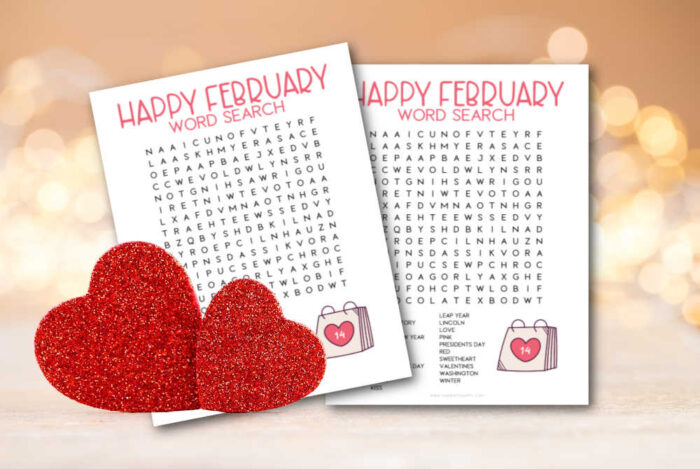 Happy February! Especially happy with this free printable February word search.
Other Monthly Fun Facts You'll Enjoy
Download The Free Printable February Fun Facts Sheet
Enter your name and email in the form below and you will be taken directly to the free downloadable fun facts sheet.
CONNECT WITH MADE WITH HAPPY!
Be sure to follow me on social media, so you never miss a post!
Facebook | Twitter | Youtube | Pinterest | Instagram
Looking for crafts to keep your child busy? Sign up for my 5 Ridiculous HAPPY Activities in under 30 minutes for your kids delivered directly to your inbox!
Find and shop my favorite products in my Amazon storefront here!
FEBRUARY FUN FACTS
PIN IT TO YOUR DIY BOARD ON PINTEREST!
FOLLOW MADE WITH HAPPY ON PINTEREST FOR ALL THINGS HAPPY!