Fun and free printable football bingo cards for added fun to your Superbowl or any game day party. Football party fun for the entire family and more with these 12 cards
This football bingo game is our party guests favorite of all the Super Bowl Party Games. Grab our twelve unique cards and calling cards and get ready to have some fun!
Whether it's Super Bowl Sunday or Fall college games, this fun activity is all kinds of fun for any football-themed event. Your next football party is sure to be a hit!
Football Fun
Calling all football fans! Now that football season is here, it's time for some fun Football Bingo!
We love spending the day with football and we have lots of different football games, like our printable football activities, football word scramble, and how to make a paper football and football goal along with playing football bingo.
The best part about this football bingo game is that you don't even really have to watch the football game (but c'mon, that's truly the best part of game day!) This is the perfect Super Bowl Party Game and a fun idea to keep everyone engaged.
Everyone can still have their favorite team and play this printable game without worry. Just make certain that before you print the free printable, you take the time to figure out what you actually consider a "bingo" to be. Every house has different rules so this is important!
Don't miss our EPIC Super Bowl Appetizer List!!!!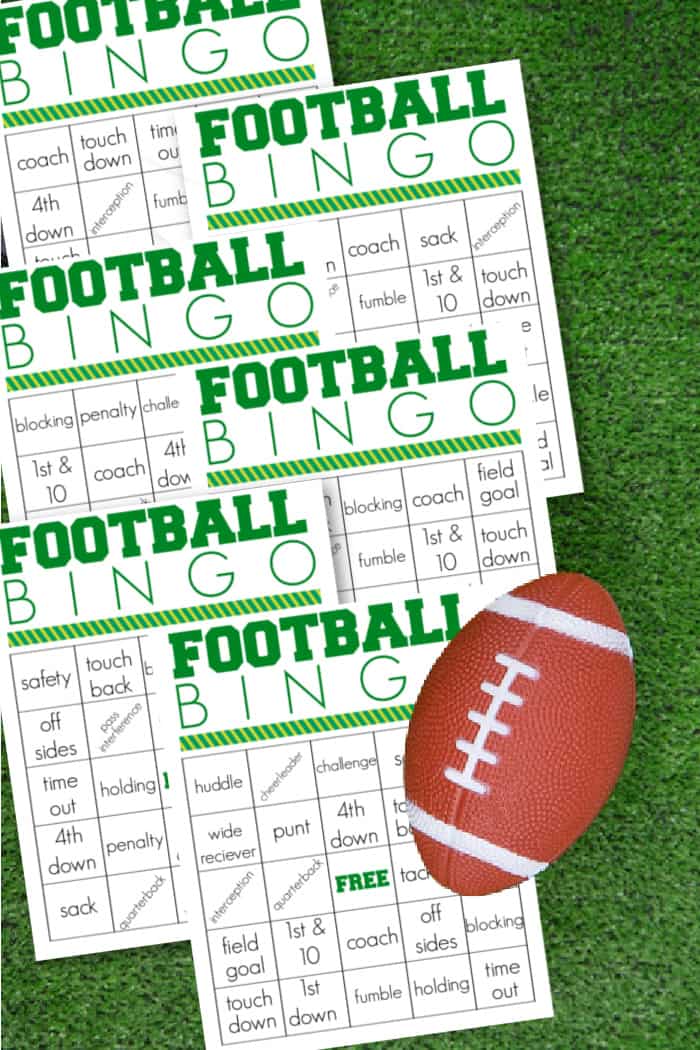 How to Play Bingo Football
We all know that it's easy to "bend the rules" when it comes to playing Bingo, but setting some ground rules is important! These football bingo cards make it simple and easy to play as long as everyone is on the same playing field. Deciding what makes up a Bingo is key so picking out if horizontal vertical or diagonal are all valid plays is something to do from the start! (and don't forget how free space works!)
Football fans can rejoice because this bingo game puts them right in the middle of the action. There's less stress to worry about on a game day when you're putting all your focus on winning Bingo!
This would be super fun at a football party, game day party, or even just a fun weekend activity for the kids. (It would also be super for the big game, too AKA Super bowl!)
Supplies for Football Bingo
This is similar to a regular bingo game in that you'll need:
Football Bingo cards – Download our 12 unique bingo cards at the bottom. Remember one per person.
Bingo markers – I recommend using something small like Chocolate Footballs, Football Mints, and Football Stickers.
Prizes – I have put together a list of fun Football prizes, also at the bottom of this post to get you started.
Super Bowl Bingo
If you have never played football before, are non-football fans, or know anything about football, do not worry. Even if you've never watched the game before, you can still hop in and join in on the bingo fun! It's literally as simple as turning on the TV and seeing how it all plays out!
Since football season is here, it's time to print out these bingo cards and join in on the fun! Take it up a notch and add in some of your own twists and turns as well. Click on the TV, watch the game, cheer for the touchdowns and goals, and see who can "score" in your house first!
Football Bingo is a fun way to get everyone involved in the game, even if they aren't watching play for play. Simply have one person in charge, that is watching the game plays. Once a play is made, that person can yell out "extra point" or "missed field goal" and the players mark their square.
The first person to get five in a row yells Bingo!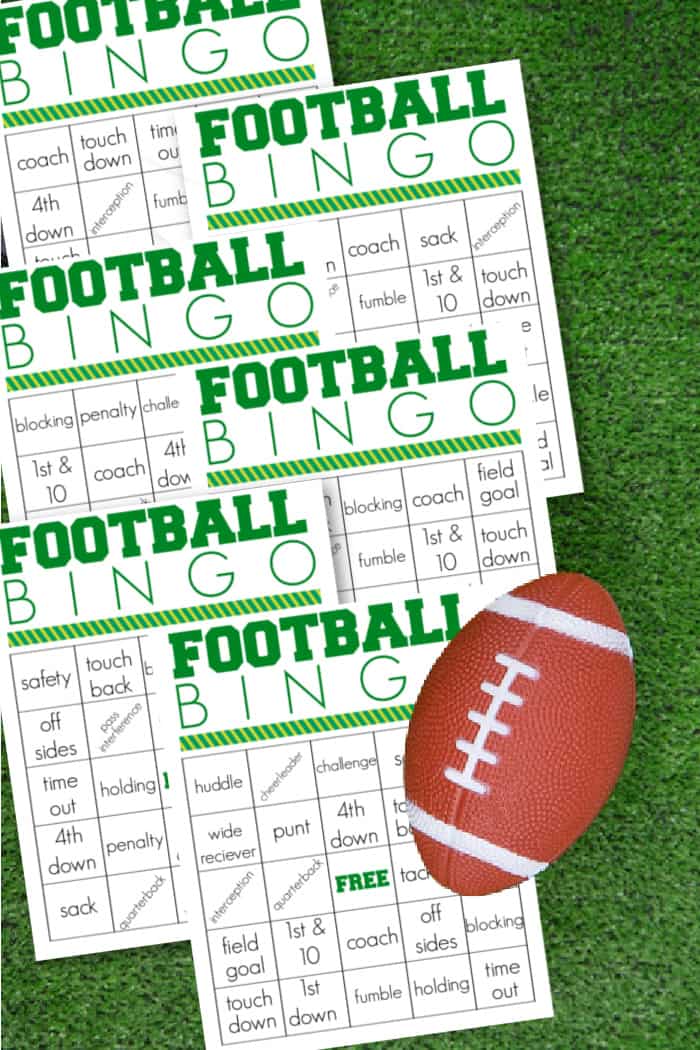 Playing Football Bingo
You need to ensure you have two things on hand before playing football bingo. Make sure you have dot markers for each of the players. These can be as simple as chocolates, pretzels, or any snack you have on hand.
If you are planning on using these multiple times, I suggest laminating each of the bingo cards and providing each player with an erasable marker.
Fun Bingo Prizes
Don't forget to add in some super fun bingo prizes as well! (Chocolate and candy are always a simple treat!) Since the theme is football, have fun with the prizes!
Some Simple Bingo prizes could be:
And more! We love running to the dollar store and just having some cute, inexpensive, and sometimes tasty treats on hand!
Have fun with this Football Bingo card! It's a great way to be a part of the game while also making certain everyone in the family has fun, too!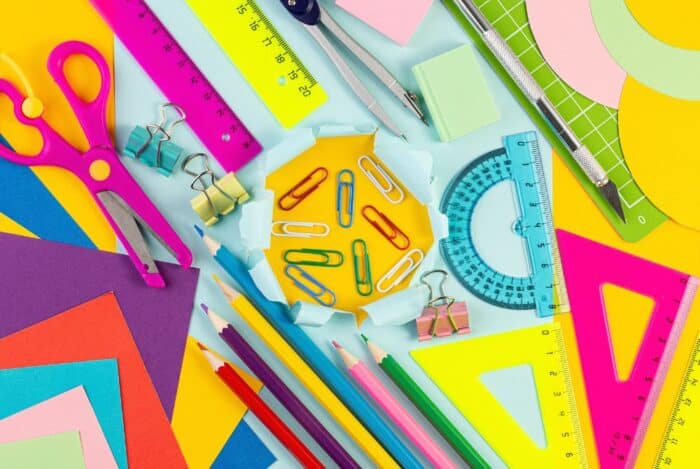 Resources for Printable Activities
I get asked a lot about resources for all our printable activities. Here are some of our favorite resources from paper to printers and more.
We highlighted all things Superbowl and Bingo along with some other fun kid's crafts in our February Crafts for Kids along with our 101+ Easy Craft Ideas for kids.
You also do not want to miss our 101+ Printable Coloring Pages For Kids and 101+ Printables For Kids full of Crafts and Coloring Pages.
Download Your Free Football Bingo Cards
Enter your name and email in the form below and you will be taken directly to the free printable bingo cards and calling cards digital downloads pdf file. If you do not wish to enter your information, a great option is you can find this football bingo game in our shop.
*For personal use only
Grab These Football Activities - On Sale Now!
Other Bingo Printables
CONNECT WITH MADE WITH HAPPY!
Be sure to follow me on social media, so you never miss a post!
Facebook | Twitter | Youtube | Pinterest | Instagram
Looking for crafts to keep your child busy? Sign up for my 5 Ridiculous HAPPY Activities in under 30 minutes for your kids delivered directly to your inbox!
Find and shop my favorite products in my Amazon storefront here!
FOOTBALL BINGO
PIN IT TO YOUR FAVORITE BOARD ON PINTEREST!
FOLLOW MADE WITH HAPPY ON PINTEREST FOR ALL THINGS HAPPY!