Grab this free printable back-to-school bingo game with a calling card to get everyone excited for the new school year. Play this back-to-school bingo with the whole family.
What better way to kick off the school year than with this awesome Back to School BINGO printable? Who doesn't love playing BINGO?
It's a super simple way to get the kids geared up and excited about the school year! (and if they're not - just have a few prizes handy for them instead) .
We also love having them create a few back to school crafts to raise the excitement level whether it's August or September start dates.
Bingo Games
I have such fond memories of playing BINGO when I was younger that I know that I'm going to be jumping in and playing right along with the kids on this free back to school printable bingo game.
Call me competitive or call me crazy, but I really just love the thrill of having my own calling card and shouting out that word BINGO.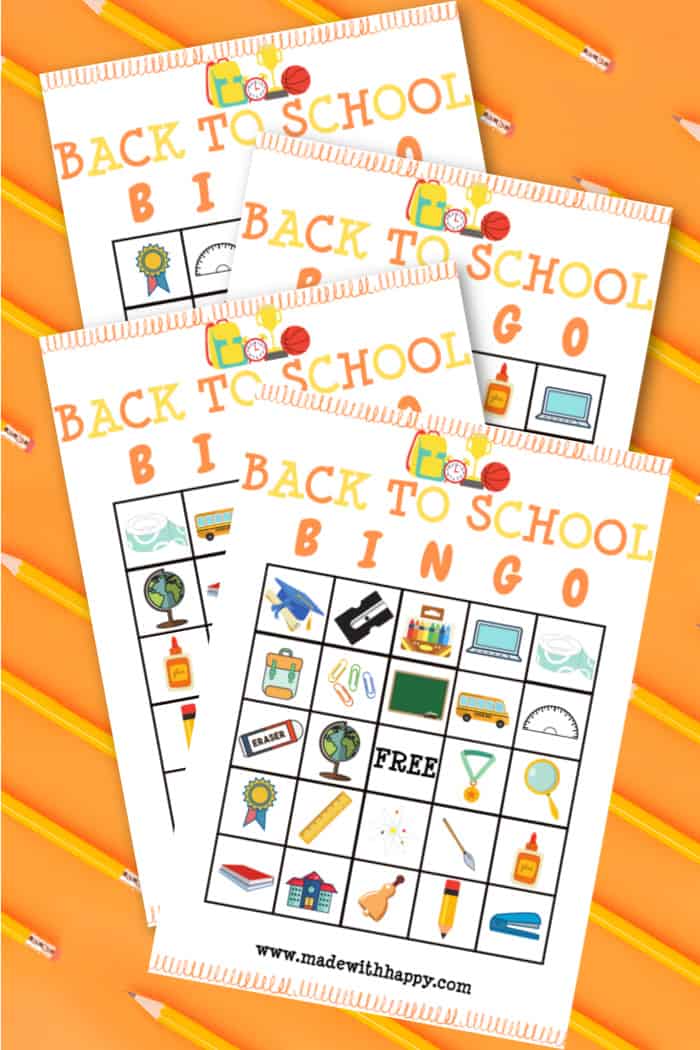 Fun Ways To Play this Back to School BINGO at home
With so many school activities literally just right around the corner, it's no stretch of the imagination to say that the days of school are going to be fast and furious when they start.
And while I'm all about having fun back-to-school events and outings, I'm also all about being at home and continuing on with this quality time that we've all done these past few months.
This bingo along with a fun Back to School Printable Word Search and some back-to-school coloring pages are all kinds of fun for the whole family.
How to Play School Bingo
To make this BINGO game last as long as possible, there are some fun things you can do.
Start by printing out the bingo cards (or as I call them from my days, the "calling cards") and make sure that each kiddo has their own bingo board right in front of them ready to go.
Then, start playing BINGO. As you'll notice, everything is school themed but that doesn't mean that you can't have fun.
Have an intermission to talk about the first day of school, or load up the table with some fun after-school snacks so that everyone can dive in, relax, and enjoy.
You can also zoom in with some friends if you're doing virtual learning or schooling and have this be a fun BINGO game that they can play together, no matter where they might be!
Have fun with this back to school BINGO game and sit down and enjoy the last few summer days together.
Celebrate the start of school but have a few more great bonding moments and I hope that all of you have a great start to your upcoming school year!
Back to School Bingo Game Prizes
Having prizes for Bingo is always a great idea because everyone likes rewards. And since you are playing this game for Back to School fun, having school-themed prizes is part of it, too!
Shhhhhhh... you can make the prizes some of their supplies they were going to need anyways! 🙂
Some of our favorite game prizes are:
We highlighted this Bingo game and some other fun kid's crafts in our September Crafts and our 101+ Easy Craft Ideas for kids.
You also do not want to miss our 101+ Fun Coloring Pages For Kids and 101+ Free Kids Printables full of Crafts & Coloring Pages.
Other Back to School Printables
Download the Back to School Bingo
Simply enter your name and email in the form below and you'll be taken directly to the downloadable pdf file. If for any reason you do not feel comfortable entering your information, you can always find our school bingo game in our shop.
Grab The Back to School Bundle
CONNECT WITH MADE WITH HAPPY!
Be sure to follow me on social media, so you never miss a post!
Facebook | Twitter | Youtube | Pinterest | Instagram
Looking for crafts to keep your child busy? Sign up for my 5 Ridiculous HAPPY Activities in under 30 minutes for your kids delivered directly to your inbox!
Find and shop my favorite products in my Amazon storefront here!
BACK TO SCHOOL BINGO
PIN IT TO YOUR FAVORITE BOARD ON PINTEREST!
FOLLOW MADEWITHHAPPY ON PINTEREST FOR ALL THINGS HAPPY!