Looking for some easy Chinese New Year Crafts for the kids? We have some great ideas!

Chinese New Years is such a fun celebration for the whole family. While we are not Chinese, we have friends that are, and love the idea of celebrating their new lunar calendar and learning about the Chinese culture.
If you like FREE 101+ Free Printables for Kids, then you are in the right place, because many of the Chinese New Year Crafts below are just that.
What is Chinese New Years?
Its an festival celebrating the new year based on the lunar calendar. The festival, sometimes called the Spring Festival or Lunar New Year. The lunar year celebration starts with the first new moon of the lunar calendar.
Celebrating Chinese New Year with Kids
We have some easy Chinese New Year crafts and activities for your kids to celebrate the lunar new year.
What is this years Chinese Zodiac Sign?
We created a fun little chart for you to determine the zodiac sign for each year.
2020 is the year of the rat
2021 is the year of the ox
2022 is the year of the tiger
2023 is the year of the rabbit
2024 is the year of the dragon
2025 is the year of the snake
These free printable Chinese New Years Activity Sheets for Kids include a HAPPY Chinese New Year Coloring page as well as a Chinese New Year Word Search. The kids love searching for some of the fun Chinese New Year celebration words like red envelopes and a number of the animals from the Chinese zodiac. These are great for Chinese New Year celebrations in the classroom!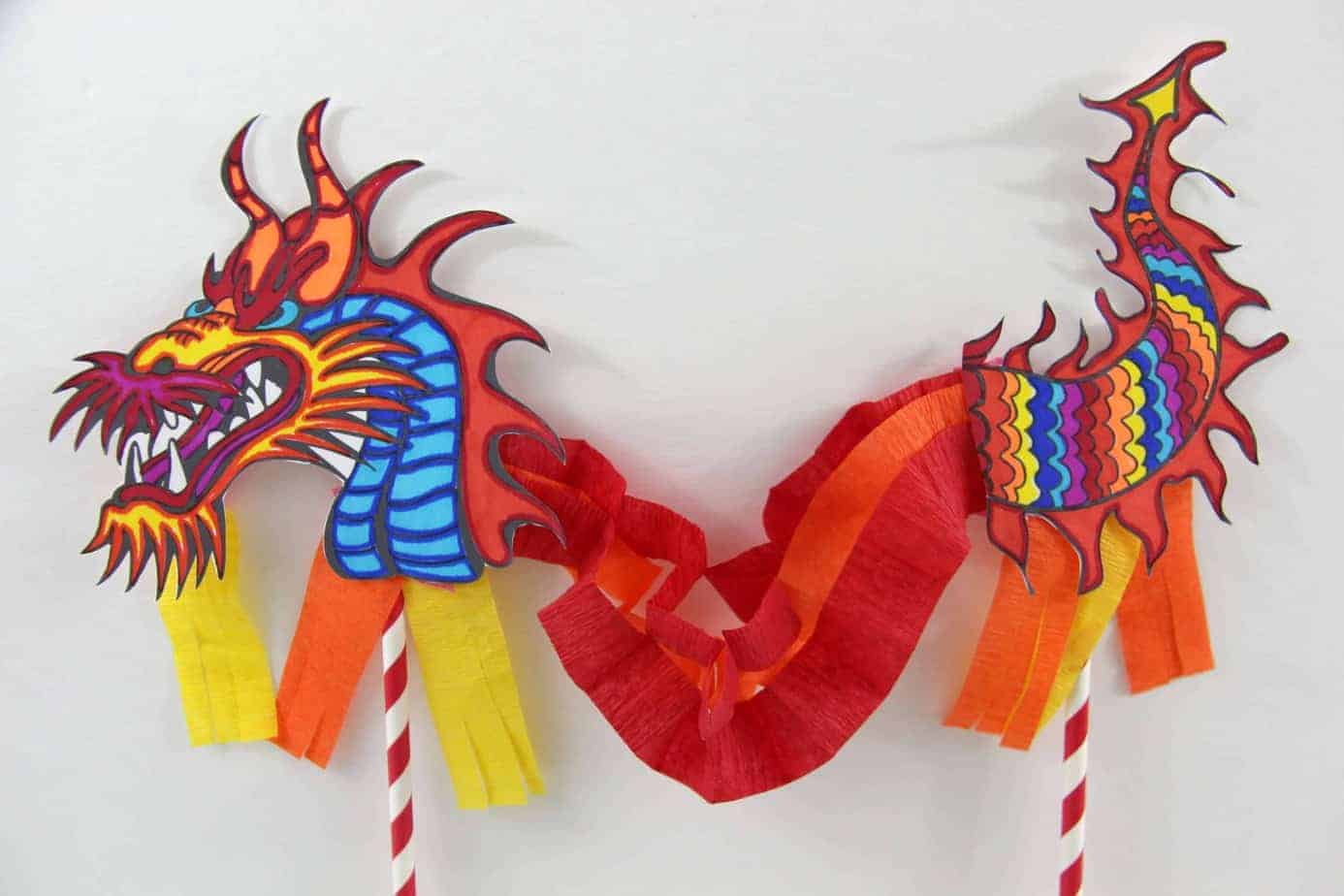 This Chinese dragon craft is one of the most of the popular crafts on Made with HAPPY. In this tutorial you will get free printable dragon and instructions on how to put together this easy dragon puppet with some craft supplies you may already have at home.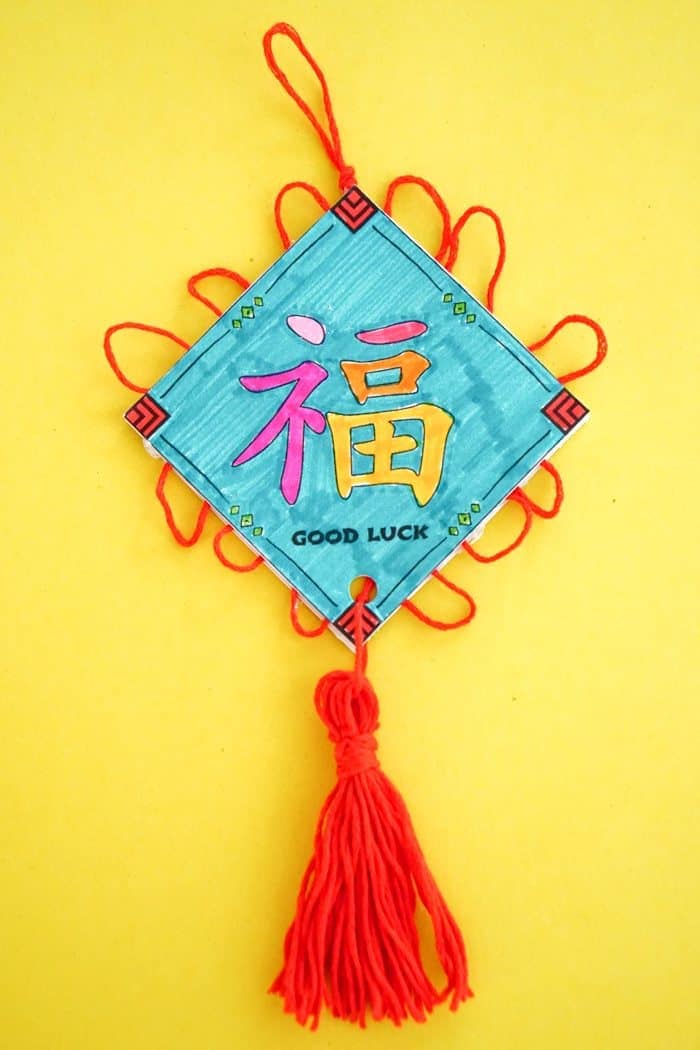 This Chinese ornament for good luck is a fun craft printable for kids. This easy craft simply uses yarn, some crayons and our free printable and you have yourself a fun little project for home or classroom Chinese New Years celebrations.
This sweet Chinese drum craft is simple and the kids have a blast making it. You can grab all the supplies for this craft right at your local dollar store. We have so much fun with these drums that they stay in the toy box all year long and come out for all kinds of celebration throughout the year.
Red paper lanterns are an important part of any the Chinese New Year celebration. We are sharing our fun twist to a traditional paper lantern. These Giant Paper Lanterns are fun and super easy to make.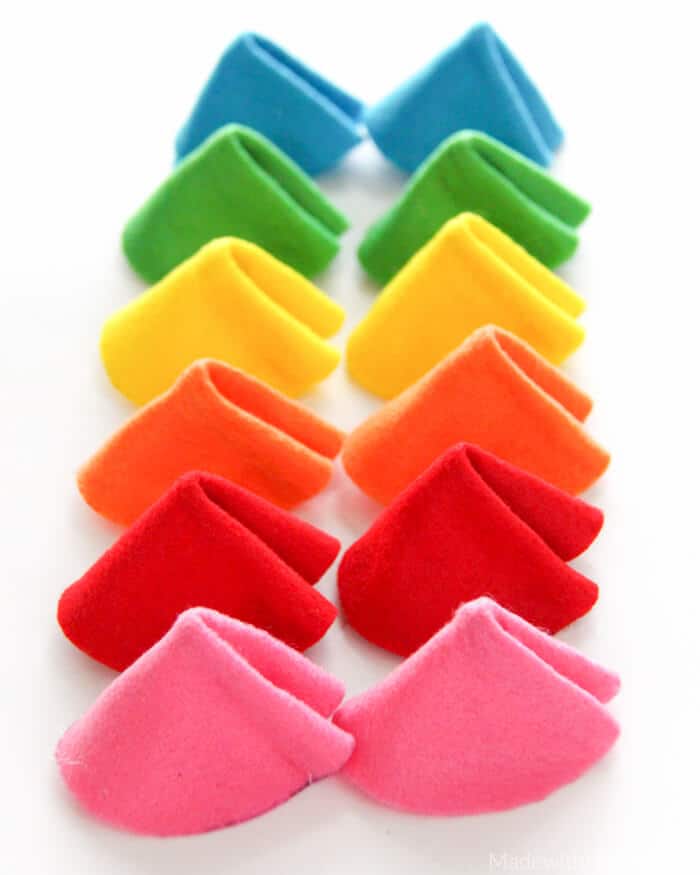 These super easy felt fortune cookies are similar to the paper fortune that you may have seen, but in a sturdier felt. What I love about this craft is that they can be given as gift for not only Chinese New Year, but Valentines Day or even New Year. We have included some colorful free printable new year wishes.
These Chinese lantern craft are so fun and easy to make for different holidays. We love to make red ones during Chinese New Years.
The red Chinese paper lanterns symbolize a bright and happy future. They are always hung up during the different Chinese festivals including Chinese New Year!
If crafts from other countries interest you, then you will want to check out our Kids Crafts from Around the World
Kids Crafts from Around the World
CONNECT WITH MADE WITH HAPPY!
Be sure to follow me on social media, so you never miss a post!
Facebook | Twitter | Youtube
Pinterest | Instagram
Looking for crafts to keep your child busy? Sign up for my 5 Ridiculous HAPPY Activities in under 30 minutes for your kids delivered direct to your inbox!
Find and shop my favorite products in my Amazon storefront here!
CHINESE NEW YEAR CRAFTS
PIN IT TO YOUR CRAFT BOARD ON PINTEREST!
FOLLOW MADEWITHHAPPY ON PINTEREST FOR MORE GREAT CRAFT AND DIY IDEAS!