I'm all about easy and simple crafts for kids. One of my all-time faves is paper bag puppets because you get a craft and can play with it too! With Spring in full swing and Easter around the corner, I've got bunnies on the brain. It was only natural to make a Bunny Paper Bag Puppet with my kids. I even created a FREE Printable Template so you can easily recreate this craft with your kids.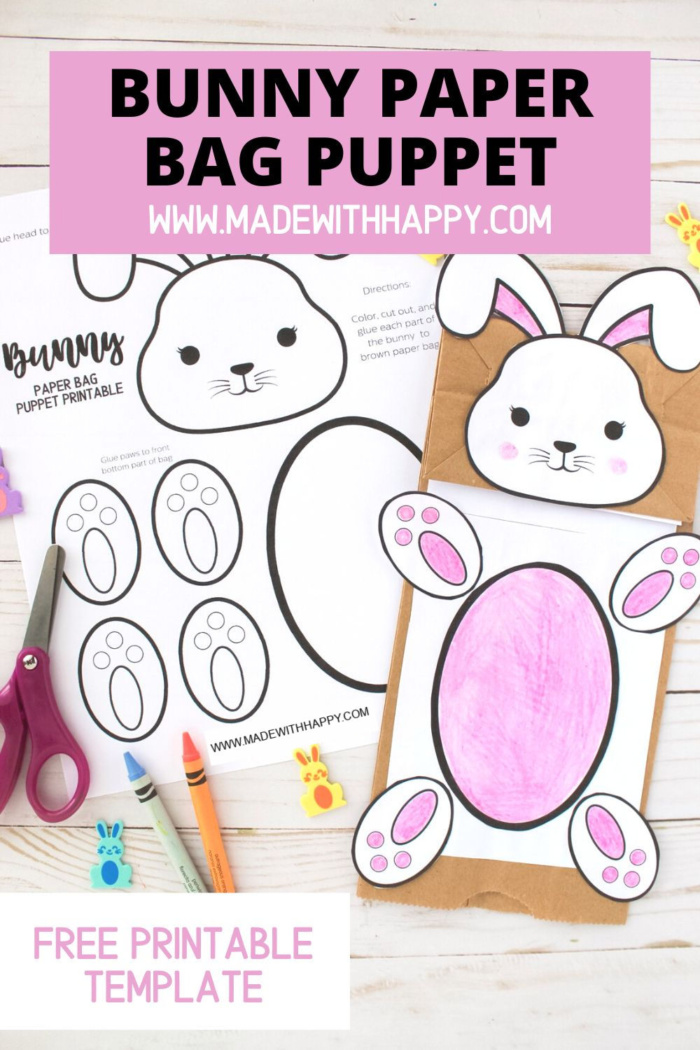 Bunny Paper Bag Puppet
Materials Needed
You don't need that many things to make your Bunny Paper Bag Puppet craft. All you have to use are scissors, a brown paper bag (or another color if you have one), a crayon, a glue stick, the Bunny template (find below), and a white sheet of paper.
Feel free to change up any of the materials as needed. For example, if you prefer to use markers or watercolors use that instead of crayons. Keep it simple!
Need some more Spring ideas? Check out this Rainbow Name Kids Craft
How to Make the Bunny Paper Bag Puppet
You can make this paper bag puppet in as little as 4 easy steps:
Color your bunny. You can color all of it, some of it, or even use different colors. Make it your own!
Cut out all the pieces of the bunny and set them aside.
Grab your paper bag and measure the front part of it including under the flap. Use the extra white sheet of paper, cut out a piece to fit on that area, and glue it on there.
Glue your bunny pieces on the bag and enjoy your puppet!
Keep in mind, that I used the white sheet of paper to act as the bunny's "body" because I kept my bunny white with pink accents. If you want to make the bunny another color then use a sheet of paper to match. This is completely optional though and you don't need it to make the puppet. You can just use the template as is with no extra papers if you wish.
Download Printable Paper Bag Bunny Template
For personal use only.
Other Bunny Crafts You'll Love
CONNECT WITH MADE WITH HAPPY!
Be sure to follow me on social media, so you never miss a post!
Facebook | Twitter | Youtube | Pinterest | Instagram
Looking for crafts to keep your child busy? Sign up for my 5 Ridiculous HAPPY Activities in under 30 minutes for your kids delivered directly to your inbox!
Find and shop my favorite products in my Amazon storefront here!
BUNNY PAPER BAG PUPPET
PIN IT TO YOUR DIY BOARD ON PINTEREST!
FOLLOW MADE WITH HAPPY ON PINTEREST FOR ALL THINGS HAPPY!
Tag me on Facebook, Instagram, and Twitter. It really makes me so happy to see families using my ideas and having fun with their kids.
xo,
Alli