Try this fun and easy Bunny Scrape Painting Craft with your kids this Spring! Kids love this painting technique and it looks so beautiful. Make a ton of bunnies and use them for an Easter banner! This craft is quick to setup and the whole family can enjoy it.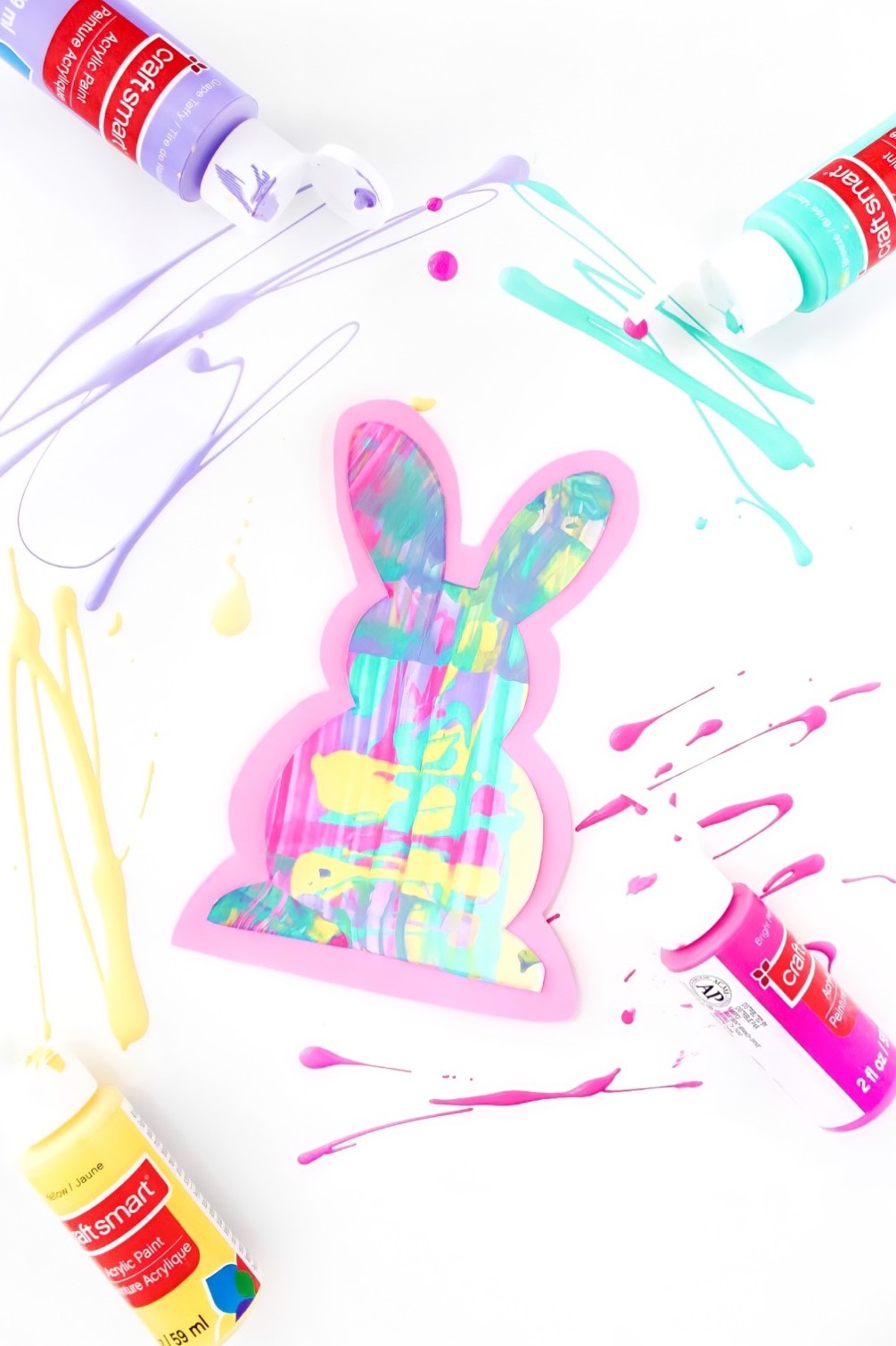 Bunny Scrape Painting Craft for Kids
I am all about easy to put together crafts and activities. Scrape painting requires little prep time and the results are stunning! That's why I love this so much for kids of all ages and even adults. The whole family can get in on the fun!
Materials Needed
White card stock or heavy printer paper
Craft paint in colors you like
A scraping tool - old gift card, old credit card, piece of cardboard or big craft stick all work
Scissors
How to Make a Scrape Painting Bunny
Print out template below.
Drip different colors of craft paint all over the bunny in any pattern you like.
Use your scraping tool to smooth the paint over the whole bunny mixing the colors together. Make sure to do it only once either from top to bottom or bottom to top.
Set aside to dry completely.
Cut out the bunny and enjoy!
As a bonus, you can glue your bunny to a solid color to make it pop.
Make a ton of these in colors that match your home and put them together on a string. Now you've got yourself a beautiful DIY Easter garland! I love this scrape painting technique because it's easy and fun for kids but can be used for home decor too.
Another great idea is to make a bigger version and frame it. Use my template and print it in a larger size or send to a local print shop. Cut out and trace on a canvas and follow the same steps. This will make a stunning piece of art you can display in your home for Spring.
Free Printable Bunny Template
Click the image below for your Free printable.
For personal use only.
Feel free to use this template for other crafts and activities too!
---
I hope you love this craft as much as I do and try it with your kids. If you do, share it on social media and tag me so I can see it! Find me on Instagram, Facebook and Twitter.
Looking for more Easter ideas? Check out these posts:
Crayon Resist Easter Egg Craft