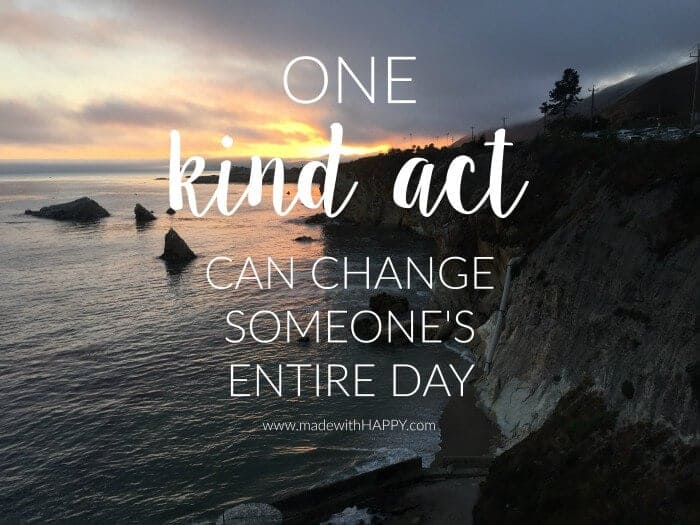 In honor of National "I Want You to Be Happy Day" on March 3rd, we've compiled a list of 20 Random Acts of Kindness to inspire you to go out of your way to make someone else's day better. We thought it was only fitting that we, Made With Happy, take on this challenge and begin spreading kindness and happiness.
You can also find some great random acts in our kindness bingo.
If you like to bake, make a yummy dessert for your neighbor out of the blue. Here's a 3-Ingredient Cookie Recipe.
Donate some of your gently used books to children in need.
Go for a walk, collecting trash as you go.
Smile and/or greet every single person that you pass.
Babysit someone's kids for free.
Offer to help someone pack their groceries into their car.
Get one of your coworkers a little surprise gift (like their favorite candy).
Donate money to a cause that means a lot to you. (Check gofundme.com for inspiration).
If you can't donate, find a place where you can volunteer.
Go out of your way to tell a manager/boss how great their employee is doing.
Leave a water bottle with a note for your mailman when it's hot out.
Leave a large tip for someone who was extraordinary at serving you.
Become an organ donor.
Let someone with fewer items checkout in front of you in line.
Pay for the person's food behind you at the drive-thru.
Make it a point to verbally express when you like someone's something (outfit, hair, makeup, bag, etc).
Shovel your neighbors driveway if you live where it snows.
Become a foster parent for dogs or cats.
If you see a stray shopping cart in the parking lot, put it back where it goes.
Write out a personal thank you note for someone you really appreciate. If you don't want to use your own writing, here are 20 Free Printable Thank You Cards.
Now go out and practice kindness!!