Looking for Valentines Ideas when it comes to your whole family, pets included, then we have a great list for you.
These Family Valentine's day ideas are full of all kinds of great gifts for the whole family. We found items for both younger and older kids and we even threw pets into the mix. The whole family is sure to feel all the love.
Family Valentines Day Gifts
Valentines Gift Ideas for Kids
We highlighted all things Valentines along with some other fun kid's crafts in our February Crafts along with our Easy Craft Ideas for kids.
I Love You This Much T-Rex Shirt This is a great T-shirt for the boys in your life. Cute and full of Valentine's Love, but still all boy and dinosaur awesome.
Mini Heart Shape Kids Purse If your little girl is anything like mine, this heart handbag will be a huge hit. I mean, I may even borrow it myself.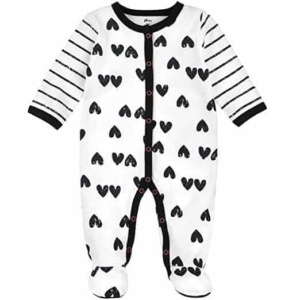 Black and White Heart Petit Lem Baby Footed Sleeper I cannot even stand the cuteness of this sleeper. Not all Valentines jammies have to be red or pink. These black and white have me all heart eyes.
Love Heart Shape Sunglasses These are another one of those super cute items that will look great in that heart-shaped handbag along with a few wears from Mom. 🙂
Valentines Gift Ideas for Pets

Valentines Dog Collar Our Birdie is definitely going to be sporting some love this February and I am just in love with this sweet collar.
Valentine's Day Cat Bow Tie I mean a cat bow tie is already cute on its own, but to throw all the hearts, your furry friend will be all the cuteness this Valentine.
Valentines Gift Ideas for The Home
Linen Couple LOVE Pillow Cases These would be great on the sofa or on your bed. In either case, the coupling of the two to make LOVE is a subtle reminder and way too cute to pass up.
Le Creuset Stoneware Heart RamekinThese are all kinds of cute and great for some fun dishes at home for the holiday.
Together Since Wall Art This would be great for either Mom or Dad or if you're looking for a fun gift to give your parents. In either case, we love this sign on the wall during February or all year long.
Valentines Gift Ideas for Her
Red Tassel Earrings I may already have these and love them. They are all kind of HAPPY and full of flare.
Available for the Weekends Weekends away is always a good idea for Mom. Whether it's with the family, with the girls, or a romantic getaway with Dad, she is ready with this oh-so-cute weekend bag.
Simple Rose Gold Heart Necklace It's sweet, dainty, and just what Mom wants this Valentine. P.S. It's pretty inexpensive too. 🙂
Valentines Gift Ideas for Him
Red Hearts Black Silk Tie - Dad will have fun sharing his love of love with this adorable heart tie.
Ellen Degeneres Love MugThe subtle signature love mug is an awesome way to say I love you.
Valentine's Day Love Socks Nothing says I love socks! 🙂
We are in love with all these gifts and can't wait to see what you decide to get your loved ones this Valentine's Day!
HAPPY Valentines Day!
Other Valentines Gift Projects You'll Love
FAMILY VALENTINES DAY IDEAS
PIN IT TO YOUR DIY BOARD ON PINTEREST!
FOLLOW MADE WITH HAPPY ON PINTEREST FOR ALL THINGS HAPPY!