Still looking for a fun Valentines? How about these...
Be sure to check out the 100 more printables for kids like this HAPPY one.
Hot Chocolate on a Stick?
Looking for some Valentines Day craft projects ideas for kids? Check out our 21 Easy Paper Crafts for Kids for Valentines Day and 21 Heart Crafts Projects For Kids.
These are so tasty and so easy to make that all your friends are going to want make your list of Valentines this year.
The recipe for the hot cocoa blocks on King Arthur Flour
Hot Chocolate Recipe:
Ingredients
½ cup heavy cream
14-ounce can sweetened condensed milk (1 ¼ cups)
3 cups semisweet or bittersweet chocolate (chopped chocolate bars or chips)
¾ cup unsweetened baking chocolate
Popsicle sticks
Directions
Line an 8" x 8" pan with parchment paper or aluminum foil.
Heat the cream and condensed milk over low heat until steaming. Remove from the heat and add the chocolate; allow it to gently melt.
After about 10 minutes, return the chocolate mixture to low heat to completely melt the chocolate. Whisk vigorously until the mixture is thick and shiny. Add a few drops of flavoring oil if you like; hazelnut, coffee, or vanilla are popular flavors.
Pour the chocolate mixture into the pan; shake the pan gently to level. Sprinkle with cocoa, if desired. Set aside overnight to slowly set up.
Run a knife around the edge of the pan and turn out onto a clean cutting surface.
Slice into 1 ¼" cubes. Heat a knife in hot water and wipe dry before each cut, for smoothest cuts.
Yield: about 3 dozen blocks
Chocolate Dipped Marshmallows
I'm in love with chocolate dipped marshmallows. They are so easy and festive and are a hit at every party I throw. Simple melt the colored chocolate over a double broiler and once the chocolate is completely melted, dip the marshmallows each in and then set to dry on a piece of parchment paper.
Then its a matter of sticking the lollipop stick through the marshmallow and the hot chocolate block.
You can download the "You Warm My Heart" flags here or click the image belowCover with a small plastic bag and tie up with twine and you have yourself the most delicious Valentines.
shhh... I just cut off top of a sandwich bag ziplock and it worked perfect!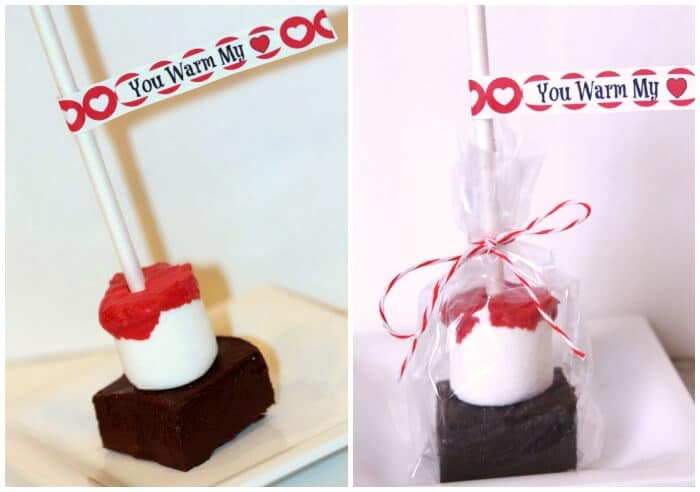 To use the hot chocolate, you simply stir into a warm cup of milk and you have yourself the tastiest hot chocolate you've ever had. The whole DNH family decided to give it a try and they were all begging for seconds. SOOO GOOD! You'll wonder how you ever had hot chocolate any other way!
Don't miss our other Valentine's Cards For Kids that we know you'll love.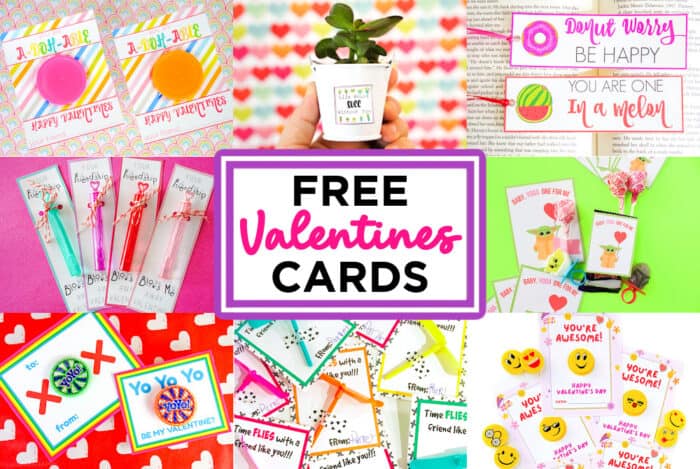 Other Fun Valentines Printables for Kids You Might Enjoy
CONNECT WITH MADE WITH HAPPY!
Be sure to follow me on social media, so you never miss a post!
Facebook | Twitter | Youtube | Pinterest | Instagram
Looking for crafts to keep your child busy? Sign up for my 5 Ridiculous HAPPY Activities in under 30 minutes for your kids delivered directly to your inbox!
Find and shop my favorite products in my Amazon storefront here!
YOU WARM MY HEART
PIN IT TO YOUR DIY BOARD ON PINTEREST!
FOLLOW MADE WITH HAPPY ON PINTEREST FOR ALL THINGS HAPPY!