This fun and free printable Easter Scavenger Hunt is great for the whole family. A fun spin on your Easter Egg hunt ideas. Turned into a treasure hunt.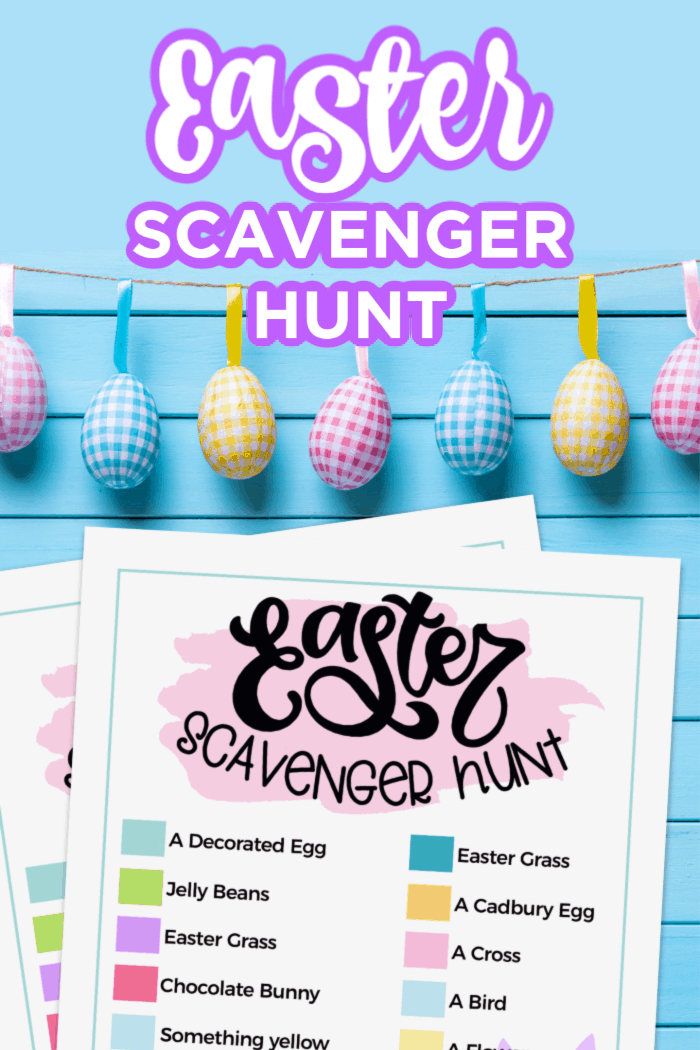 This Easter morning Easter Scavenger hunt is perfect for the kids and they will absolutely love it.
We love the idea of keeping the kids busy around the house after church on Easter. While the Easter bunny is hiding the eggs, we like to keep the kids busy with Easter scavenger hunt clues with fun Easter baskets contents and things that might be around the house or outside.
We highlighted this Spring Craft along with some other fun kid's crafts in our April Crafts for Kids along with our 101+ Easy Craft Ideas for kids.
You also do not want to miss our 101+ Printable Coloring Pages For Kids and 101+ Printables For Kids full of Crafts and Coloring Pages.
Printable Easter Treasure Hunt
There is something about egg hunts and treasure hunts for the kids during Easter that makes it the season of hunts.
We love scavenger hunts and have a great Color Scavenger Hunt that is fun too.
What I love most about scavenger hunts is that it gives the kids something they can do on their own. As long as they can read each of the items listed (or in the case of the color scavenger hunt they simply have to understand the color) and then they are off.
There are many different ways to set up a scavenger hunt for Easter. This fun easter game does not have to take place of your traditional Easter egg hunt, but can if you would like. This can make your Easter Sunday that much more HAPPY.
We love the idea of placing each of the items in our list in a plastic Easter egg. Then place them around the house, and have the kids check off the items as they go.
We have also placed them in plastic Easter eggs and then include them in their overall egg hunt.
Not putting them in Easter eggs and placing around the house and check list as they go is fun too.
Making it more of a clue as you go kind of scavenger hunt is fun way to hunt as well. You could add fun hints along the way for them to find the next one.
If you are going to hide in plastic Easter eggs, a fun way to keep track of multiple kids is to assign each kid an egg color and then they are only looking for their own.
That helps tremendously when there are age gaps in kids, then you can hide the older ones in more tricky places and make it easier for the younger ones.
What items are included in our Easter Scavenger Hunt
Here is a list of items included in our hunt. They can each be turned into fun prizes too.
A decorated egg - Decorating eggs is also a fun activity for the kids prior to Easter if you are looking for things to keep them busy
Jelly Beans
Easter Grass - If you are anything like me, then this is the worst 🙂 Any type of grass can make for a check mark on this one for us.
Chocolate Bunny
Something Yellow
A Tree
Plastic Eggs - Might be an easy one if you are using plastic to hold some of the other clues.
A Marshmallow Peep
A Cadbury Egg
Cross
Bird - May be a picture around the house if hard to find them outside.
A Flower
Green Leaf
Carrot
A Basket
There is guaranteed fun for the entire family with this scavenger hunt. Happy Easter!
Alternate Fun Easter Scavenger Hunt Ideas
There are a few different ways to use our Easter Scavenger Hunt. The fun things you can be great for both younger kids and older kids.
You can of couse play the hunt as it is printed. Search for each of the items on the list and the first one done is the winner, and gets the grand prize.
Another way is to cut up each of the items and use them as clue cards. Place the next clue near each of the items on the list. Have the children collect each of the items in different locations and place them in a basket and then at the end of the hunt they have a full basket of special treats.
Another way is to place the printable scavenger hunt in a centralized location, like taped to the front door. Have each of the family members or children go out hunting for one item at a time and then run back each of the items. The best part is it gets them running and active.
Check out these other Easter Free Printables!
Here are some fun ideas for another Easter game in addition to our Easter egg hunt clues.
Grab Your Easter Printable Here
Enter your first name and email address in the form below. Once you hit enter, you will be taken directly to the printable
Note: These are for personal use only (non-commercial use)
Easter Scavenger Hunt Questions
Now that you are ready to set up your Easter Scavenger Hunt, here are a few questions you might have.
How do you make an Easter scavenger hunt?
We have taken the hard part of making an Easter Scavenger Hunt for you. Simply print our free printable Easter Scavenger Hunt and you are on your way.
How many items should be on a scavenger hunt?
We have 16 items on our scavenger hunt list above. At least one item per item should be great.
How long should a scavenger hunt last?
This depends all depends on you and where you hide the items. If you have younger children, placing them throughout one room can make it go fairly fast, like 15-30 Minutes. If you are looking to make it harder, then place the items throughout the house or including inside and outside.
Other Easter Printables and Kids Crafts You Might Enjoy!
CONNECT WITH MADE WITH HAPPY!
Be sure to follow me on social media, so you never miss a post!
Facebook | Twitter | Youtube | Pinterest | Instagram
Looking for crafts to keep your child busy? Sign up for my 5 Ridiculous HAPPY Activities in under 30 minutes for your kids delivered directly to your inbox!
Find and shop my favorite products in my Amazon storefront here!
EASTER SCAVENGER HUNT
PIN IT TO YOUR KIDS BOARD ON PINTEREST!
FOLLOW MADEWITHHAPPY ON PINTEREST FOR ALL THINGS HAPPY!