Looking for a fun Easter version of You've Been Booed, then look no further. We have a super fun and colorful You've Been Egged Printable Sign.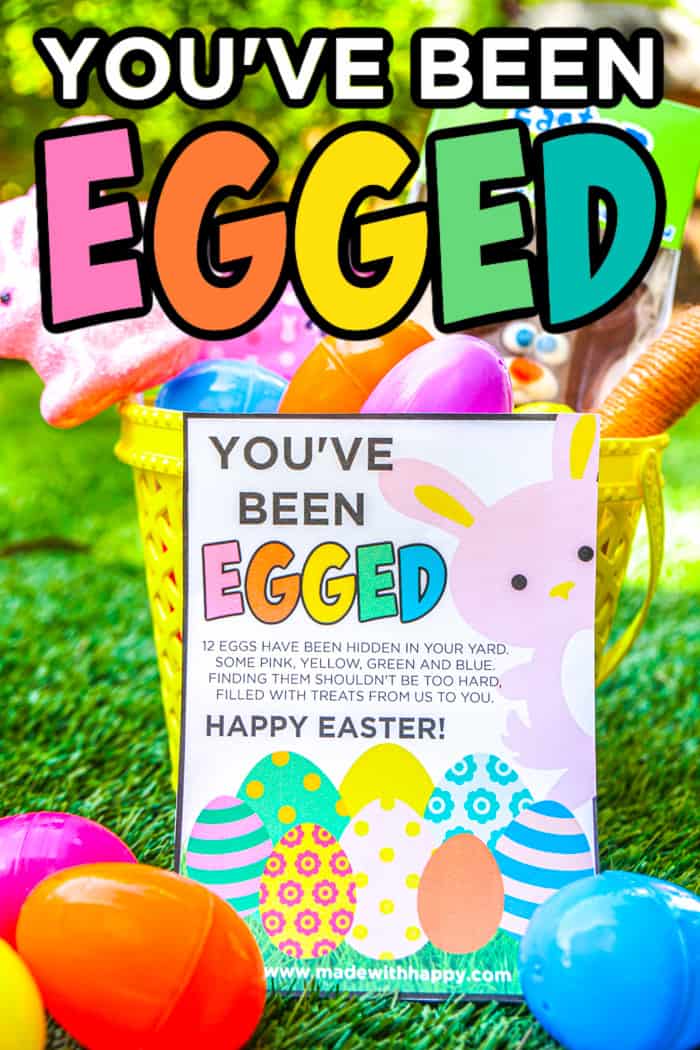 This You've Been Egged printable sign is a great way to celebrate Easter with your neighbors.
We absolutely love everything about Easter. If you love it as much as we do, then do not miss our other popular Easter printables including Easter Scavenger Hunt, Happy Easter Coloring Pages, and Free Printable Easter Bingo Game.
We highlighted this Spring Craft along with some other fun kid's crafts in our April Crafts along with our 101+ Easy Crafts for kids.
You also do not want to miss our 101+ Printable Coloring Pages For Kids and 101+ Printables For Kids full of Crafts and Coloring Pages.
"You've Been Booed" For Spring
Looking for fun ideas for a new Easter tradition? Why not create your own fun tradition in your neighborhood or with your family and friends? All you need are a few plastic eggs and a free printable (found below). Then you are all set!
The idea of the "You've been egged" printable is not a new concept but is not really known about it.
We have a similar neighbor printable sign for other reasons including
For Halloween
For Christmas
Neighbor's gifts like these are those great ideas that bring happiness and joy to everyone. We can't wait to egg someone! (and let's admit it - egging someone is so much fun!)
We love that it is all about giving your neighbors treats. Setting up a small Easter egg hunt to help them have fun Happy Easter!
How Do You Egg Someone at Easter?
The days of throwing raw eggs at a house are out!
This is the new HAPPY version of egging someone! To "egg" someone, you just need to fill up an Easter basket with treat-filled plastic eggs and hide them about in their yard. Then, drop off the printable on their step, and let the fun begin! (You can also tape the printable to a stick and put it in their yard for all to see, too!)
Your neighbors will be all smiles once they realize they have been Egged. Let the fun begin. This creates immediate fun and happiness which is the entire purpose of egging someone!
How Do You Choose Who to Egg?
You can pick any household that you want and it's time to have some fun. It's always a good idea to choose a friend though and someone that you think will participate and then turn around and egg someone else. Can you imagine how cool a chain reaction of everyone in your neighborhood egging everyone else would be? It'd be like having a neighborhood Easter egg hunt every single day!
Have fun egging family and friends and make it a new yearly tradition. Grab the free printable below and formulate a plan on who you are going to egg first!
What to include in the Plastic Easter Eggs?
Filling plastic Easter eggs can be all kinds of fun. The idea is to fill the eggs with gifts that are small enough to fit inside the eggs. It is fun when the gifts match the families you are egging. There are many fun ideas to include in the eggs and we've given you some of our favorites below.
Here are some of our favorite gifts to fill the plastic Easter eggs:
Your Free You've Been Egged Sign
Other Easter Printables You'll Love
CONNECT WITH MADE WITH HAPPY!
Be sure to follow me on social media, so you never miss a post!
Facebook | Twitter | Youtube | Pinterest | Instagram
Looking for crafts to keep your child busy? Sign up for my 5 Ridiculous HAPPY Activities in under 30 minutes for your kids delivered direct to your inbox!
Find and shop my favorite products in my Amazon storefront here!
YOU'VE BEEN EGGED PRINTABLE
PIN IT TO YOUR FAVORITE BOARD ON PINTEREST!
FOLLOW MADE WITH HAPPY ON PINTEREST FOR ALL THINGS HAPPY!