Celebrate Halloween with your neighbors by sharing our free printable You've Been Booed Printable. Learn how to boo someone, as well as the meaning of neighborhood booed.
The kids love this free boo basket with "You've Been Booed" printable!
It has only been in the last few years that I had even heard of a boo bucket. It appeared on our front doorstep and the kids had so much fun with it, I knew I had to put a printable together and share in the fun.
We highlighted these Halloween Printables along with some other fun kid's crafts in our October Crafts for Kids along with our 101+ Easy Craft Ideas for kids.
Be sure to check out our 101+ printables for kids like this one.
If you love this neighborhood printable, then you will love our others including You've Been Egged, You've Been Elfed, and You've Been Boozed that you will love.
What Does Getting BOOed Mean?
It is a fun way to surprise your friends or neighbors with a Halloween boo bucket without them knowing who it's from.
There is a printable to include in the bucket. Your neighbor displays the printable on their door or window. This gives the other in your neighborhood and idea of who has already been part of the fun. It also encourages them to continue the neighborhood fun. It's all kinds of fun and anonymous.
What is a Boo Bucket?
A boo bucket is simply a bag, bucket, or container holding some Halloween treats for your neighbor.
Fill the boo bucket with fun treats and goodies. We have put together a list of some of our favorite things to include in our buckets. Tailor the bucket to the neighbor you are surprising.
What should I add to a boo bucket?
It's important to know a little bit about your friend or neighbor you are going to surprise before deciding what to include.
Do they have children in that family?
How old are their kids?
Do they have any allergies?
Once you know that, then the rest is fun.
I love to include fun Halloween items like:
The key is to remember to have fun filling your Halloween bucket. Do not feel like you have to spend too much money. I found all my items at the local dollar store. It is also fun to add a few Halloween craft ideas for kids, Halloween Bingo, or Halloween coloring pages too.
Booed Sign and Instructions
Once you have your sign and instruction printable, it is fun to cut them out for your gift receiver.
Display the printable on the front door or window.
It has instructions on how to continue the fun Halloween tradition.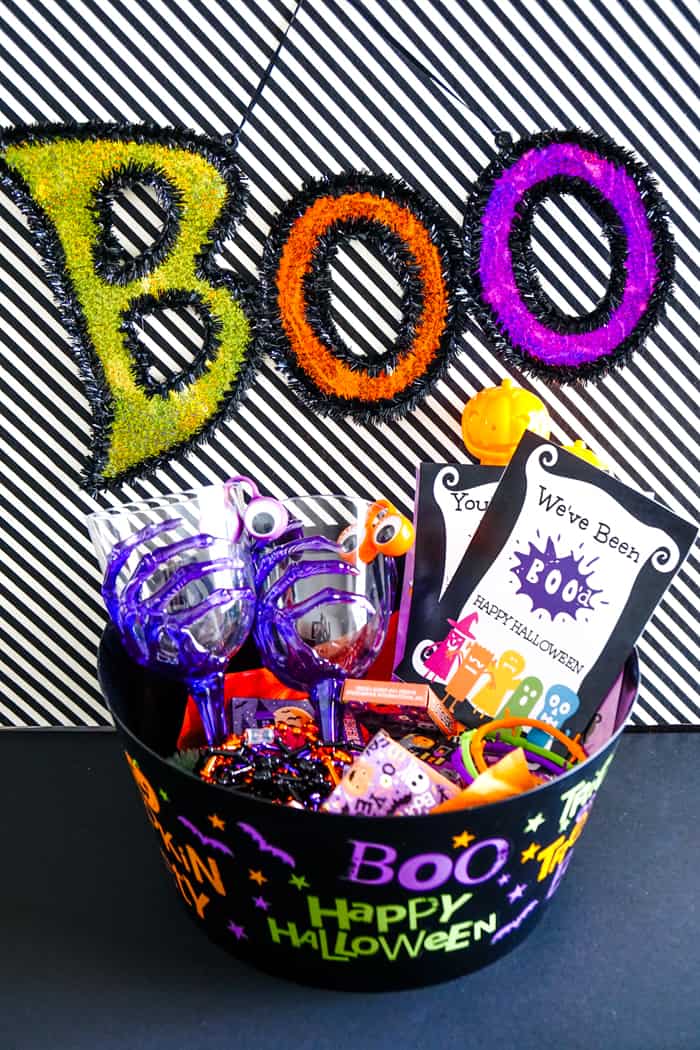 The Instructions Include:
You have your boo bucket
You've filled it with Halloween treats customized for the family or friends you are planning to boo
You've printed out the boo letter printable
Now it's time to sneak up on your neighbor's doorstep, leave the goodies, ring the doorbell and run. And that is how to surprise someone!
Download the Free Printable - "We've Been Booed"
You sure do. I have designed a super cute printable just for the occasion. It is full of color and not-so-scary in the case there are little ones. Simply enter your email below and it will take you to the printable
Other Halloween Inspired Ideas you might enjoy!
CONNECT WITH MADE WITH HAPPY!
Be sure to follow me on social media, so you never miss a post!
Facebook | Twitter | Youtube | Pinterest | Instagram
Looking for crafts to keep your child busy? Sign up for my 5 Ridiculous HAPPY Activities in under 30 minutes for your kids delivered directly to your inbox!
Find and shop my favorite products in my Amazon storefront here!
"YOU'VE BEEN BOOED" PRINTABLE
PIN IT TO YOUR HALLOWEEN BOARD ON PINTEREST!
FOLLOW MADEWITHHAPPY ON PINTEREST FOR ALL THINGS HAPPY