Celebrate the holiday season with your neighbors with this "You've Been Elfed" free printable along with some fun gift ideas.
This You've Been Elfed printable is such a fun way to celebrate the holidays with a Merry Christmas for the entire family.
Giving gifts is a big part of this holiday season. We make it a point to show the kids that it's not about their wish lists for Santa, or making gingerbread houses and Christmas cookies. While those things are fun and festive and we enjoy doing them, the reason for Christmas is Jesus. Above all, it is Jesus' birthday and we celebrate him by striving our best to emulate him.
Be kind, gracious, and giving!
There are many traits you want your children to poses, but if I could get them to have those three, then I know they will be on their way to an incredible life.
Give my friends. Give to your friends, neighbors, and classmates. Even if you don't know your community, give and you will be seen as the light.
In other words, I have a lot of feeling about giving! All happy ones!
We're making it easy for you to give and with some great ideas.
What does Elfing mean? What is "You've Been Elfed"?
Put together a gift bag or gift basket full of fun treats along with a sweet unanimous You've Been Elfed sign, and spread some holiday cheer to your neighbors,
In addition to the "You've been elfed" printable sign, is an instruction sheet that states to place the "We've Been Elfed" on the front door or window. This lets the other neighbors know that your house has already been elfed.
The printable also states to keep the Christmas cheer going by putting together your own fun holiday gifts and passing them out to another neighbor. The best part is when all neighbors have the elf sign and everyone has participated in the Christmas game.
Christmas Games
This Christmas tradition becomes a fun game throughout the neighborhood, friend group, or north pole. 🙂 In other words, any group of friends would be great for this Christmas game.
"You've Been Elfed" is the Christmas version of the Halloween Boo Game. It is a fun neighborhood game during Halloween time.
In addition, our other versions of the neighborhood gift game include You've Been Booed, You've Been Boozed, and You've Been Egged. These are great for Halloween and Easter. This is the Christmas "you've been jingled" version!
These are a great way to bring a bag of treats and so much fun to your entire neighborhood. This Christmas game brings a little cheer to the Christmas Season. Especially for kids and families.
Check out these other Christmas Game Free Printables!
We highlighted these Christmas Printables along with some other fun kids' crafts in our December Crafts for Kids along with our 101+ Easy Craft Ideas for kids.
You also do not want to miss our 101+ Fun Coloring Pages For Kids and 101+ Free Kids Printables full of Crafts & Coloring Pages.
How do you elf a friend or coworker?
Surprise your friends, neighbors, and or co-workers with a fun holiday gift without them knowing who it's from.
In your gift, include our "you've been elfed" free printable. It is then displayed on the front door or front yard that lets everyone know that they have been elfed. It then encourages them to continue the tradition with another friend, neighbor, or co-worker.
My kids even enjoy ringing the doorbell and running away (ding dong ditch) leaving the treats for friends. Fun, simple, and anonymous. Receiving an anonymous gift will definitely put you in the holiday spirit and is such a fun holiday tradition.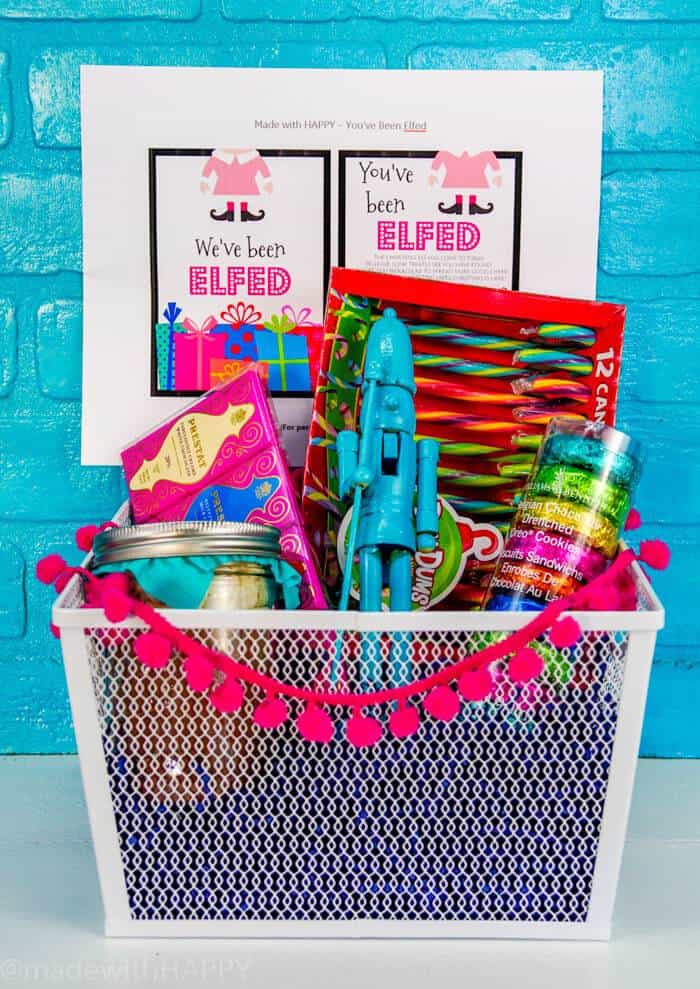 What to include in an elfed gift?
The next time you are at the store, grab a few festive items. The gifts can be simple little gifts like a few packets of hot chocolate, a candy cane, and a mug. Or as extensive as the basket we put together. Head to your local dollar tree or dollar store and grab some fun festive bags of treats.
Some of our favorites Christmas treats.
Candy canes
Chocolates
Hot chocolate
Christmas cookie tins (full of candies)
Other Elfed ideas can include handmade cards, ornaments, Christmas crafts, elf poems, a cute elf craft, or Christmas-themed decorations.
If you know your neighbors, make sure to grab things that they like or have dietary restrictions. If you aren't as familiar with them, then something simple like some homemade cookies or a jar of hot chocolate is great.
How To Play You've Been Elfed
Collect all your goodies. Then, simply print out the "You've Been Elfed" door sign, add it to the basket, and deliver.
The good news is your neighbors are going to love it no matter what delicious treats you give them.
Spreading Happiness and Joy during the holidays can make such an impact on people.
Especially with social distancing. Letting people know you care is that much sweeter.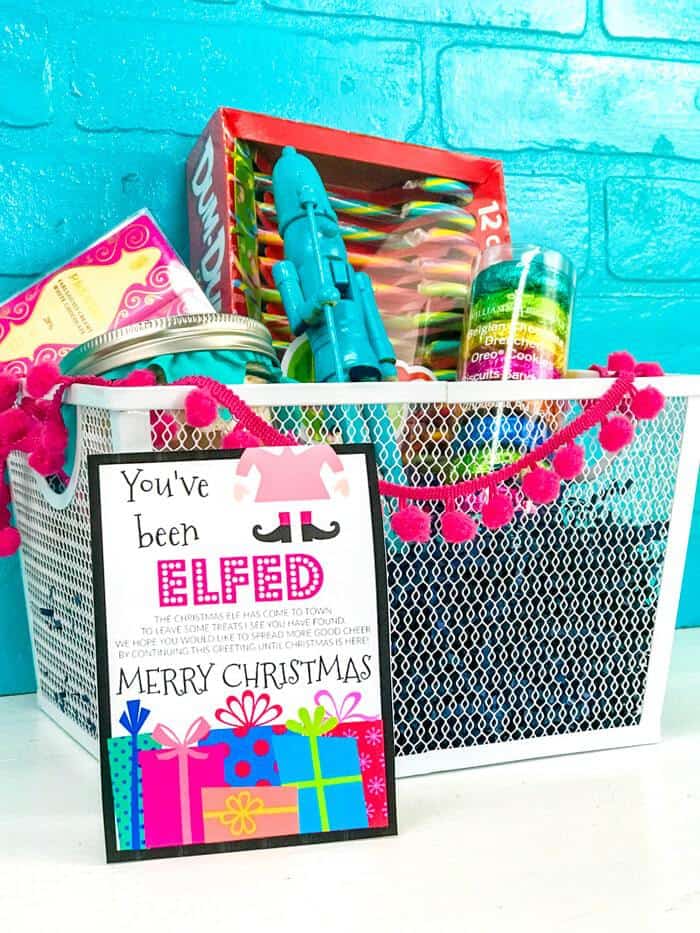 Using these for the office is also a really fun idea. The printables work for dropping a special treat off with a coworker too.
Drop a few goodies along with the printables with your coworkers. Therefore, your co-workers will know that you are thinking about them. In turn, they can do the same to another coworker.
Other Christmas DIYs you might enjoy
Download The "You've Been Elfed" Free Printable
Simply enter your name and email address in the form below to download the pdf file. If you would prefer to not enter your email, you can purchase the file in my shop here.
*For personal use only
Happy Holidays from Santa's Little Helpers!
CONNECT WITH MADE WITH HAPPY!
Be sure to follow me on social media, so you never miss a post!
Facebook | Twitter | Youtube | Pinterest | Instagram
Looking for crafts to keep your child busy? Sign up for my 5 Ridiculous HAPPY Activities in under 30 minutes for your kids delivered directly to your inbox!
Find and shop my favorite products in my Amazon storefront here!
YOU'VE BEEN ELFED
PIN IT TO YOUR DIY BOARD ON PINTEREST!
FOLLOW MADEWITHHAPPY ON PINTEREST FOR MORE GREAT IDEAS!