Have some family fun driving around and looking at Christmas lights just got more fun with this free printable Christmas Light Scavenger Hunt.
Whether you live in a warm climate or one where a white Christmas is a real possibility. Spend a fun family evening doing a Christmas light scavenger hunt!
The sun is setting earlier and earlier these days – not great news. The good news is (and we love good news!) – darker evenings mean more time to explore bright, festive, holiday lights.
Christmas Games
Christmas games are some of our family's favorite things. If you love them as much as we do, then you will not want to miss some of our other popular Christmas games full of fun ideas including Christmas Bingo Printable, Christmas Word Search, Christmas Scavenger Hunt for Kids, and Christmas Bucket List.
Like all of our Made with Happy free printables, our Christmas light scavenger hunt ideas are an easy and fun activity to follow and guaranteed to bring the HAPPY! But be warned, it may just get the whole family caroling all the way.
We highlighted this Christmas Printable along with some other fun kids' crafts in our December Crafts for Kids along with our 101+ Easy Craft Ideas for kids.
Light Scavenger Hunt List
Much like a regular scavenger hunt, this Christmas light scavenger hunt will have participants cruising our own neighborhood looking for fun and festive Christmas light displays and decorations.
Our printable has a list of things to look for from toy soldiers to snowflakes to Santa and his reindeer. You could say we've made a list for you to check twice!
There aren't many activities that can satisfy the whole family, but our Christmas light scavenger hunt is guaranteed fun for babies, younger kids, older kids, and teens (maybe?).
Gather your scarves, make a cup of hot chocolate, and pack some candy canes for a night that may become one of your family's favorite Christmas traditions. It truly is our favorite family tradition.
Christmas Hunt with Friends
This is also a great idea for families who would like to socialize this holiday season but are practicing social distancing (like in years past). You could head out in separate cars or walk 6 feet apart. Don't forget the fun things Christmas cookies and hot cocoa though. 🙂
Another fun idea is to make it more of a competition. See which families can find more items on our list. If you can call "hunt" on the same evening, see who can find the most items in a certain amount of time. Or, if you can't find a good night for all, set parameters on which neighborhoods you can visit and set a time limit. By the end of the night count up all the Christmas items checked off!
If you want to keep the little competition in the family, you could split up. Have one parent or adult take one kid (or kids) and another parent or adult take the other kid (or kids). Meet back at home and share your lists!
Just because it's getting colder and darker, doesn't mean you have to stay inside. Our Christmas light scavenger hunt may be just the thing you need to kick start your holiday spirit.
With blow-up characters, lights that blink to music, and even fake snow, Christmas displays have certainly come a long way over the years. Get out and applaud your neighbors' hard work with our HAPPY (and free) entire family activity!
This is sure to become one of your family's favorite holiday traditions. I have had readers even mention that it is now one of their family's Christmas Eve traditions before bed which makes it one of my all-time favorite traditions!
Make it a Date Night
Another great idea is turning this fun adventure into a date night! At our house, it has become a tradition to turn our Mother Son Date night into a fun Christmas Scavenger Hunt.
It is a fun way to connect and have so much fun looking for Christmas trees and different Christmas decorations throughout our local neighborhood. Playing Christmas music in the car while sucking on a candy cane. It is holiday fun connecting parents and children in a great way. New Family Tradition
Other Fun Christmas Printables You'll Love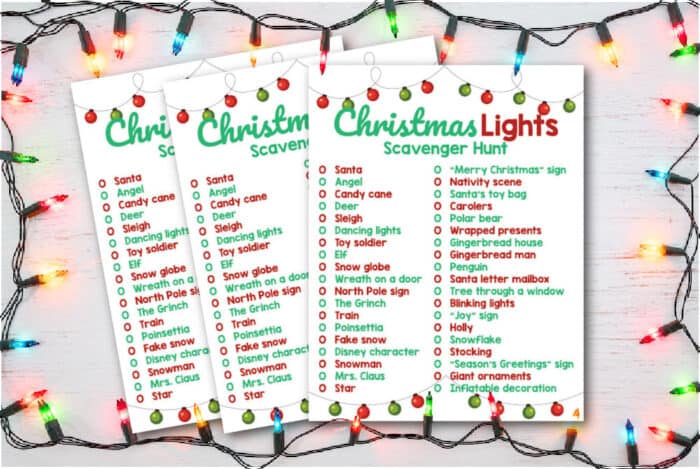 Download Your Christmas Light Scavenger Hunt
Grab your Free Christmas Light Scavenger Hunt Printable in a simple way by entering your name and email in the form below. You will be taken directly to the printable pdf file. If you would rather not fill out the form, you can also purchase the printable from my shop here.
*For personal use only
CONNECT WITH MADE WITH HAPPY!
Be sure to follow me on social media, so you never miss a post!
Facebook | Twitter | Youtube | Pinterest | Instagram
Looking for crafts to keep your child busy? Sign up for my 5 Ridiculous HAPPY Activities in under 30 minutes for your kids delivered directly to your inbox!
Find and shop my favorite products in my Amazon storefront here!
CHRISTMAS LIGHT SCAVENGER HUNT
PIN IT TO YOUR FAVORITE BOARD ON PINTEREST!
FOLLOW MADE WITH HAPPY ON PINTEREST FOR ALL THINGS HAPPY!