Learn all the reindeer fun facts for kids with our free printable packet. Learn parts of the reindeer, reindeer life cycle, and more!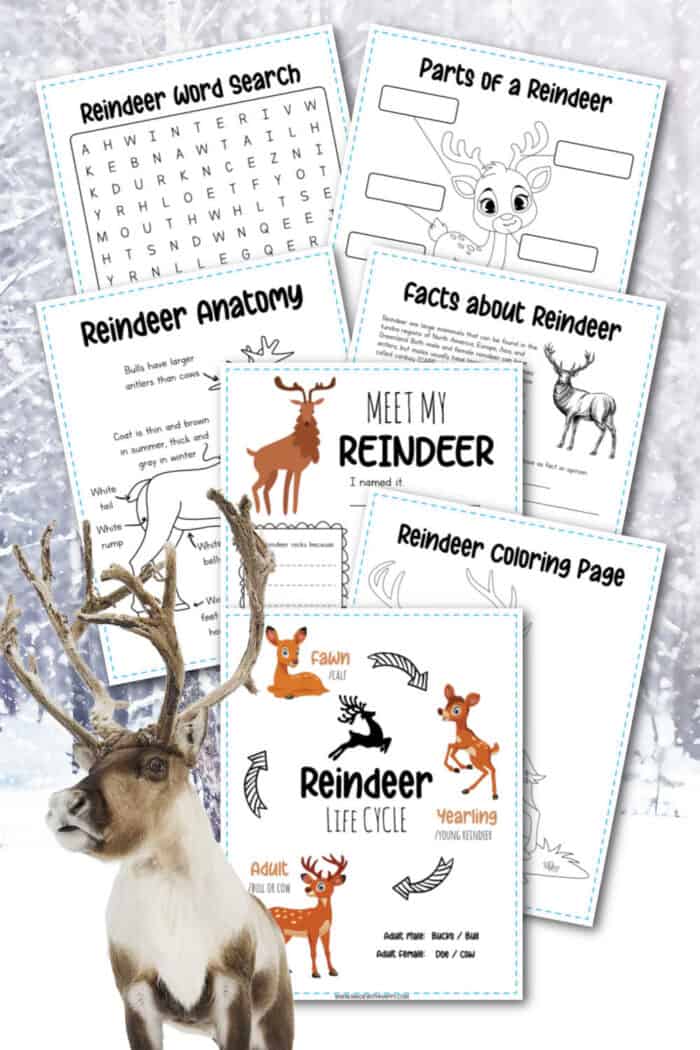 These Reindeer Facts For Kids and all things reindeer worksheets are fun and educational this holiday season.
Reindeer happens to play a big part in the Santa story. If you are looking for some other fun reindeer activities, then you will not want to miss our Reindeer Coloring Page, Reindeer Coloring Ornament, Reindeer Paper Plate Craft, and our 21+ Reindeer Crafts For Kids.
Don't miss our How To Draw a Reindeer Step By Step Tutorial!
Santa and His Reindeer
It's December which means embracing all the things the Christmas season is known for including Santa Claus and his reindeer!
We all know the story of our famous red-nosed reindeer and you may think these are just mythical creatures if you haven't seen them in real life. But with this reindeer facts activity for kids, you and your littles will learn all there is to know about these fantastic creatures!
Let's Learn about Reindeer!
My reindeer facts for kids sheet will have your children (and yourself!) learning so many fun facts about Santa's little transporters.
For example- did you know reindeer and caribou are the same animals? It's true! In North America, both are members of the deer family. If they are wild, they are called caribou and if they are domesticated they are called reindeer!
True or False- Reindeer live at the North Pole? True! You can find reindeer (or caribou) to the north in the arctic and subarctic regions of the planet. That's why they need their thick coats of fur- a double layer even!- to keep them nice and cozy in the freezing temperatures.
Fun Reindeer Facts
One of my favorite fun facts is that reindeer are the only deer species that have hair completely covering their nose! (They must've left that out of our Rudolph story since it would've been hard to guide the sleigh…)
In fact, it not only covers their nose but all the way to the bottom of their feet! They may look silly, but the hair creates traction so they don't slip on the ice and snow. This is helpful with pulling sleds (or taking off to guide Santa's sleigh, of course.)
Another fun fact is that both male and female reindeer can grow antlers! With most other deer species, it is only the males. They start growing them at different times but then finish growing them at the same time.
Remember the reindeer from Frozen 2? Well, it's true about reindeer herding. Their herds can get very large- up to 50-500,00. And they do love to run in circles, just like at the end of the movie! They do this to avoid hunters. It's called a reindeer cyclone. Isn't nature so cool!?
Do you leave out cookies for Santa and carrots for his helpful reindeer? Well, you may want to second-guess that! The reindeer eat mosses, herbs, ferns, and grasses among other things- these vegetarians love anything green. These adorable reindeer can get up to 700 pounds!
We highlighted this Christmas Printable along with some other fun Winter Printable Activities in our December Crafts along with our 101+ Easy Craft Ideas for kids.
Other Educational Printables You'll Enjoy
Download These Free Reindeer Fun Facts
Simply enter your name and email in the form below and hit enter. You will then be taken directly to the free downloadable file.
CONNECT WITH MADE WITH HAPPY!
Be sure to follow me on social media, so you never miss a post!
Facebook | Twitter | Youtube | Pinterest | Instagram
Looking for crafts to keep your child busy? Sign up for my 5 Ridiculous HAPPY Activities in under 30 minutes for your kids delivered directly to your inbox!
Find and shop my favorite products in my Amazon storefront here!
REINDEER ACTIVITY SHEETS
PIN IT TO YOUR DIY BOARD ON PINTEREST!
FOLLOW MADE WITH HAPPY ON PINTEREST FOR ALL THINGS HAPPY!