This Easter Tissue Paper Suncatcher Craft is the perfect kids Easter craft. We're showing you just how to make a cross suncatcher craft.
Easter tissue paper suncatcher crafts are fun for the whole family.
Easter crafts are some of our favorites to make throughout the year. Be sure to check out some of our other popular Easter crafts including our Hoop String Easter Cross, Plastic Easter Egg Flower Pots, and our Easter Bunny Wreath.
We highlighted this Easter craft along with some other fun kids craft in our April Crafts for Kids along with our 101+ Easy Craft Ideas for kids.
You also do not want to miss our 101+ Free Kids Printables full of Crafts & Coloring Pages.
Tissue Paper Suncatcher
Growing up, we were always on our back patio having dinner, entertaining, and living life. It only took a handful of times having someone walking through it before my Mom decided to have us make a few suncatchers DIY to hang and make sure no one walks through our sliding glass door again.
Tissue paper suncatchers are always a fun kids craft to make all year long. They are easy to make, colorful and allow the kids to use their creativity to make. With Easter just around the corner, these cross suncatchers crafts are a fun kids craft that will keep the kids busy hands busy but then showcase a colorful christian project.
We're always looking for different tissue paper projects like this and easy suncatcher crafts are perfect with tissue paper because they add that pop of color without any extra steps.
What you'll need to make a suncatcher with tissue paper
All the supplies you will need for any shape tissue paper suncatcher.
Tips to making any suncatcher with tissue paper
The base to making a tissue paper suncatcher is the contact paper.
Make sure you have clear contact paper. Each project only needs about 12 inches of the roll cut out per project.
Drawing on the grid paper side of the contact paper is a helpful guide when making these suncatcher craft projects.
This allows for the kids to show their creativity and showcase their drawing skills.
With younger children, I would suggest drawing the shapes for them.
For those that are letting the kids draw, remind them that the designs should not be too intricate. The tissue paper can be cut or torn into pretty small pieces, but do not come out as precise.
Remove the sheet of contact paper from the grid paper backing.
I then place the grid paper with the drawing face up, and place the non-sticky side of the contact paper over the top.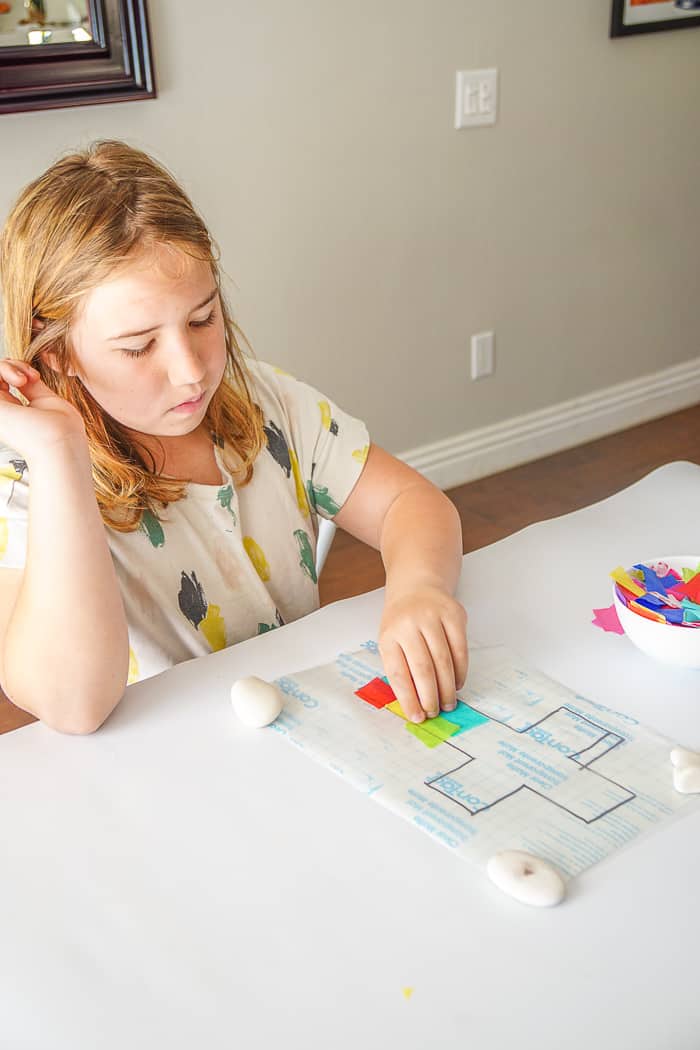 If you are finding the edges pulling up, then use a few clean rocks or weights of some sort to hold your project in place.
Use your creativity when placing the tissue paper onto the contact paper. The contact paper is sticky, so once you place it, its most likely going to stay there.
What make tissue paper fun for this Easter suncatcher craft project is that you can layer the paper to give it different shades and colors like a true stain glass suncatcher.
I find that cutting the colored tissue paper into small squares is fun and easy for little hands to place and give your project to be filled with lots of color. The smaller the tissue paper the more colors they can get into their projects.
Tissue Paper Projects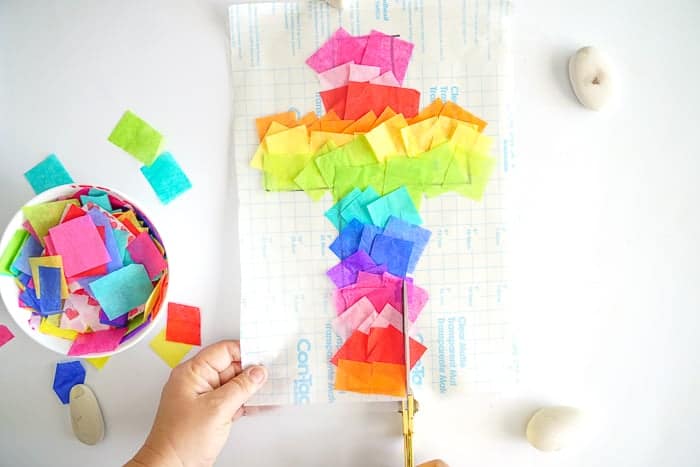 Once the tissue are all laid as they want, hold the two pieces together and cut along the line.
How to hang the Easter sun catcher craft.
You can remove a piece of the tissue paper at the top of your project. This is the easiest way, and because the tissue paper is sticky, it will stick right onto the window.
You can add a piece of tape and tape it to the window
If you have a suction cup hook then you could simply punch a hole with a hole punch at the top and then hook the suncatcher on the hook.
Other Easter Crafts You'll Love
CONNECT WITH MADE WITH HAPPY!
Be sure to follow me on social media, so you never miss a post!
Facebook | Twitter | Youtube | Pinterest | Instagram
Looking for crafts to keep your child busy? Sign up for my 5 Ridiculous HAPPY Activities in under 30 minutes for your kids delivered directly to your inbox!
Find and shop my favorite products on my Amazon storefront here!
EASTER TISSURE PAPER SUNCATCHER CRAFT
PIN IT TO YOUR KIDS CRAFTS BOARD ON PINTEREST!
FOLLOW MADEWITHHAPPY ON PINTEREST FOR ALL THINGS HAPPY