We are sharing a fun and easy tutorial on a milk carton bird feeder. With a few supplies, upcycling that milk carton can be all kinds of fun.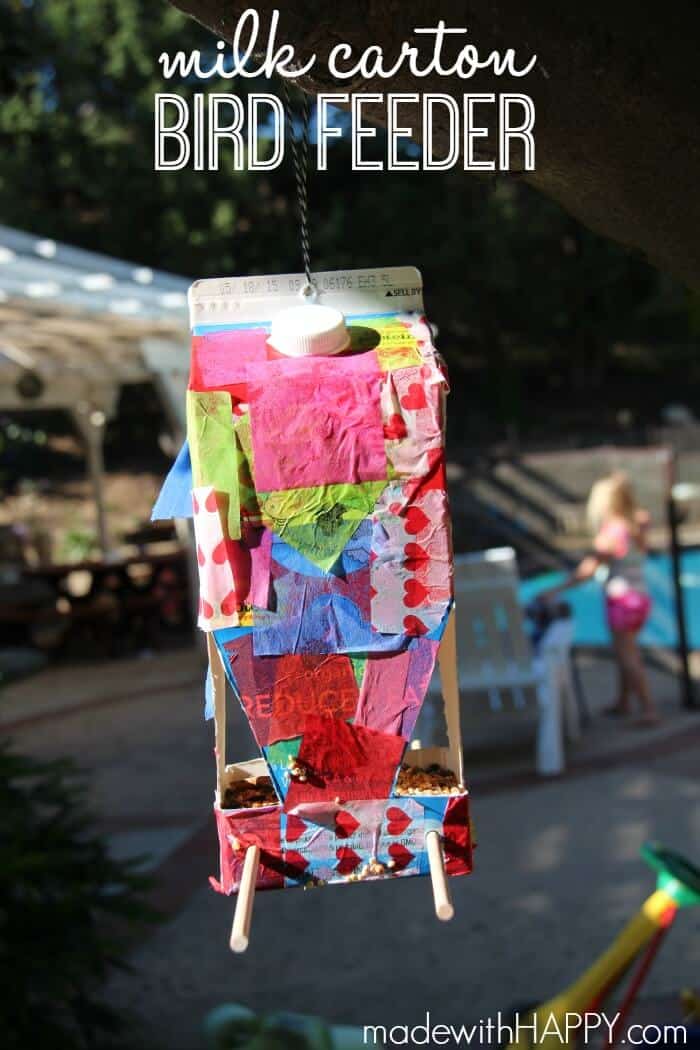 This milk carton bird feeder is fun, colorful and easy to make for kids of all ages!
Being outdoors and making bird feeders crafts are one of our most favorite things to do. You will not want to miss our other popular bird feeder post including our Popsicle Stick Bird Feeder, our Orange Bird Feeder and Heart Shaped Bird Seed Ornament.
We highlighted this Spring craft along with some other fun kids craft in our May Crafts for Kids along with our 101+ Easy Craft Ideas for kids.
Bird Feeder Crafts
Spring is upon us and this week started the kids Spring Break. Wahoo! This is our first year of official elementary Spring Break and I can tell you we are ready for it. The kids are tired and in need of a little R&R. While we are enjoying the lazy mornings, the weather has been screaming for us to get outside.
We of course love our backyard and are always playing, picnicking, gardening with the kids. While the kids and I were tending to our newly planted berries bushes, we noticed a couple little birds flying around. "We should feed them Mommy!" says MWHGirl. "That sounds like an awesome idea, babe! Let's make them a bird feeder."
Kidsgardening.org is a helpful educational resources to not only help you talk to your kids about where your food comes from, but it also has some fun garden based activities for your including a fun milk carton bird feeder.
Supplies: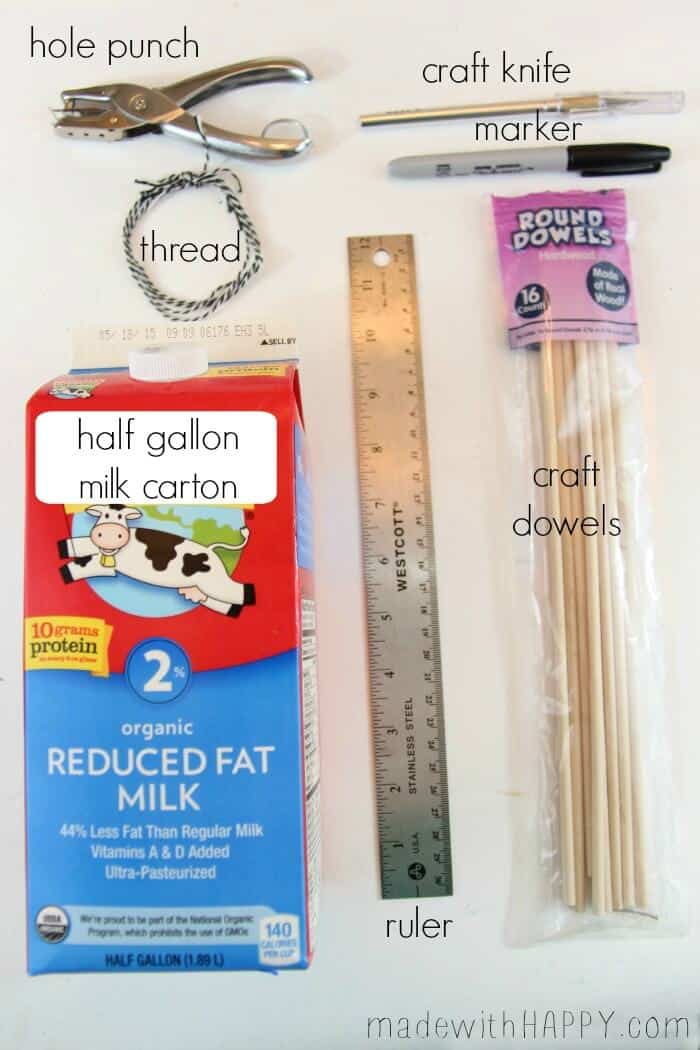 Half Gallon Milk Carton
Craft Dowels (minimum of 9 inches long)
Ruler
Thread/Twine for Hanging
Hole Punch
Craft Knife
Permanent Marker or Wax Pencil
Bird Seed
Directions: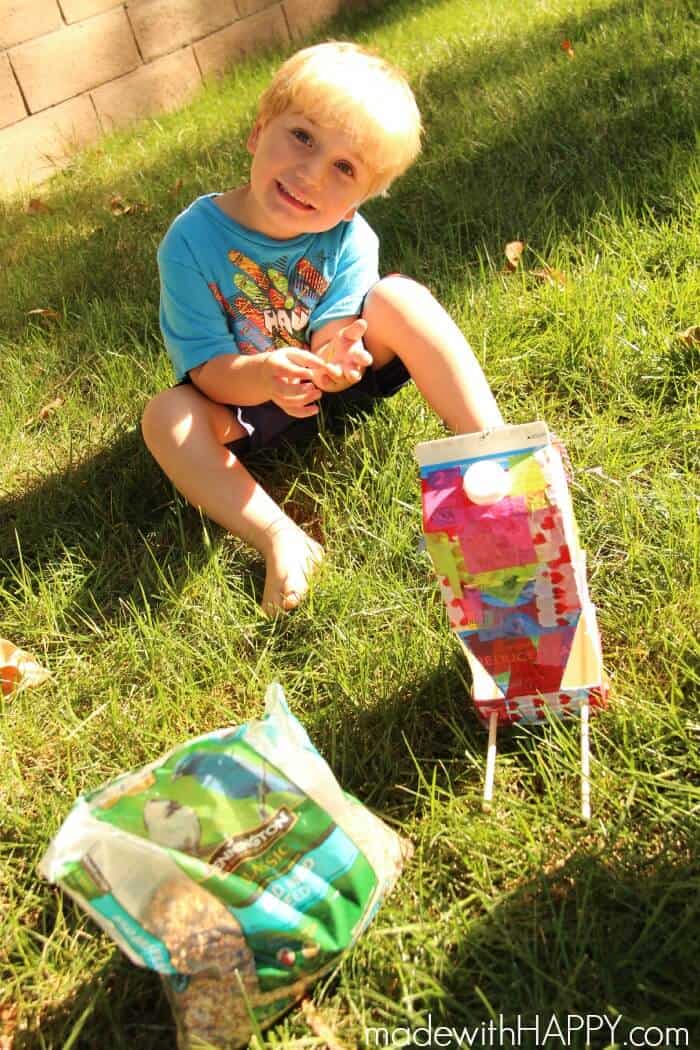 You can find full step-by-step instructions here. You essentially are cutting triangles out of your cleaned out half gallon milk carton. We made our triangles approximately an inch in and the hypotenuse was approximately 3 inches. Wow, I'm getting all Geometry on you. 🙂 Make 4 hole punches. Two on the front triangles and two on the back.
Then have your sweet kid slide the dowel through the holes. At this point, you can simple punch a hole at the top and using the twine/thread for hanging and you are ready to fill with bird seed. We of course decided it needed a little Made with HAPPY upgrade and added some cut tissue paper pieces and mod podge.
Apply a thin layer of mod podge or white glue and water (equal parts) with a sponge to the milk carton. Then have the kids place the cut tissue pieces (approximately an inch square) all over the milk carton. You can then add anther thin layer on top of tissue. Cut off any excess pieces.
Let dry maybe 10 minutes and you are ready to fill.
Viola, you have yourself one Made with HAPPY Milk Carton Bird Feeder!
Other Spring Crafts You'll Love
CONNECT WITH MADE WITH HAPPY!
Be sure to follow me on social media, so you never miss a post!
Facebook | Twitter | Youtube
Pinterest | Instagram
Looking for crafts to keep your child busy? Sign up for my 5 Ridiculous HAPPY Activities in under 30 minutes for your kids delivered direct to your inbox!
Find and shop my favorite products in my Amazon storefront here!
MILK CARTON BIRD FEEDER
PIN IT TO YOUR FAVORITE BOARD ON PINTEREST!
FOLLOW MADE WITH HAPPY ON PINTEREST FOR ALL THINGS HAPPY!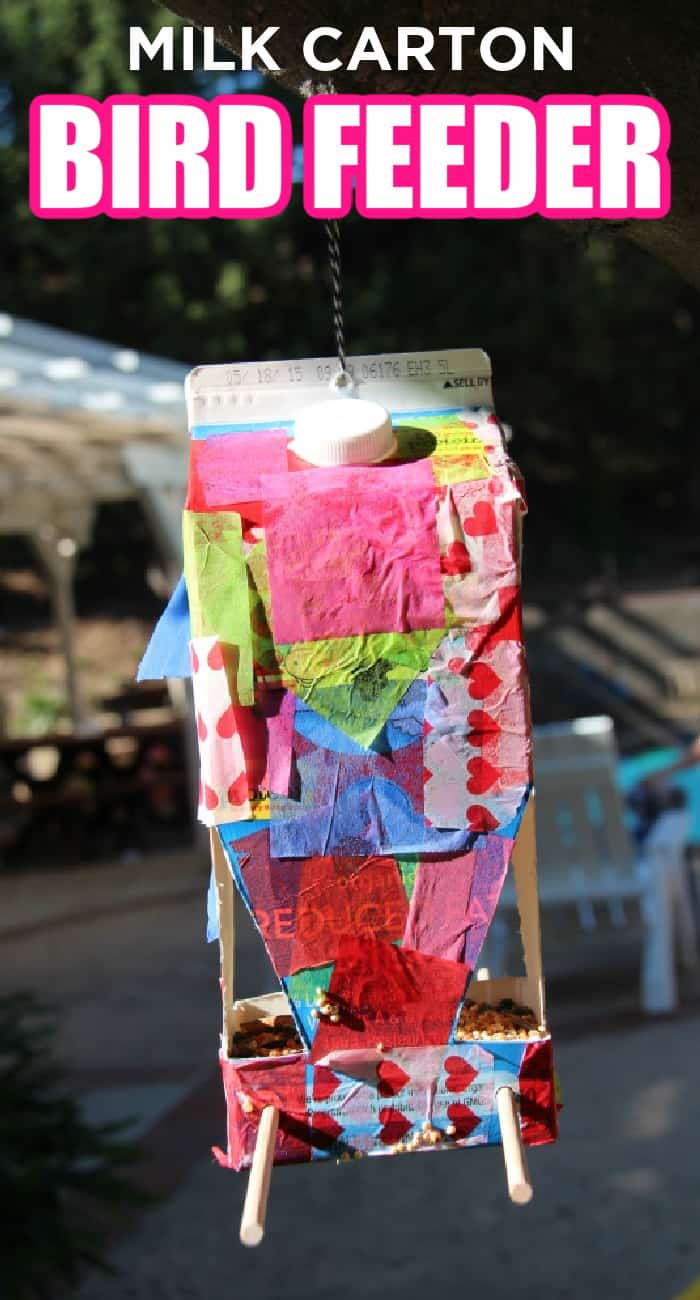 This post was originally a sponsored post written by me on behalf of Tree Top back in March of 2015.