This Easter Bunny Wreath is the perfect DIY Easter wreath - The flowers are just what your Spring Door Hanger needs.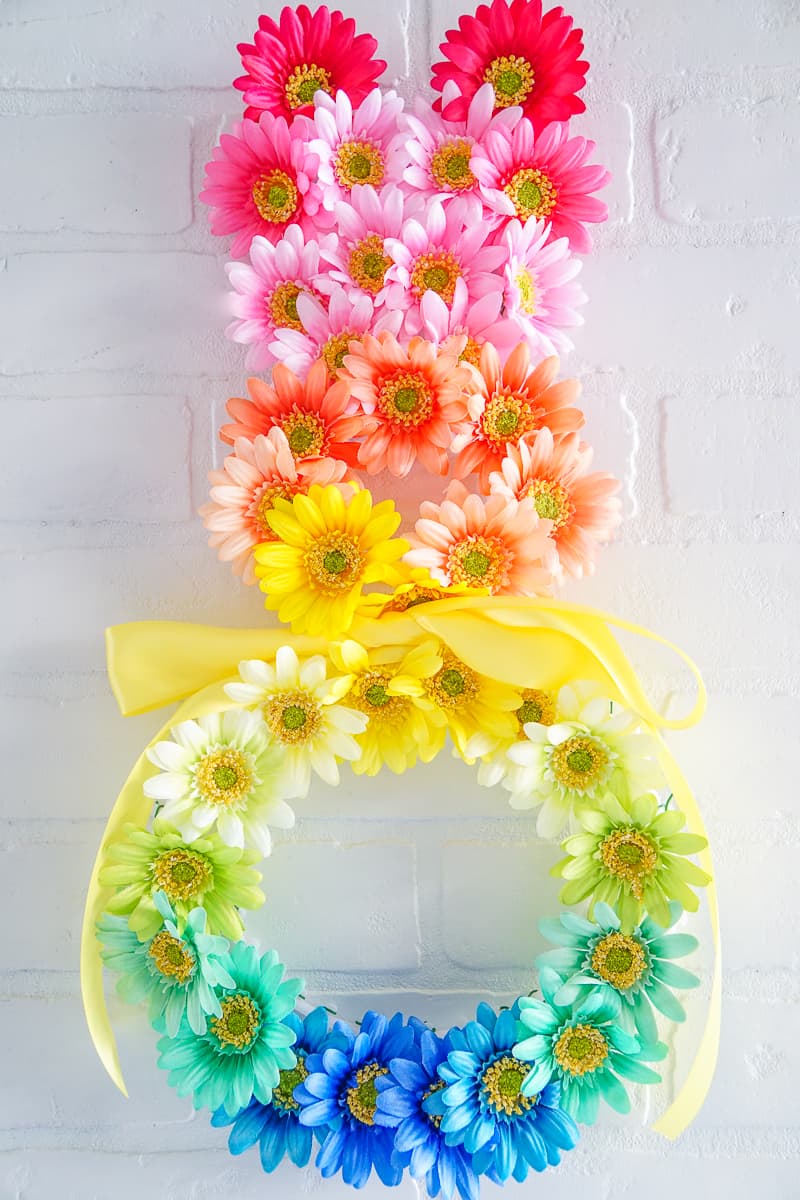 Spring door hangs always make me think of Easter Bunny Wreaths.
Bunnies are so much fun to decorate and craft with during the Easter holiday. Be sure to check out our other fun bunny posts including Bunny Origami, Ombre Burlap Bunny, Bunny Footprint Craft, and our Boxwood Bunny Door Hang.
Easter Wreath
This Boxwood Bunny Door Hang has been hanging on my door the last few Springs and so I knew I was in need of another DIY Easter Wreath. This wreath combines my love of Easter, bunnies, and flowers into one Easter Door Hanger.
Flowers wreaths and flower door hangs for Spring always brighten up a front door. I have been working on a few projects with real flowers and while I love them all so much, there is some really fun flower crafts that are even better with artificial flowers. Bring on Spring!

Making A Bunny Wreath
The part of this project that can be the trickiest is making a bunny form or finding a form that will work for a project like this. For more traditional DIY Easter Wreaths, there are lots of different round wreath forms throughout the craft supply stores, but other shapes, like a bunny, are not as easy to find or make.
I made the bunny for this Easter Door Hanger out of wire. For this project, I found this plastic bunny decoration.
While this bunny form is plenty cute how it comes, the white plastic covering isn't my jam. When I removed the outside wrapping, I found a cute white plastic bunny form underneath.
Check our our 101+ Animal Crafts
How to Attach Flowers to a Wreath?
It all depends on what flowers you are using and what your wreath or door hang looks like. For traditional circular wreaths, there are many ways to attach flowers to them. Using floral wire, the wire stem, and floral tape like we used in this DIY floral crown.
You can certainly attach the flowers to this wreath using similar methods, I think the fact that it's a lighter plastic makes it easier to use flowers that come on wire-like these sweet daisies.
To make your Easter Bunny Wreath, you'll need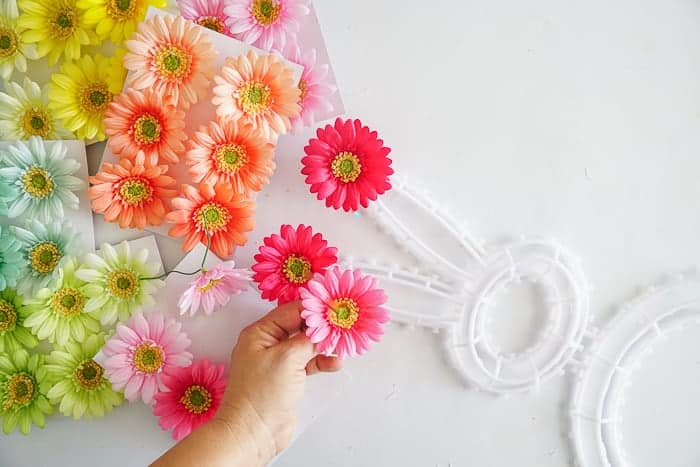 There are just a few simple supplies needed for this super pretty floral Easter bunny wreath. Simply attach the flowers along the outsides of the bunny ears and twist them in place. I have a big puffy heart for the ombre flowers. You can see from this ombre bunny, that ombre is my jam. I love the idea of an ombre rainbow flower bunny.
One tip I would suggest as you work your way down the bunny, twist the floral wire to the outside nodules will keep the flowers in place and not spin around the middle of the wreath.
Easter Bunny Wreath Questions
Now that you are ready to make your Easter Bunny Wreath, here are a few questions you might have.
How do you make an inexpensive Easter wreath?
This Easter bunny wreath is pretty inexpensive to make. In case you cannot find this bunny form, then head to your local dollar store and grab a wreath form and some artificial flowers. You can create a similar wreath for just a few dollars.
How do you make a bunny wreath?
In the case you do not find the plastic bunny form I found at the dollar store, using floral wire, you can tie two-round wreath forms together. Then make the ears out of smaller wreath forms and form them into an oval shape. Attach them all together to get a bunny form.
How do you decorate a grapevine wreath?
In the case you cannot find the plastic wreath and only have the grapevine wreath, you would attach the flowers the same. You want to make sure they are secured to the front and you do not see any of the grapevine wreaths underneath.
We highlighted this Bunny craft along with some other fun kid's crafts in our April Crafts for Kids along with our 101+ Easy Craft Ideas for kids.
You also do not want to miss our 101+ Free Kids Printables full of Crafts & Coloring Pages.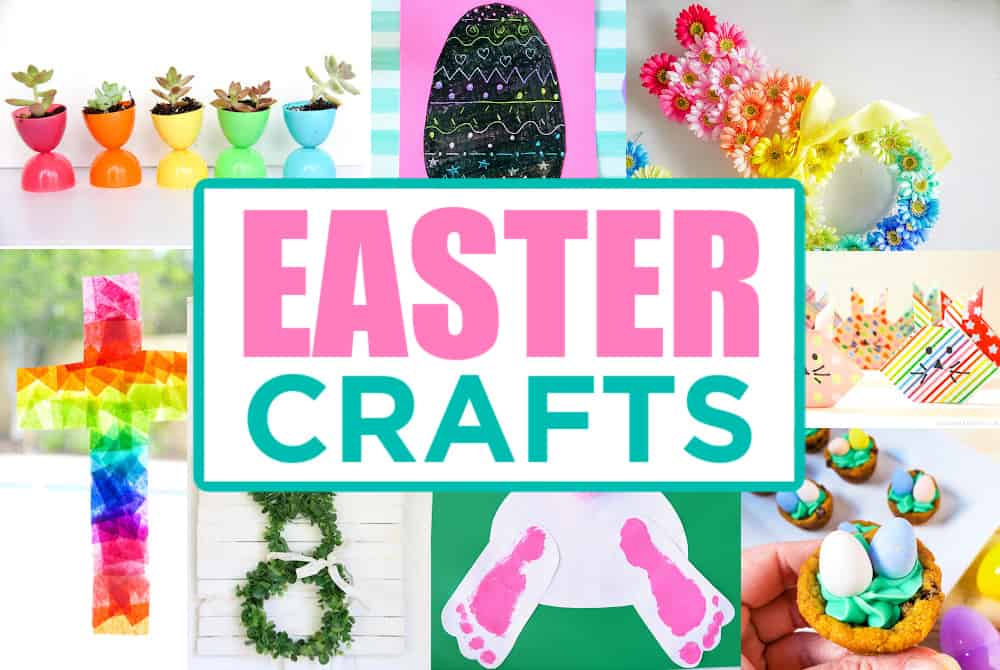 Spring Wreath Ideas
Yield: 1 Bunny Wreath
Easter Bunny Wreath
This Easter Bunny Wreath is the perfect DIY Easter wreath - The flowers are just what your Spring Door Hanger needs.
Tools
Instructions
In the case you were able to find the same plastic bunny wreath, you will need to remove the white tinsel like garland that was wrapped around the bunny to get the bunny to the bare plastic.
Start at the top and tie the floral wire of each of the flowers around the bunny wreath. If you want to make yours in the ombre rainbow colors like mine, then start with the hot pink and work your way down to the blue.
Cut a ribbon approximately 2 feet long and then tie into a bow around the neck.
EASTER BUNNY WREATH
PIN IT TO YOUR KIDS CRAFTS BOARD ON PINTEREST!
FOLLOW MADEWITHHAPPY ON PINTEREST FOR ALL THINGS HAPPY