Celebrating St. Patrick's Day with the kids can be all kinds of fun. We have some free printable St. Patrick's Day crafts, coloring pages and more!
These St. Patrick's Day printables are all kinds of fun and will be the pot of gold of your St. Patty's Day!
St. Patrick's Day, March 17th is a fun day to fill with games, coloring, and all kinds of HAPPY. We hope you enjoy all the different printables we have that are sure to keep your kids of all ages busy for hours!
We highlighted St. Patrick's day Printables along with some other fun kid's crafts in our March Crafts for Kids along with our 101+ Easy Craft Ideas for kids.
You also do not want to miss our 101+ Free Kids Printables full of Crafts & Coloring Pages.
St. Patrick's Day Worksheets
There are lots of fun activities for you to do with your kids during a St. Patrick's day celebration. While drinking green beer and having corn beef, your children can celebrate with rainbow printables, educational activities, and call kinds of St Patrick's day activities.
Some of our favorite things are part of these fun st. patrick's day printables including rainbows, happy and lucky charms. Have a great St. Patrick's Day celebration with all these fun printable activities.
These Rainbow Seed printable tags are sweet and so fun for the kids to put together and are easy St. Patrick's Day treats. This is a great way to spread fun and happiness to you and your friends on this lucky holiday. Its also fun include a few gold coins in the baggie.
Bingo is one of our favorite ways to celebrate a holiday. With these 10 free printable St. Patrick's Day bingo cards and calling cards, you and your friends can play either in person or virtually. Have a fun time with your friends playing and so much fun this rainbow holiday.
These sweet little treats are all kinds of rainbow fun. We have provided the free printable Lucky crayon labels too, just to make these treats that much sweeter.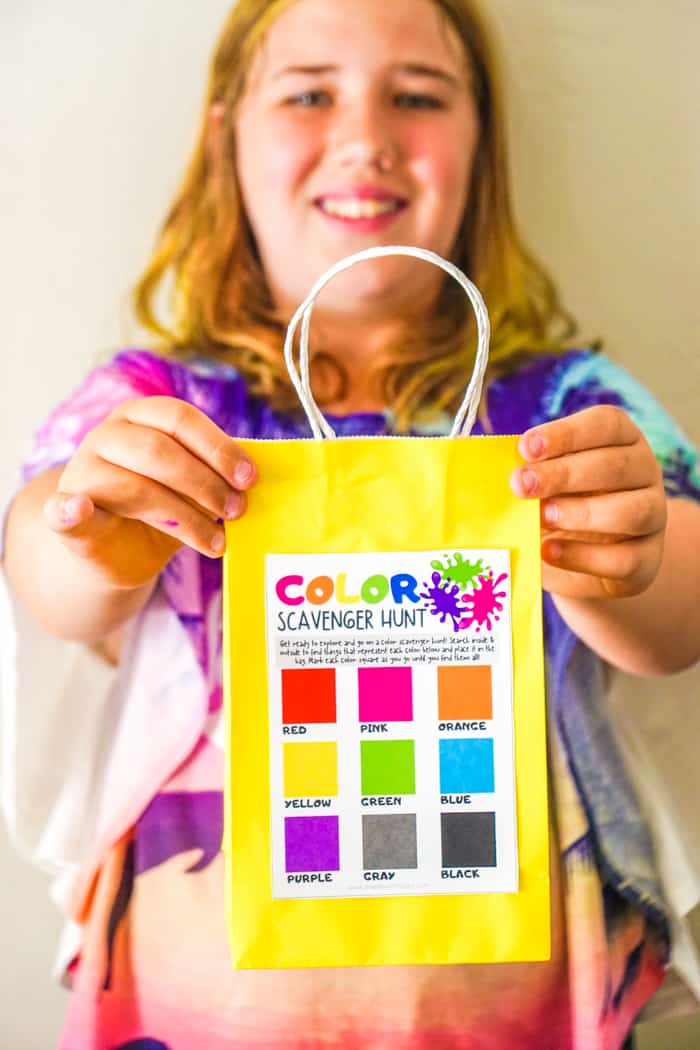 One of our most popular printables is our color scavenger hunt. This free printable is all kinds of fun for kids of all ages. Send those kiddos on a rainbow scavenger hunt and watch them have loads of fun!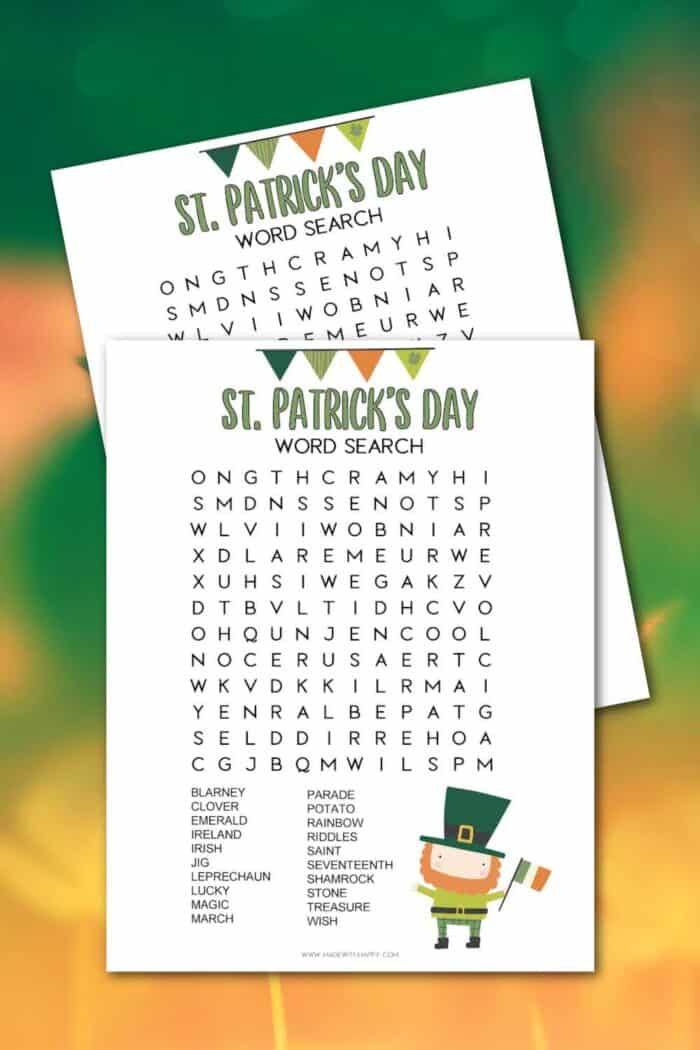 Have some word fun for St. Patrick's Day with this fun word search printable. These printable pages are a great way to work on those St. Patty's day sight words. These free st. Patrick's day printables are all kinds of fun!
Have some word scramble fun with this St. Patrick's Day word scramble.
Have some fun learning how to draw a rainbow with our fun and free tutorial. Improve those fine motor skills while learning to draw. After you learn how to draw them, you can hall kinds of fun coloring in the colorful rainbows.
There is something so fun at watching kids learn and the excitement as they run through the making 10 worksheet and the different number combinations.
Celebrate the lucky day with these super fun printable St. Patrick's Day Activities For Kids! Puzzles, coloring pages, games, and more! This fun activity pack is sure to fill your little one with
Turn those rainbows into an educational activity with these fun free printable worksheets learning the days of the week.
Sharpen those vocabulary skills with this fun free printable word search!
A fun way to have some St. Patrick's Day fun with free printables includes some fun holiday free coloring pages. Below are some of our favorite fun St. Patrick's Day printables coloring pages.
Grab all the fun St. Patrick's Day coloring pages all in one place.
Celebrate St. Patrick's Day with these coloring sheets and word search. These free printables are all kinds of HAPPY and totally free.
This fun color by number printable is great for your preschoolers and toddlers who are learning about the rainbow and would have fun coloring in the rainbow this St. Patrick's Day.
Celebrate St. Patrick's Day all month long with this fun March coloring page. For both younger and older children, this coloring page has a four leaf clover, rainbows, and all kind of good luck.
These fun and HAPPY St. Patrick's Coloring Pages are full of all the coloring fun of St. Patty's Day. Rainbows, leprechauns, and some fun pots of gold. Grab your free printable.
If fun-free is what you are looking for, then you are in the right place. We have lots of fun St. Patty's day fun with these three free leprechaun coloring pages.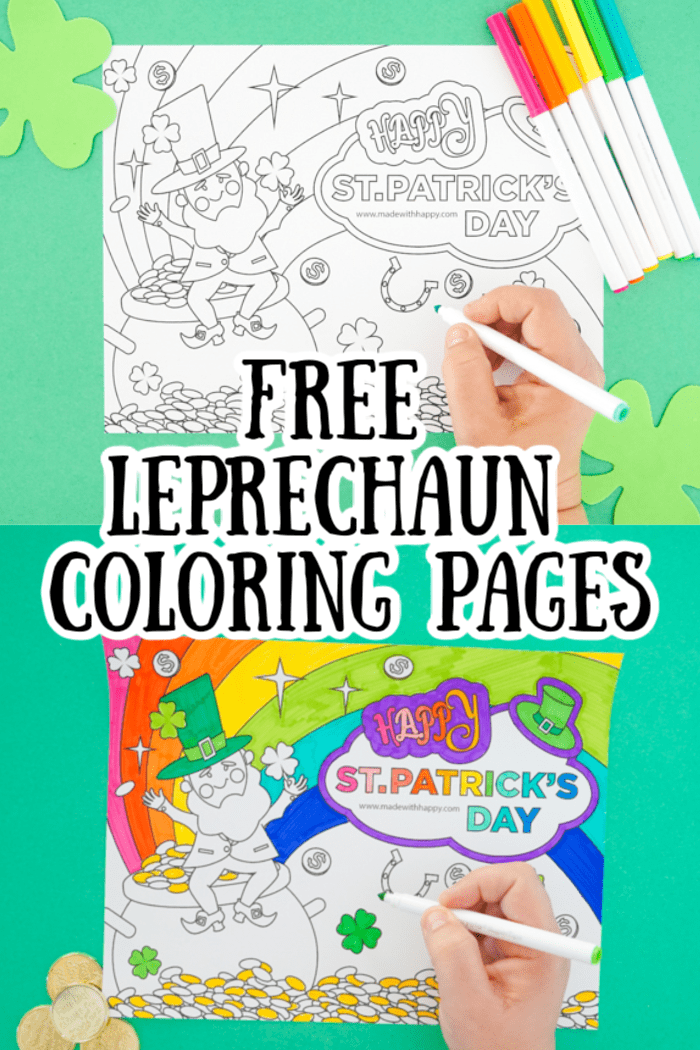 Another one of our favorite St. Patrick's Day coloring pages. This HAPPY leprechaun is having all kinds of fun with this pot of gold at the end of the rainbow.
St. Patrick's Day Questions
Now that you are ready to have some St. Patrick's Day fun with these printable, here are some additional questions you might have.
Who is St Patrick and why do we celebrate?
The holiday of St. Patrick's Day was a day to honor the death of St. Patrick. He was the patron saint of Ireland. The day is now evolved into a celebration of all things Irish including foods, music, dancing, and parades.
What do leprechauns do on St Patrick's Day?
Tradition has it, that we wear green on St. Patrick's day so that we do not risk getting pinched by a leprechaun. Wearing green apparently makes you invisible to leprechauns and so if the leprechaun sees you, he'll pinch you.
What are free printables?
Free printables mean that you can download the files for free to your computer. Then you can print those files for free using your home printer.
Other St. Patrick's Day Fun You'll Love
CONNECT WITH MADE WITH HAPPY!
Be sure to follow me on social media, so you never miss a post!
Facebook | Twitter | Youtube
Pinterest | Instagram
Looking for crafts to keep your child busy? Sign up for my 5 Ridiculous HAPPY Activities in under 30 minutes for your kids delivered directly to your inbox!
Find and shop my favorite products in my Amazon storefront here!
ST. PATRICK'S DAY PRINTABLES
PIN IT TO YOUR FAVORITE BOARD ON PINTEREST!
FOLLOW MADE WITH HAPPY ON PINTEREST FOR ALL THINGS HAPPY!