There is something so fun about watching kids learn and the excitement as they run through the making 10 worksheet and the different number combinations.
These rainbow-themed making 10 worksheets are a great resource for learning number pairs for making ten and single-digit addition. A simple addition strategy for young students and having fun while doing it!
Learning addition and subtraction is always more fun with Rainbow making 10 worksheets.
Anyone that has been around here, knows that rainbows are our jam. You won't want to miss some of our other popular rainbow posts including 15+ Rainbow Crafts For kids, Rainbow Punch Pinata, Rainbow Edible Crayons, St. Patrick's Day Printables, and Rainbow Scavenger Hunt.
Learning Numbers
These kindergarten worksheets turn learning the number bonds between ten and the other nine numbers into fun. Visually seeing the correlation has also been helpful for kids to see what the missing number math problems.
There are different ways to solve addition problems. It's important to set up the addition equation in a fun way to make learning fun! If you set the first worksheet up like a number line, the number sentence would then work as a number line for the second number starting from the larger numbers down... (9,8,7...)
We love the idea of using these math worksheets to make each of them make ten in addition sentences and basic math skills.
The fundamentals of the addition facts tables to set the foundations for kids in math. Once kids have this mastered, there is no limit to the math knowledge they can learn from there.
Having it as a rainbow is just an added bonus! Rainbows and St. Patrick's Day go together often, so you don't want to miss all the fun too.
Don't miss our Abacus Craft which is another great way to help with basic addition, plus a fun craft!
Educational Worksheets
There are many fun ways to teach your kids the fundamentals of math these days. While there are a ton of online resources and apps to help with this, I am still a fan of putting pencil to paper and having the kids write out and see it for themselves.
Make 10 in red, orange, yellow, green, blue, and purple!
We highlighted these Free Printables along with some other fun kid's crafts in our March Crafts for Kids along with our 101+ Easy Craft Ideas for kids.
If you enjoy fun coloring pages like these ones, make sure to check out our 101+ Fun Coloring Pages For Kids as well as our St. Patrick's Day Coloring Pages.
Other Kids Printables and Crafts You Might Enjoy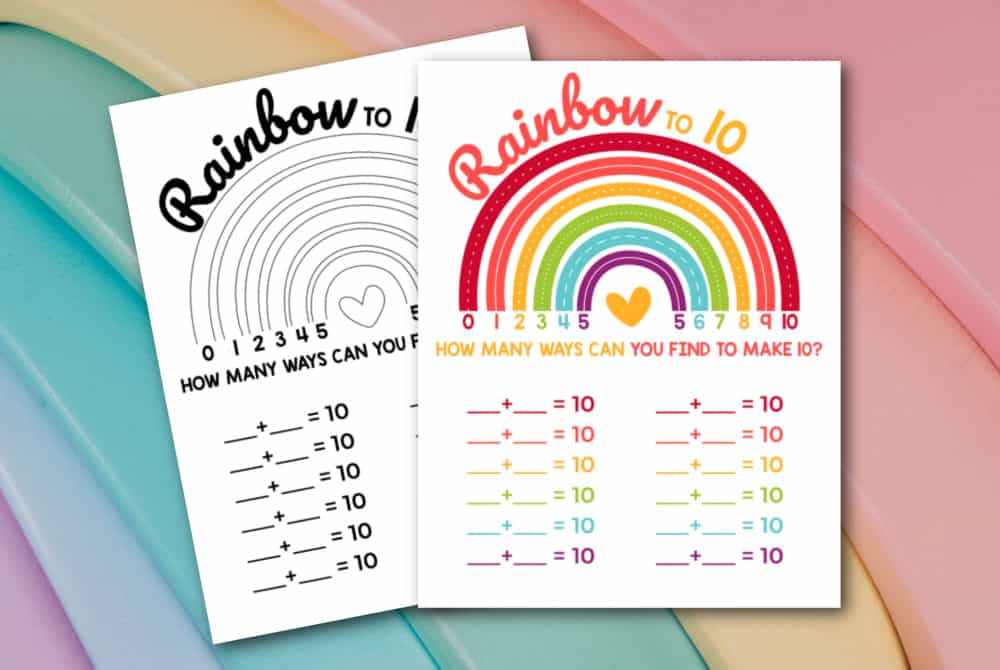 Grab Your Free Printable Making 10 Worksheet
Enter your email address in the form below and you will be taken directly to the making 10 great addition free printables pdf file. If for any reason you do not wish to enter your information, you can always find the Make Ten Worksheet in our shop.
*For personal use only
CONNECT WITH MADE WITH HAPPY!
Be sure to follow me on social media, so you never miss a post!
Facebook | Twitter | Youtube | Pinterest | Instagram
Looking for crafts to keep your child busy? Sign up for my 5 Ridiculous HAPPY Activities in under 30 minutes for your kids delivered directly to your inbox!
Find and shop my favorite products on my Amazon storefront here!
MAKING 10 WORKSHEET
PIN IT TO YOUR FAVORITE BOARD ON PINTEREST!
FOLLOW MADEWITHHAPPY ON PINTEREST FOR ALL THINGS HAPPY!