Grab this free printable simple flower coloring page and have some fun creating beautiful flower designs. This is great for kids and adults.
This simple flower coloring page is a simple design that makes a pretty flower perfect for Spring or any time you're looking to brighten your day.
Spring brings beautiful flowers and blooms. If you enjoy spring coloring pages that highlight the beauty then you won't want to miss our other popular Spring coloring pages including Sunflower Coloring Page, Ladybug Coloring Page, and Happy Spring Coloring Page.
We highlighted this Spring Craft along with some other fun kid's crafts in our May Crafts Ideas for Kids along with our 101+ Easy Craft Ideas for kids.
You also do not want to miss our 101+ Printable Coloring Pages For Kids and 101+ Printables For Kids full of Crafts and Coloring Pages.
Spring Flowers
The sun is coming out, the temperatures are getting warmer, and flowers are blooming! All of our favorite varieties of spring blossoms will soon be on full display for us all to enjoy.
Daffodils and daisies, yellow and white, as bright as the sun. Lilacs, irises, and hyacinths bring a pop of purple to our gardens. Peonies and pansies sprout in every color of the rainbow. And my personal favorite, tulips, whose bulbs are planted in the fall, truly show that Spring has sprung when they appear. Nature's decorations for a beautiful season!
Don't miss How To Draw a Flower or How to Draw a Rose!
More Than Just Decoration
The flowers of Spring are more than just decorations for your yard or your tablescape, though. They provide food for birds, small animals, and insects. They also have special meanings and represent all manners of things.
I love teaching my kids tidbits about what they see outside. Tulips are a symbol of deep love and yellow daffodils symbolize new beginnings and rebirth. That daisies are April's birth flower and pansies represent consideration for others. Bees love black-eyed Susans and Goldenrod. And planting marigolds will keep silly chipmunks from munching on spring bulbs.
Flower Coloring Pages
One of our favorite ways to be creative in Spring, especially on rainy days, is to pull out some printable coloring sheets & our crayons. Or enjoy the weather and spend some time outdoors coloring all the flowers that you see with some printable coloring pages.
These flower coloring pages are sure to bring bright smiles to your kid's faces as they invent new color schemes for Spring flowers. Children of all ages will love these coloring pages for kids.
Moms and dads will love that these are free coloring pages to print. Encourage your kiddos to use their imaginations and enjoy the beautiful images they create with these free printable flower pages. P.S. This would also make a great Mother's Day card!
Don't miss our Fun Facts About Spring!
Check out these other Flower Activities!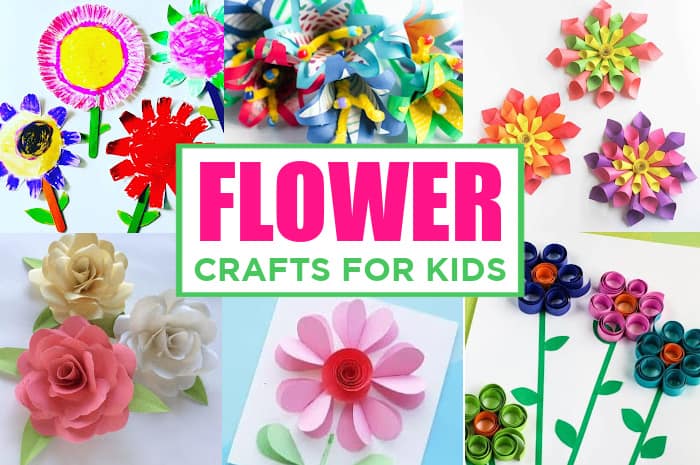 Other Flower Crafts You'll Love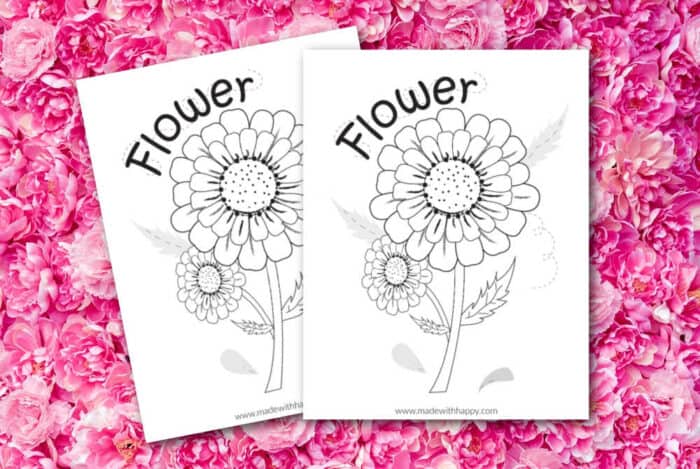 Download This Free Printable Flower Coloring Page
Enter your name and email in the form below. Once you hit enter you will be taken to the free printable floral picture. If you do not want to enter your email, you can find the coloring page flower in our shop.
*For personal use only
CONNECT WITH MADE WITH HAPPY!
Be sure to follow me on social media, so you never miss a post!
Facebook | Twitter | Youtube | Pinterest | Instagram
Looking for crafts to keep your child busy? Sign up for my 5 Ridiculous HAPPY Activities in under 30 minutes for your kids delivered directly to your inbox!
Find and shop my favorite products on my Amazon storefront here!
SIMPLE FLOWER COLORING PAGE
PIN IT TO YOUR DIY BOARD ON PINTEREST!
FOLLOW MADE WITH HAPPY ON PINTEREST FOR ALL THINGS HAPPY!