Celebrate the month of June with your kids and learn lots of June Fun facts including birthstones, flowers, astrological signs, and holidays.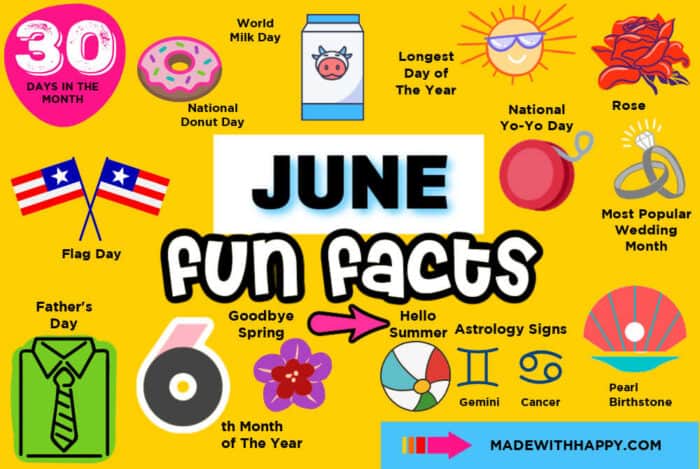 This June Fun Facts month is full of all kinds of holidays, fun, and a whole lot of HAPPY. Learn with us all about June with these fun facts and we have some added crafts and printables that are sure to make you love this 6th month as much as we do!
Before we get into all of HAPPY June, don't forget to check out last month's May Fun Facts too!
The Month of June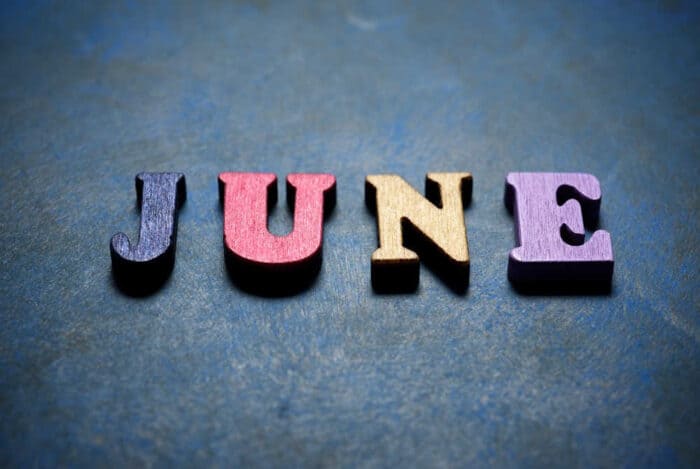 The month of June is fantastic! Some of the stats about this month include:
What Month is June? June is the 6th month of the year.
How Many Days are In June? There are 30 days in the month of June
While the current calendar (Gregorian calendars) has June as the sixth month of the year, that wasn't always the case. In the Roman calendar (Julian calendar), June was the fourth month of the year. January and February didn't exist.
June Symbols
Each month of the year has a few different symbols within the month. There are birthstones associated with each month, there are birth flowers of June, and there are astrological symbols. These are all based on the birth month. Those people that are born in June - June Babies!
June's Birthstone: Pearl
June Birth Flower: Rose and Honeysuckle
Astrology Zodiac Signs of June: Gemini and Cancer

Gemini - May 21st - June 21st
Cancer - June 22nd - July 22nd
Holidays in June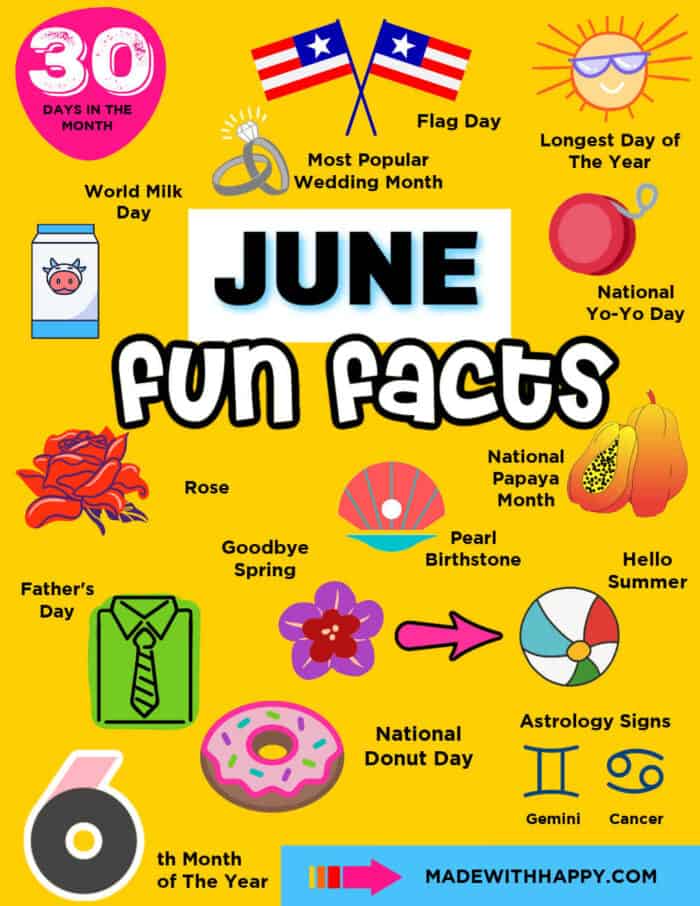 June is the transition month between Spring and Summer in the northern hemisphere (above the equator). Besides the June gloom, we love this time of year as school is ending and the lazy days of the Summer months. If you want to celebrate Summer, check out our Happy Summer Coloring Page, Summer Crafts For Kids, Coloring Pages for Summer, Summer DIYs, and Happy Summer Printable Postcards.
In terms of June Holidays here are a few:
Dinosaur Day - June 1st
World Milk Day - June 1st
International Children's Day - June 1st
National Donut Day - June 3rd
Yo-Yo Day - June 6th
National Best Friends Day - June 8th
National Iced Tea Day - June 10th
Peanut Butter Cookie Day - June 12th
Flag Day - June 14th
Sushi Day - June 18th
Juneteenth - June 19th
National Pink Day - June 23rd
National Bingo Day - June 27th
Floating Holidays or Monthly Celebrations
Summer Solstice
National Camping Month
National Smile Month
National Oceans Month
Pride Month
National Papaya Month
Great Outdoors Month
Interesting Facts About June
The name June came from the Roman goddess Juno who was the goddess of marriage, childbirth, and love.
June is the beginning of Summer whereas it is the beginning of Winter in the Southern Hemisphere (below the equator).
Each year March and June ends on the same day of the week.
In the United States, the month of June has a bug named after it, the June Bugs or June Beetle.
No other month in the calendar year (leap years or not) begins on the same day of the week as June.
June is a popular name for girls.
June was called sera monath by the Anglo-Saxons, which translated to "dry month".
More Nobel prize winners are born in June, than in any other month.
Some of the famous people throughout history or today with June birthdays are Anne Frank, Che Guevara, George H. W. Bush, Morgan Freeman, Johnny Depp, Nicole Kidman, Angelina Jolie, Neil Patrick Harris, Marilyn Monroe, Elon Musk, George Orwell, Chris Pratt, Ariana Grande, and Donald Trump.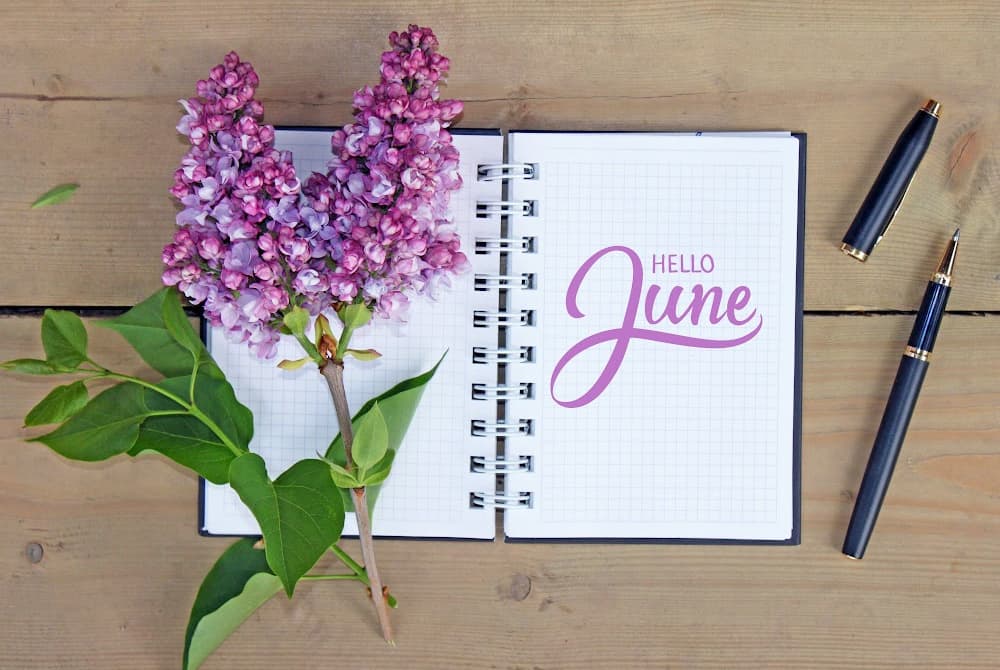 Fun June Facts
On June 1984, the longest baseball game in history was played between the Chicago White Sox and the Milwaukee Brewers. The game was 8 hours and 6 minutes and spanned over two days. The Brewers won 7-6.
The longest baseball game in history was played in June 1984, between the Milwaukee Brewers and the Chicago White Sox.
The most popular month for weddings.
The English tennis tournament Wimbledon runs throughout the month of June.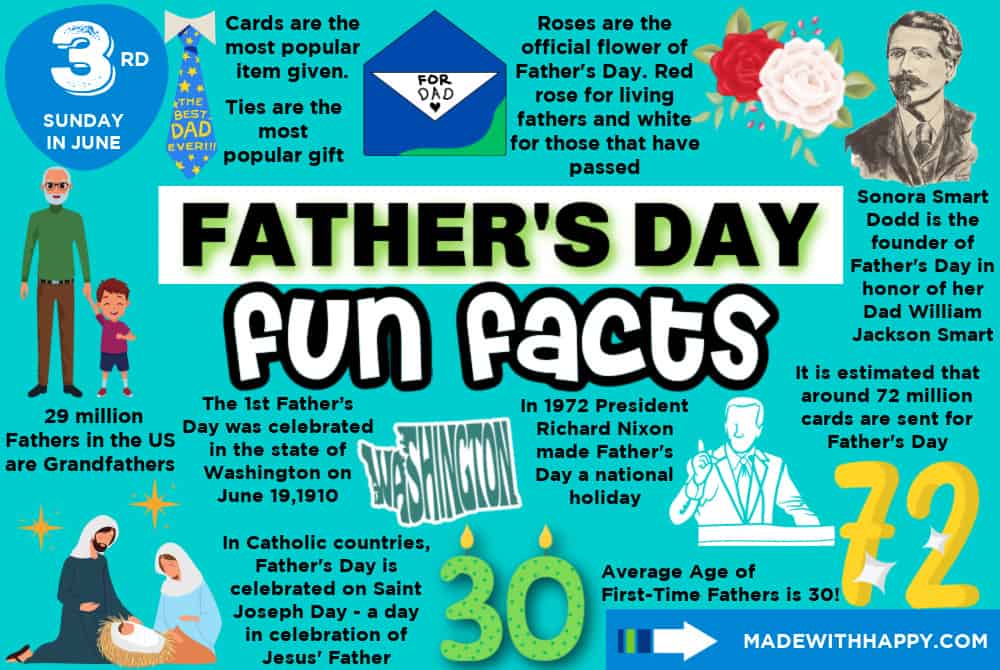 Washington was the first state to celebrate Father's Day in 1910.
The rose is the flower of Father's Day. If you wear a red rose, it represents a living father. Wearing a white rose represents a deceased father.
In 1972, US President, Richard Nixon signed the law to make Father's Day a national holiday.
Father's Day is the 4th biggest day for sending greeting cards after Christmas, Valentine's Day, and Mother's Day.
A necktie is the most popular gift given on Father's Day.
Don't miss our Father's Day Cards including (Tie Card, Grill Card, ToolBox Card, and Dad is Rad Card)
Facts About Summer
The first day of Summer is called the Summer Solstice in the Northern Hemisphere and Winter Solstice in the Southern Hemisphere.
June has both the shortest and longest day of the year, depending on which hemisphere you are standing.
In the Northern Hemisphere, the summer solstice has the longest daylight hours of the year. Winter solstice is the shortest day of the year and has the shortest daylight hours of the year.
The start of Summer typically happens on either June 20th or June 21st.
Summer is the only time lightning bugs' glow can be seen. They hide underground for the rest of the year.
The longest barbeque time happened during summer and it was 40 hours, 49 minutes, and 17 seconds.
Other Fun June Activities
June is a month full of fun and lovely weather. We have lots of different crafts, printables, and coloring pages.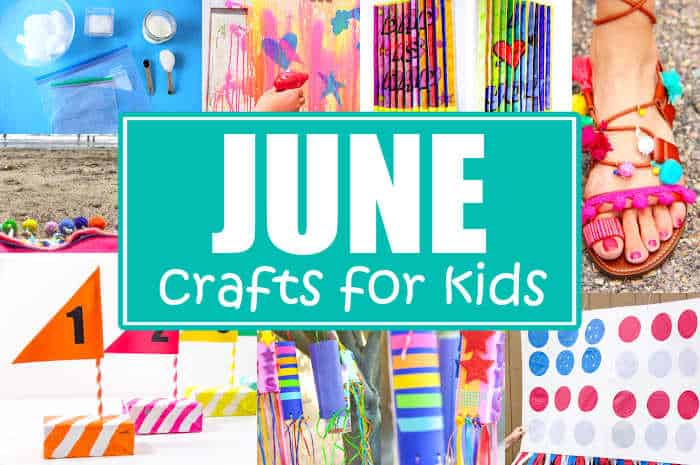 Fill the month with lots of different crafts full of Sun, Father's Day, Summer themed, and more.
Have some Juen fun with this free printable June coloring page.
Happy June indeed! Especially with this free printable June word search.
Download The Free Printable June Fun Facts Sheet
Simply enter your name and email in the form below and you will be taken directly to the free downloadable fun facts sheet.
*For Personal Use Only
Other Monthly Fun Facts You'll Enjoy
CONNECT WITH MADE WITH HAPPY!
Be sure to follow me on social media, so you never miss a post!
Facebook | Twitter | Youtube | Pinterest | Instagram
Looking for crafts to keep your child busy? Sign up for my 5 Ridiculous HAPPY Activities in under 30 minutes for your kids delivered directly to your inbox!
Find and shop my favorite products in my Amazon storefront here!
JUNE FUN FACTS
PIN IT TO YOUR DIY BOARD ON PINTEREST!
FOLLOW MADE WITH HAPPY ON PINTEREST FOR ALL THINGS HAPPY!