Learn some Father's Day Fun Facts For Kids of all ages! We're sharing the holiday's history along with some other fun trivia questions and interesting facts.
These Father's Day fun facts for kids are a great way to understand the history of Father's Day as well as share some fun Father's Day trivia with friends and family throughout the month of June leading up to Father's Day!
Happy Father's Day
Father's Day happens right about the time the Spring season ends and the Summer season begins in the Northern Hemisphere and the start of the Winter season in the Southern Hemisphere.
There are many people to celebrate on Father's Day, regardless if they are by blood or not.
There are all kinds of Father's Day fun for kids to help celebrate including a number of making cards, crafts, games, coloring pages, as well as art projects. We've included a number of those projects towards the bottom of the page to celebrate all that is Father's Day.
Before we jump right in, you will not want to miss our June Fun Facts!
What is Father's Day?
Father's Day is a special day when we show our dads or father figures how much we love them. We give them gifts and spend time together to make them feel happy. It's like a big thank-you party for our dads to say how awesome they are.
We draw them pictures, make cards, or even make breakfast for them. It's a day to make our dads feel really special and let them know how much we appreciate them. So, on Father's Day, we celebrate our dads and have lots of fun together!
When is Father's Day?
Father's Day is usually celebrated on different dates around the world, but in many countries, it's celebrated on the third Sunday of June. In Roman Catholic countries, like Italy and Spain, fathers are celebrated on March 19, the same day as the feast day of Saint Joseph (Joseph was Jesus' Father). Regardless of when it is celebrated, it's a special day just for all the dads!
Origins of Father's Day
Starting in the middle ages, the Roman Catholics celebrated Fathers on Saint Joseph's Day. But the first modern observance of Father's Day was in 1908, the same year that the first observance of Mother's Day in West Virginia, in remembrance of the 362 men that died in a mine explosion at the Fairmont Coal Company six months earlier.
In 1909, a woman named Sonora Smart Dodd from Spokane Washington attended a church service all about Mother's Day. That is when she came up with the thought that there should be a day to honor Fathers the same way they honor mothers.
She loved her dad, William Jackson Smart, a Civil War veteran who raised her and her five siblings alone after their mother died during childbirth. Sonora wanted to show her Dad how special he was.
The next year, Sonora talked to important people in her city and church and asked them to make a special day for fathers. They agreed, and the first Father's Day was celebrated statewide in the state of Washington on 19th June in 1910.
History of Father's Day
It was 1914 when President Woodrow Wilson signed the first Mother's Day proclamation and established Mother's Day as a national holiday in the United States. Two years later, he visited Washington State and spoke at the Father's Day celebration. He went back to Congress to make Father's Day a US holiday, but they did not agree.
Popularity grew and more and more people liked the idea of Father's Day. In 1924, President Calvin Coolidge tried again to make it a US holiday and was denied again.
It wasn't till 1966 that President Lyndon Johnson proclaimed the third Sunday in June as Father's Day. Another six years, and in 1972 it was finally signed into law by President Richard Nixon as an official holiday.
Fun Facts About Father's Day
Roses are the official flower of Father's Day. People would and to this day wear a rose to church or out in honor of their father. If they wear a red rose it signifies a living father. Wearing a white rose represents a deceased father.
There have been two sets of Father-Son Presidents of the United States. The first was John Adams the 2nd president and his son John Quincy Adams the 6th president. The second set was George Bush the 41st president and his son George W. Bush the 43rd president.
According to the National Retail Federation, over 76% of American plan to celebrate Father's Day in some way.
American spend over 20 billion on gifts, meals, and outings for Father's Day.
Top gifts for Dad include clothing, electronics, and gift cards with the most popular being a tie.
Based on the U.S. Census Bureau

There are estimated to be 72 million in the US.
29 million of which are grandfathers.
2 million single fathers
A little over 200 thousand stay-at-home dads.
Father's Day Around the World
In Thailand, National Father's Day is on the King's Birthday. It is currently the 5th of December.
In Germany, Father's Day is referred to as Vatertag or Männertag. It occurs on Ascension Day, the 40th day of Easter. On this day, the men wheel around carts full of food and drinks. They drink lots of beer and eat lots of traditional German food.
Australia and New Zealand celebrate the holiday on the first day of spring which is the first Sunday in September in the Southern Hemisphere
In the Scandinavian countries (Sweden, Norway, Finland, and Iceland) they celebrate Father's Day or Fars Dagon on the second Sunday in November.
Father's Day Cards
Greeting cards are the number one Father's Day gift. The most popular is a card from Daughters to their Dads.
According to Hallmark, Father's Day is the fourth largest card-sending day behind (Christmas, Valentine's Day, and Mother's Day)
It is estimated that around 72 million cards are sent each year.

50% are bought for Dads
20% are bought for husbands
The remaining 30% are bought for others (Grandfathers, Uncles, Brothers, etc.)
Other Fun Father's Day Facts
The male seahorse is the one to carry the eggs as well as birth the babies.
The exact date of when the word "Dad" is not known. It is estimated to start being used in the late fifteenth century. The thought is that it came from baby talk. There are many languages where "dada" or "tata" is a baby acknowledging their father.
The average age of first-time fathers is 30 years old according to Science.org
Father's Day Gifts From Kids
Father's Day is the perfect time to tell Dad how much he means to you. We have many activities that will be great for anyone to gift their Dad or Father Figures on Father's Day, especially for kids. Check out these Father's Day Activities!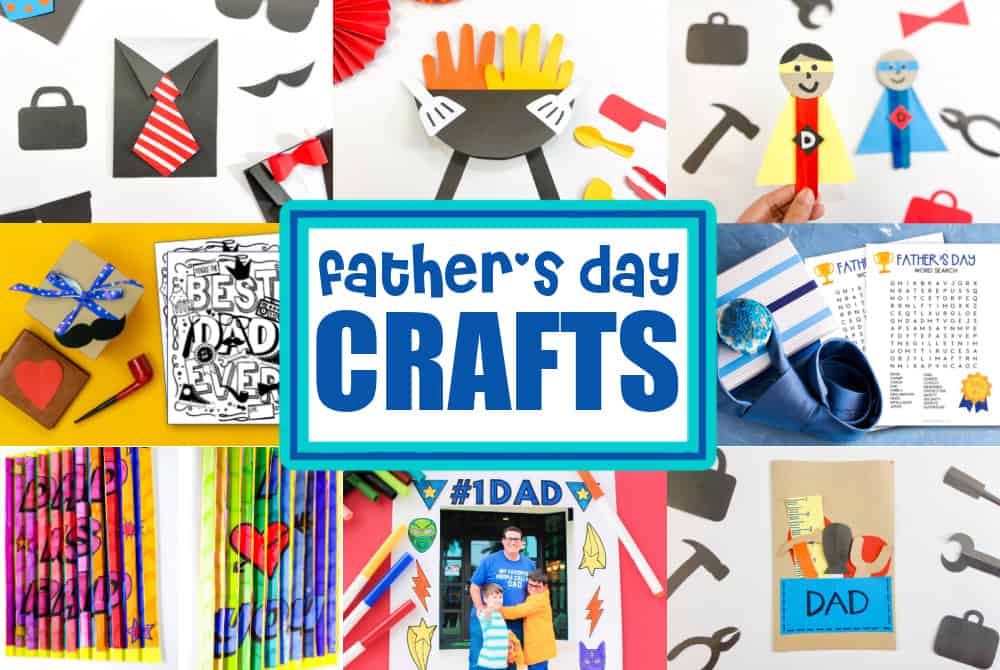 We have a number of different crafts that are great for Father's Day. For example, here are some of the most popular.
We highlighted these Fun Facts along with some other fun kid's crafts in our June Crafts along with our 101+ Easy Kids Crafts.
You also do not want to miss our 101+ Printable Coloring Pages For Kids and 101+ Printables For Kids full of Crafts and Coloring Pages.
HAPPY Father's Day!
Download Free Father's Day Facts Infographic
Enter your first name and email address to download the free Father's Day Facts pdf file.
*For personal use only
CONNECT WITH MADE WITH HAPPY!
Be sure to follow me on social media, so you never miss a post!
Facebook | Twitter | Youtube | Pinterest | Instagram
Looking for crafts to keep your child busy? Sign up for my 5 Ridiculous HAPPY Activities in under 30 minutes for your kids delivered directly to your inbox!
Find and shop my favorite products in my Amazon storefront here!
FATHER'S DAY FUN FACTS
PIN IT TO YOUR DIY BOARD ON PINTEREST!
FOLLOW MADE WITH HAPPY ON PINTEREST FOR ALL THINGS HAPPY!