Celebrate the month of July with your kids and learn lots of July Fun facts including birthstones, flowers, and holidays.
This July Fun Facts month is full of all kinds of holidays, fun, and a whole lot of HAPPY. Learn with us all about July with these fun facts and we have some added crafts and printables that are sure to make you love this 7th month as much as we do!
Before we get into all of HAPPY July, don't forget to check out last month's June Fun Facts too!
The Month of July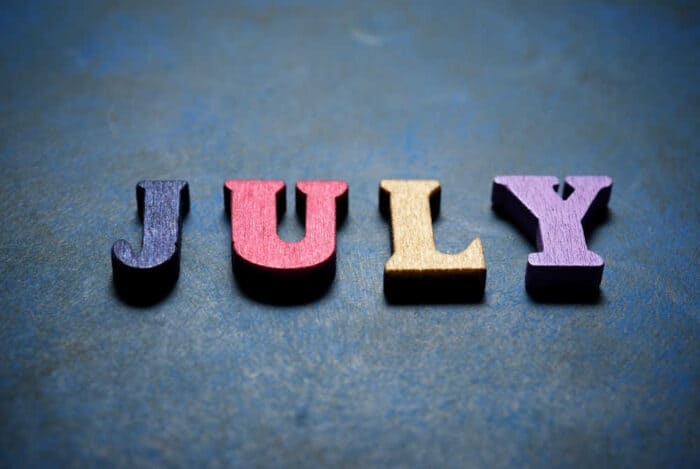 The month of July is fantastic! Some of the stats about this month include:
What Month is July? July is the 7th month of the year.
How Many Days Are In July? There are 31 days in the month of July
While the current calendar (Gregorian calendar) has July as the 7th month of the year, that wasn't always the case. In the Roman calendar, July was the fifth month of the year. January and February didn't exist.
July Symbols
Each month of the year has a few different symbols within the month. There are birthstones associated with each month, there is a monthly flower and there are astrological symbols. These are all based on the month you were born. Those people that are born in July.
July's Birthstone: Ruby
July Birth Flower: Larkspur and Water Lily
Astrology Zodiac Signs of July: Cancer and Leo

Cancer - June 22nd - July 22nd
Leo - July 23rd - August 22nd
Holidays in July
July is the first full month of Summer in the northern hemisphere (above the equator). The month is full of pool days, beach days, and lazy days of Summer. If you want to celebrate Summer, check out our Happy Summer Coloring Page, Summer Crafts For Kids, Summer DIYs, Summer Coloring Pages, and Happy Summer Printable Postcards.
In terms of July Holidays here are a few:
American Zoo Day - July 1
Canada Day - July 1
World UFO Day - July 2
Independence Day - July 4th
National Bikini Day - July 5th
Pina Colada Day - July 10th
Free Slurpee Day - July 11th
Etch-a-Sketch Day - July 12th
Shark Awareness Day - July 14th
World Emoji Day - July 17th
International Day of Friendship - July 30th
Harry Potter's Birthday Day - July 31st
Floating Holidays - Or Monthly Celebrations
National Picnic Month
Family Fun Month
National Hot Dog Month
National Watermelon Month
Fun July Facts
The name July was named after Roman general Julius Caesar.
July is in the Summer season in the northern hemisphere and one of the warmest months. July in the southern hemisphere is one of the coldest.
Early July, historically is called the dog days of summer because it's the beginning of the hot summer days.
The fourth of July is the only federal holiday (national holiday) in July. Independence Day is in celebration of the United States declaration of independence from Great Britain. America's birthday. The Declaration of Independence was signed by Thomas Jefferson, John Adams, and John Hancock.
Neil Armstrong made history on July 29, 1969, by taking the first steps on the moon. His famous declaration "That's one small step for man, one giant leap for mankind!"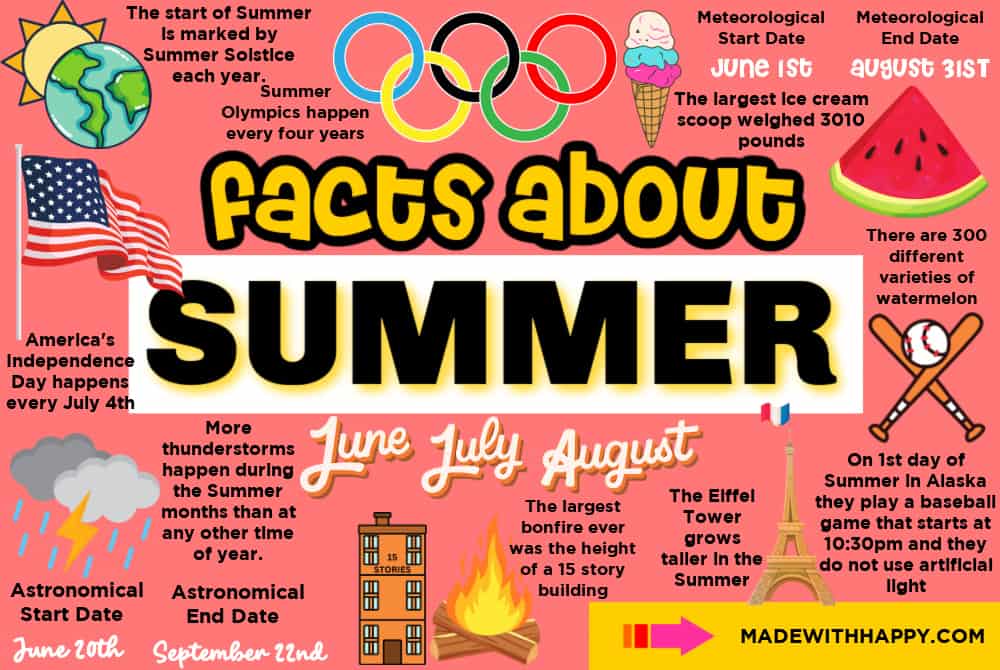 Summer is the season when the Earth is tilted towards the sun, giving us longer and brighter days with lots of sunshine.
It's the perfect time to swim and cool off in pools, lakes, or the ocean. Remember to always swim with a responsible adult and follow safety rules!
Summer is when many fruits like watermelon, strawberries, and peaches are at their juiciest and tastiest. Enjoy these delicious treats while they're in season!
Fireflies, also known as lightning bugs, come out during summer nights. Their glowing lights create a magical spectacle, making warm summer evenings even more enchanting.
During summer, you can have fun camping outdoors, roasting marshmallows over a campfire, and sleeping under the stars. It's a chance to connect with nature and create lasting memories with family and friends.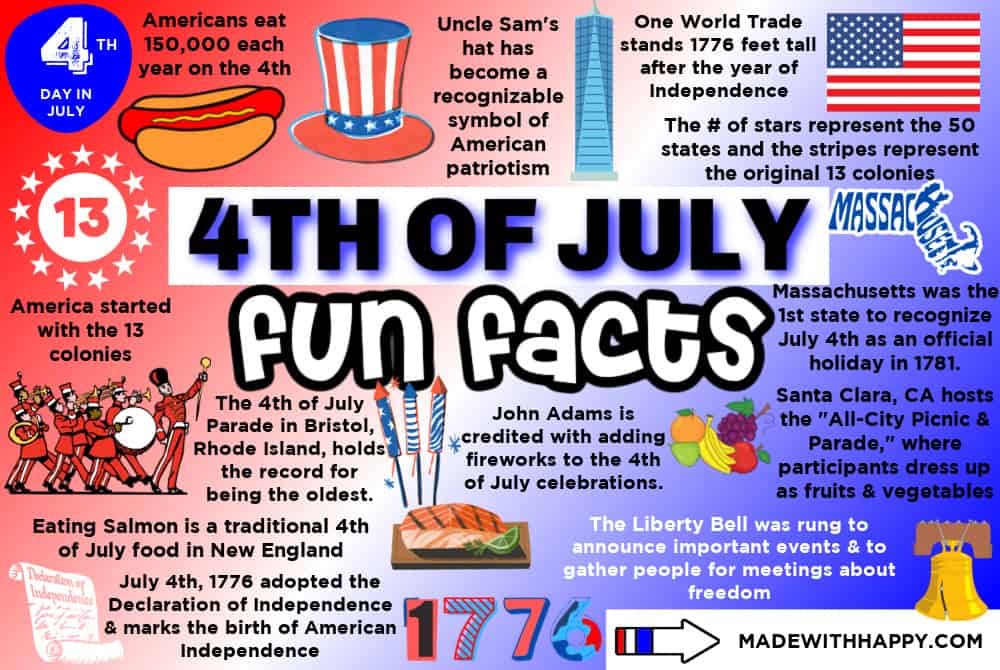 The Fourth of July, also known as Independence Day, is a special holiday celebrated in the United States to mark the country's declaration of independence from Great Britain in 1776.
On July 4th, 1776, the Continental Congress approved the Declaration of Independence, which declared the thirteen American colonies as independent states and no longer under British rule.
The Declaration of Independence was written primarily by Thomas Jefferson, who was just 33 years old at the time. It outlined the colonists' grievances against the British crown and asserted their right to self-governance.
The Fourth of July became an official federal holiday in 1941, but celebrations and festivities had been taking place since the late 18th century. It's a day when Americans come together to celebrate their freedom and the principles of liberty and democracy.
Other Fun July Activities
July is a month full of fun, sun, American flags, and ice cream. We have lots of different crafts, printables, and coloring pages.
Fill the month with lots of different crafts full of Sun, 4th of July, American Flag, Summer themed, and more.
Have some July fun with this free printable July coloring page.
Happy July indeed! Especially with this free printable July word search.
Other Monthly Fun Facts You'll Enjoy
Download The Free Printable July Fun Facts Sheet
Simply enter your name and email in the form below and you will be taken directly to the free downloadable fun facts sheet.
*For personal use only
CONNECT WITH MADE WITH HAPPY!
Be sure to follow me on social media, so you never miss a post!
Facebook | Twitter | Youtube | Pinterest | Instagram
Looking for crafts to keep your child busy? Sign up for my 5 Ridiculous HAPPY Activities in under 30 minutes for your kids delivered directly to your inbox!
Find and shop my favorite products in my Amazon storefront here!
JULY FUN FACTS
PIN IT TO YOUR DIY BOARD ON PINTEREST!
FOLLOW MADE WITH HAPPY ON PINTEREST FOR ALL THINGS HAPPY!