Sharing all about the penguin life cycle along with some other fun and free printable penguin activities for kids of all ages.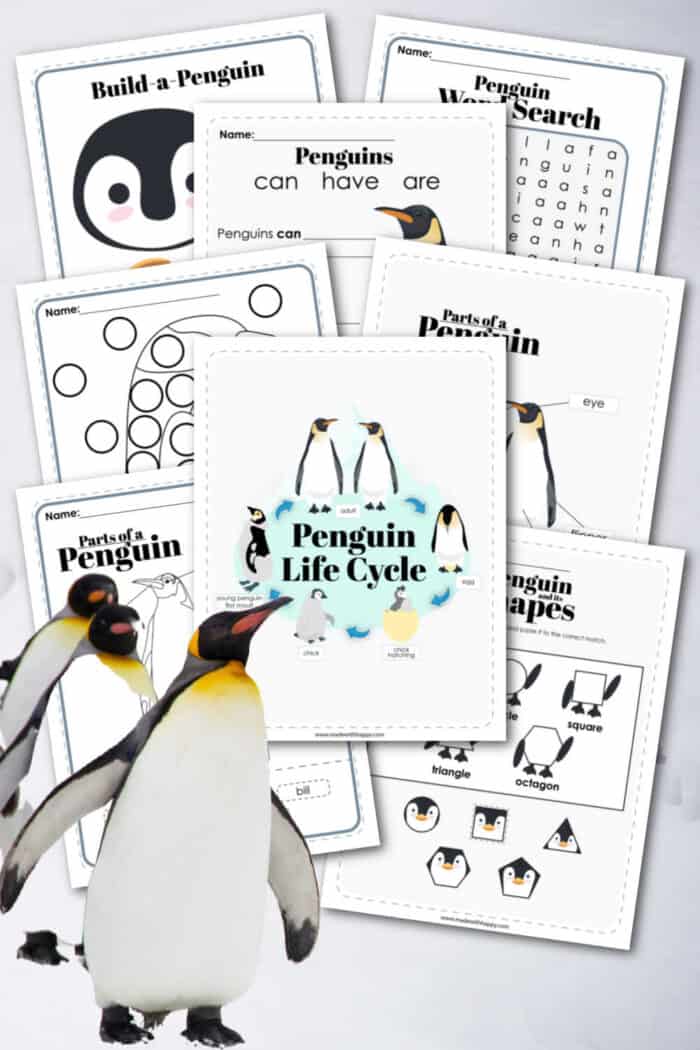 These printable penguin life cycle and penguin activities are full of educational fun for kids of all ages. These penguin-themed activities include fun penguin crafts, penguin shapes, parts of a penguin, and cute penguin games.
If you love penguins as much as we do, then you won't want to miss our other popular penguin activities including Paper Plate Penguin Craft, Christmas Color By Numbers, and How to Draw A Penguin.
Penguin Activities
Whenever we go to the zoo, one of the first places we like to go is over to the penguins. With those tiny feet and the side-to-side waddle, they seem to have so much personality! Who can resist? So, we're throwing a peppy penguin party!
We've put together a fun and comprehensive activity pack full of all things black, white, and adorable penguins all over. This printable pack has all kinds of activities to celebrate penguins and even has some sheets to let you sneak in a little learning too (shhh…don't tell the kids!).
Check out our 101+ Animal Crafts too!
Penguin Life Cycle
You and your kids can learn all about a penguin's life cycle, like how and where they lay eggs and how they survive harsh arctic climates. With easy-to-understand graphics and text, these printable pages take kids along the journey from penguin egg, to chick hatching and up through the adult penguin's life (and the drawings are super cute!).
Because penguins are so unusual – they are one of the only bird species that are flightless and semi-aquatic – kids are naturally curious about these creatures. This pack covers all aspects of penguin life with interesting facts and details to keep kids interested (like the fact that they feed their chicks regurgitated food).
While there are different kinds of penguin species, one of the most popular is the emperor penguin. These are the tallest and heaviest penguins on earth. These social animals use their waterproof feathers and one another to help stay warm. In the winter months (December, January, and February) they often huddle together while in the summer they spread out a bit.
Check out these other Winter Printables!
Penguin Facts For Kids
Your kids will learn those female emperor penguins play a particularly important role. After they lay eggs, they head out to find food for the family. If the egg hatches without her, the male penguins help to keep the chicks warm in a brood pouch. When the females return, the male transfers the chick back to the mother's brood pouch.
Not only is learning about penguins fun for kids, but it also sparks valuable discussions about the importance of community and the contributions of each family member.
Kids are great at drawing connections back to their own lives and this useful penguin life cycle pack will help encourage them to do so. You can also help them draw connections between penguins and other animal species.
Don't miss our Animal Bingo Game and Animal Charades for more animal fun.
Parts of a Penguin
As part of the free penguin unit, there are worksheets all about the parts of the penguin.
To help reinforce what they learn, this penguin life cycle pack is also filled with word searches, coloring pages, and more. This is especially helpful when you've got kids of different ages and interests. These penguin activities are sure to keep all the kiddos busy, engaged, and HAPPY!
We hope you are able to incorporate these into your penguin lesson plans and that the kids love learning all about these adorable penguins.
We highlighted these Winter Printables along with some other fun kid's crafts in our January Crafts for Kids along with our 101+ Easy Craft Ideas for kids.
You also do not want to miss our 101+ Fun Coloring Pages For Kids and 101+ Free Kids Printables full of Crafts & Coloring Pages.
Download Your Free Penguin Activities Sheets
*For personal use only
Other Animal Crafts You'll Love
CONNECT WITH MADE WITH HAPPY!
Be sure to follow me on social media, so you never miss a post!
Facebook | Twitter | Youtube | Pinterest | Instagram
Looking for crafts to keep your child busy? Sign up for my 5 Ridiculous HAPPY Activities in under 30 minutes for your kids delivered directly to your inbox!
Find and shop my favorite products in my Amazon storefront here!