While at the water park last week, we were celebrating one of our favorite little ladies who was celebrating her 3 year old birthday!
Having seen surprise balls floating around the internet, I knew this was the perfect opportunity to make one myself.
It was a ton of fun to make and I'm pretty sure I'm going to be making them for everyone's birthday's here on out. Here's how we made our
Surprise Ball Supplies
I believe the hardest part of a surprise ball is shopping for the presents inside that are small enough to hide in a ball. The rule of thumb was that it had to fit in the palm of your hand.
Next is having a fun selection of crepe paper. I love crepe paper crafts as evident here and here. So I've built up quite a selection. If you're buying the crepe paper. I'd recommend at least four colors just to make it that more fun and festive.
Directions:
You should pick one present that is your main present. This can be the biggest present as it will be at the middle of your Surprise Ball. There is no science to creating a surprise ball. Basically, you take your present and start to wrap it. I found that once the present was covered, it was time to add another. Switch the crepe paper as often as you feel. I think its fun to have them unwrap long pieces of crepe paper, but this is all your masterpiece. I even used pieces of raffia in there to give it some dimension.
Once you have the ball wrapped, have fun decorating the ball. I pulled out some of our fun washi tape and added the finishing touches.
Viola, you have yourself a Surprise Ball all ready for delivery!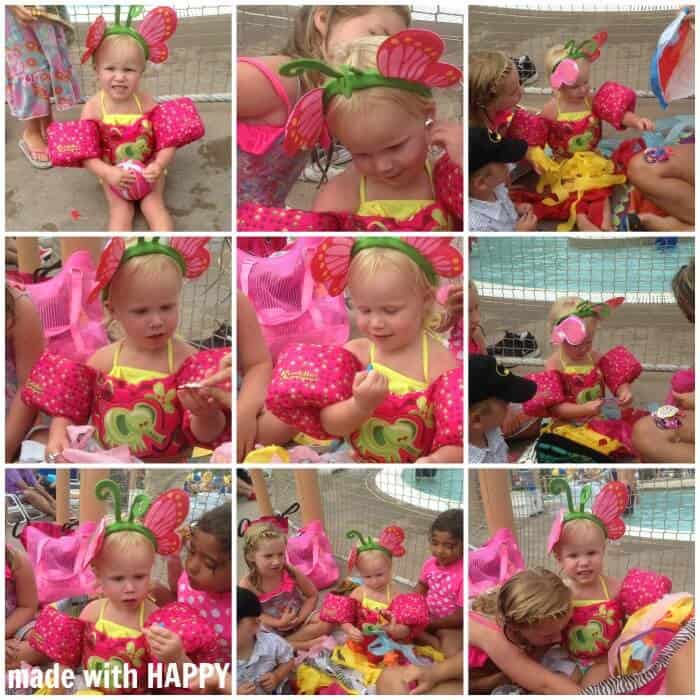 It was so fun to watch her open it and find all the little treasures. Lots of little giggles and oohs and ahhs. Was all kinds of made with HAPPY.