Happy Monday! How was your weekend? Our weekend was wonderfully relaxing. This month is, has, and continues to be rather a busy one for us and so we were able to sneak in some much needed downtime!
Okay, who's on Pinterest? How many of you spend hours and hours pinning all these cool ideas with no clue as to whether they are as great as they "appear" to be with all the beautiful pictures pinterest tantalizes you with?
Do not miss our 15+ CRAFTS AND ACTIVITIES FOR BORED KIDS for other fun crafts like this one!
I have decided that its time we put Pinterest to the test. My goal is to try at least one (hopefully more) of the DIY, Crafts, recipes each month and report back. If you have something that you have been eyeballing and haven't had a chance to try out, send us an email or comment below and we'll try it out for you!
Starting out this month, we tried out the Rock Alphabet and then took it a step further and added magnets! As Made with HAPPY Girl is learning her alphabet, I thought how fun it would be to have her paint the rocks and we can together learn the letters and eventually work on creating words!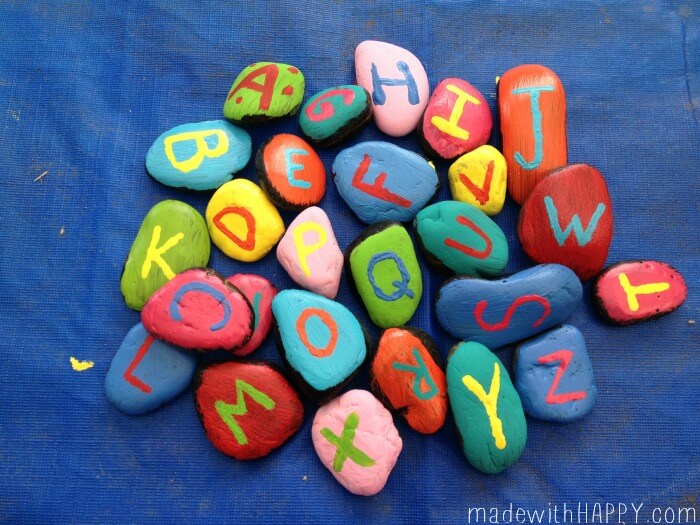 Supplies:
Two bags of rocks – craft section – Dollar Store
Acrylic Paint
Toothpicks
Magnets – Walmart
Hot Glue
We simply laid out the rocks and began to paint
Once the rocks were painted, we then took the tooth pick and painted the letters on.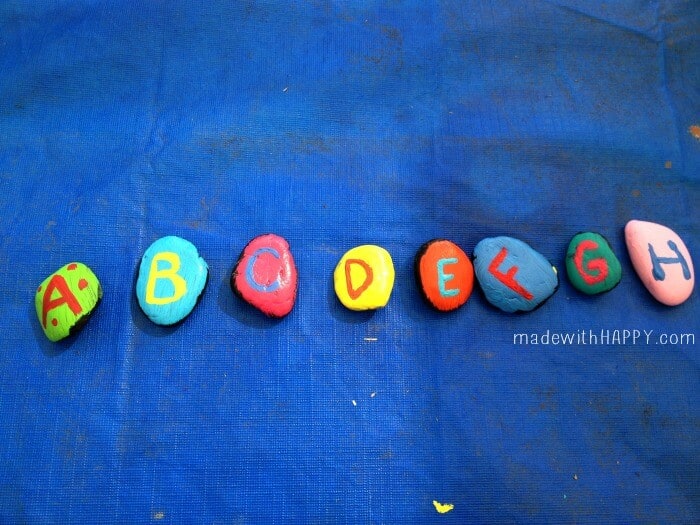 Once you have the rocks as you want them, hot glue the magnets to the back.
Then viola, you have yourself fun new alphabet magnets for hours of fun learning!
Cost:
Two bags of rocks – $2
Magnets – $5 for 50 magnets
Acrylic Paint – about $.40-$1 per color
Total ~ $10 or less depending on whether you have paints
Like it? Pin it!