We're helping kids of all ages with learning ASL through our free printable American sign language alphabet printables.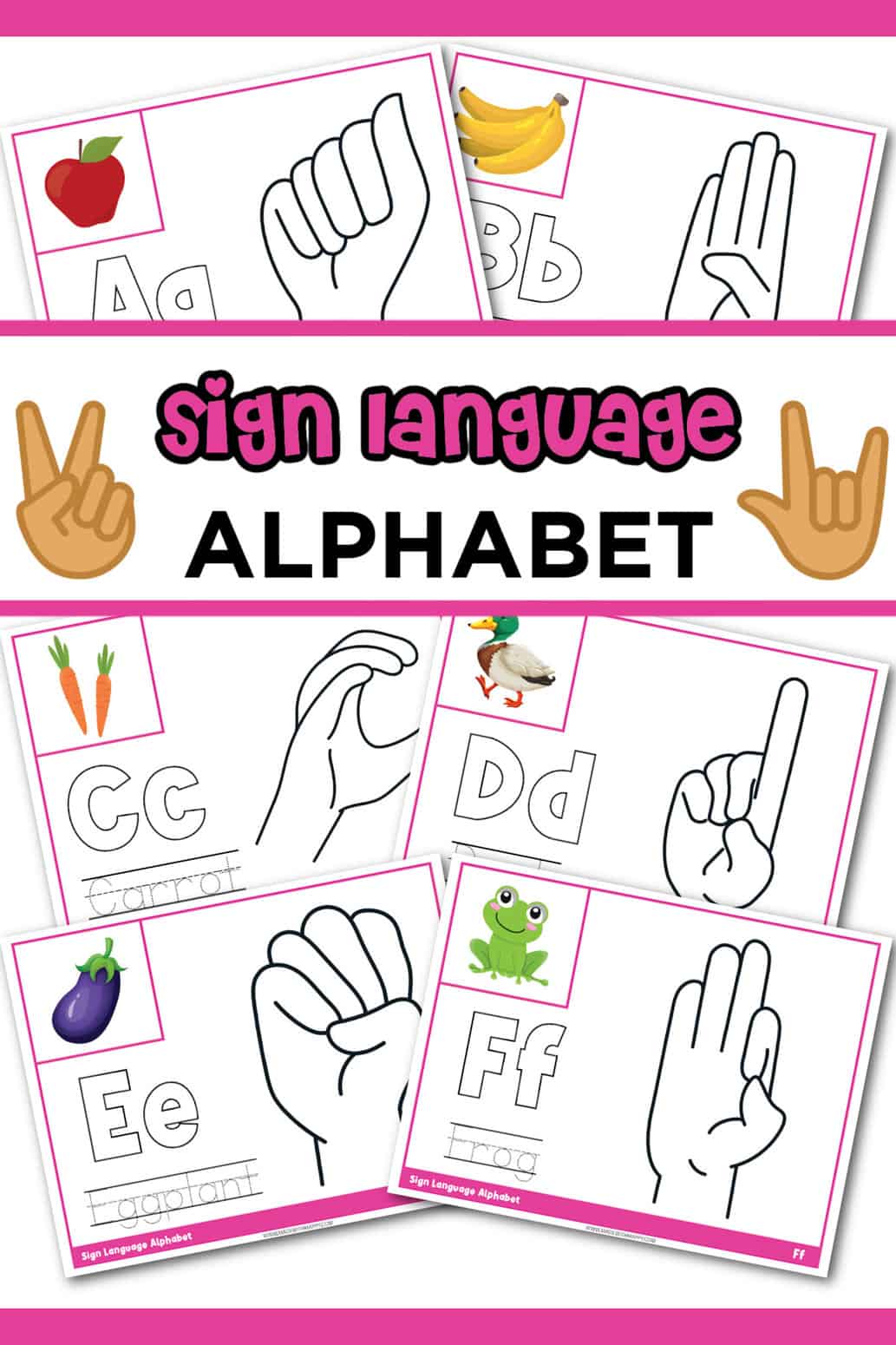 We love sharing activities and crafts that are not only fun but also educational. This sign language alphabet fits that bill beautifully and in a great way!
Learning another language doesn't have to be frustrating or overly complex. With American Sign Language (ASL), kids can learn to communicate in just a few minutes. Explore the world of sign language with our finger spelling alphabet printables, a helpful and interactive resource for learning and communication.
Kids will love learning how to communicate without words. Parents will love all the benefits of this simple and engaging activity. Each letter of the alphabet printable pages is for both capital and lowercase letters.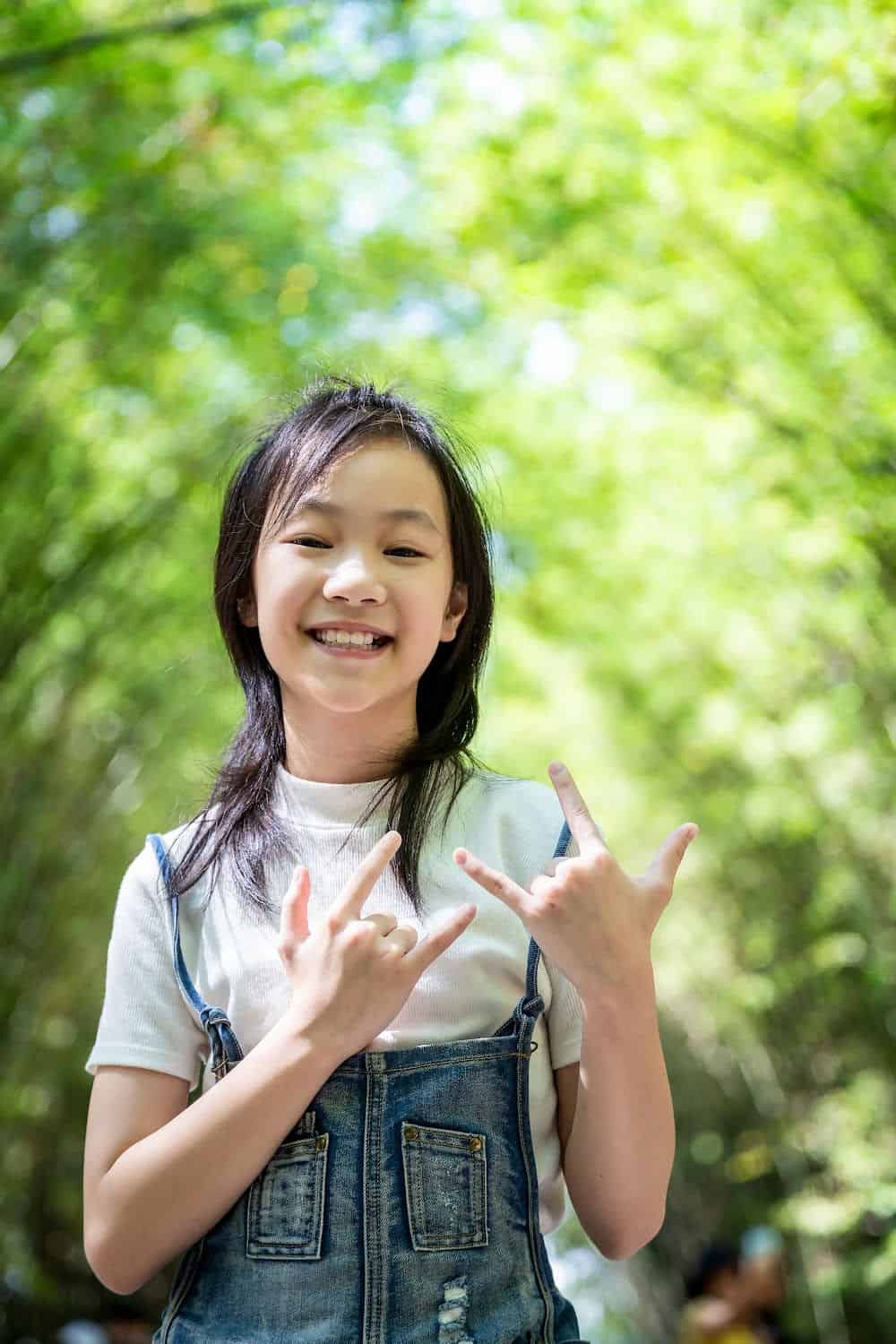 American Sign Language Alphabet
Your kids can easily follow the instructions on this free printable. They'll see each letter of the American Sign Language alphabet and follow along with their fingers. You can learn right along with them!
The science and research on learning a second language is clear – especially for kids. Exposure to more than one language helps develop brains in ways that can pay dividends as they age.
Learning a second language helps to boost the brain power of kids and improve their problem-solving and cognitive abilities. Studies have shown that multilingual children often score higher on academic achievement tests in both reading and math.
ASL Sign Language Alphabet
We love that this printable ASL pack also helps reinforce alphabet letter sounds. These sign language flash cards have a letter and the corresponding sign. The printable ASL cards can be used for alphabet coloring.
Our sign language ASL alphabet printables will also help kids practice their spelling. By learning the proper sign for each letter, they can begin to spell in both English and ASL.
The alphabet chart is easy to read and follow. Just a few minutes every few days is enough to get kids started on the path of signing like a pro.
Just as any language requires regular practice to reach fluency, sign language is no different.
The more kids learn to sign, the more they'll want to keep learning. If you learn alongside them, you can practice your basic signs through silent conversations.
Benefits of Sign Language
Sign language is great for kids with speech or communication challenges. It offers them another way to express themselves and to be "heard." Learning ASL is a wonderful alternative for any kid who needs additional ways to communicate or if wanting to communicate with those that use ASL as their primary language.
ASL is spoken by over one million people worldwide. ASL even has its own national day dedicated to recognizing the importance of the language. April 15 is National American Sign Language Day in the United States.
On that date in 1817, the American School for the Deaf first opened. What better way to show support for the deaf community than by teaching and learning ASL - visual languages?
ASL is now classified as a world language just as Spanish, French, or Japanese. Lucky for us, it's much easier to learn. Even young children and babies as young as 6 or 7 months old can learn sign language!
Learning and practicing Sign Language is easy and fun. These free printable flashcards are the perfect way to get started. You don't need apps, expensive books, or special training to start.
Once you know your letters, you can sign just about any message. Make a game of signing silly words or phrases to one another.
Sign Language for Kids
Learning each of the letters and common words is great practice for kids working on fine motor skills. Moving their fingers can help develop agility and strength in the hands.
Because sign language involves gestures of the hands and bodies, learning the language has been shown to help kids better understand non-verbal cues and attentiveness to social gestures.
Preschoolers get the benefits of practicing their ABCs. They will also gain practice and exposure to basic educational concepts like animals and colors.
The more children actively engage all their senses, the more they remember what they've learned. Sign language is all about incorporating their senses of sight and touch which leads to greater muscle memory.
Learning Sign Language as Second Language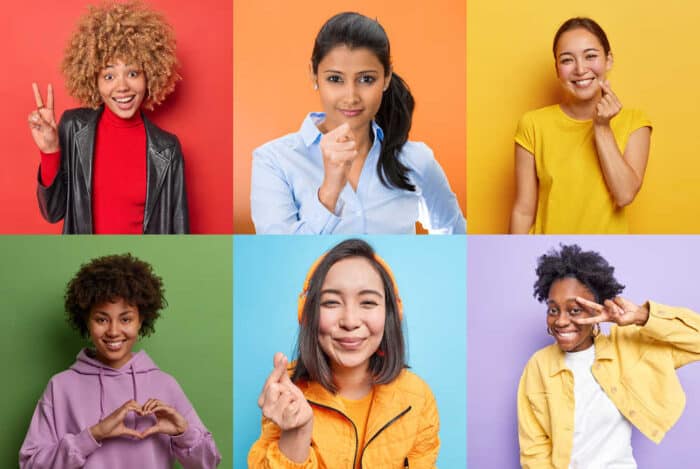 We love that these sign language printables are free and will engage the whole family. Parents, as well as kids of any age, can begin to learn together. And you know we love family bonding time!
Think it's better to push the kids toward a more traditional foreign language like Spanish or French? Think again. Sign language is growing increasingly popular as a language of choice among college students.
As the third most frequent language to require a court interpreter, learning American Sign Language is quite useful.
Even though the benefits of learning ASL are undeniable, we happen to think just learning it for fun is totally okay too! Kids won't see these flashcards as a boring learning activity. Instead, they'll be fully engaged and immersed in learning another way to communicate.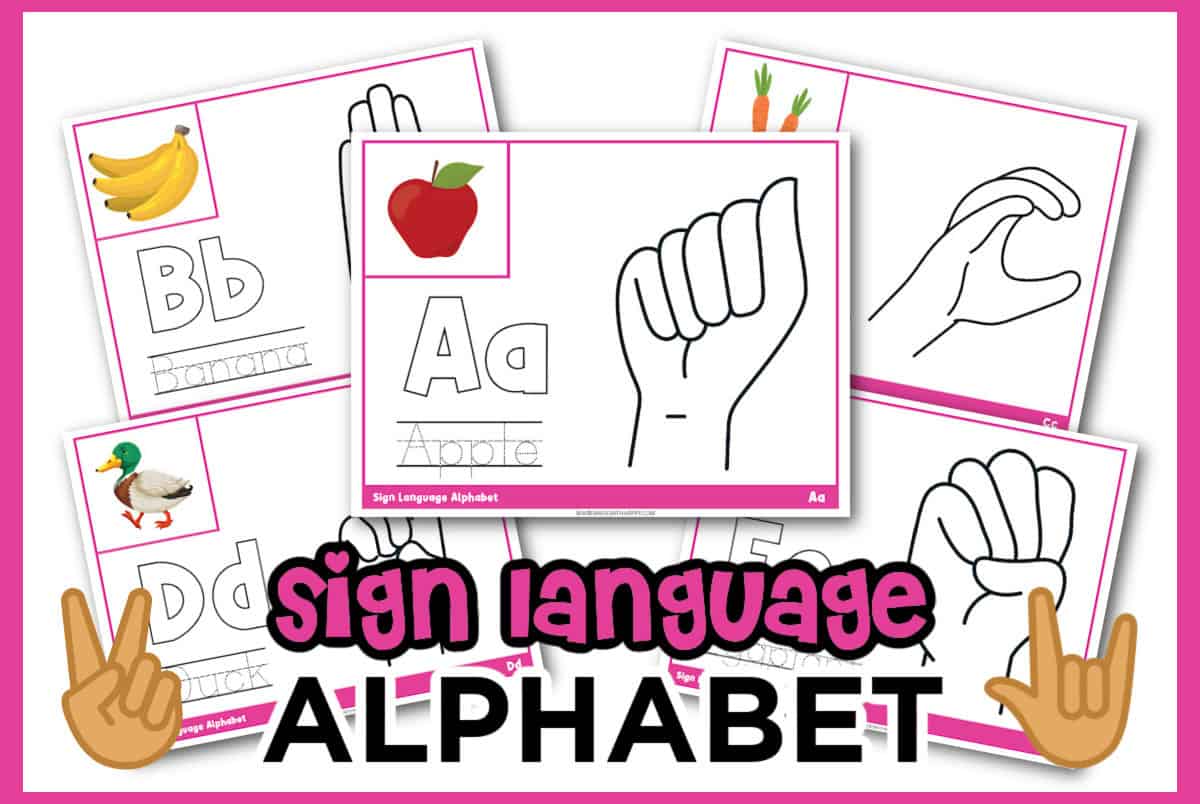 The more languages kids learn, the more they develop an ear for foreign languages. Starting with an easy-to-learn language like ASL can improve the chances of them learning additional languages in the future.
Do you have relatives who live far away?
Send them a copy of our printable ASL alphabet signs and have them start practicing. Then schedule a few weekly FaceTime calls to check in and track your progress.
Learning sign language is fun and educational. Our sign language alphabet printable is one you don't want to pass up. While you're at it, check out all our other MWH printables. They're free great resource and will save you from ever hearing "I'm so bored!" again!
We highlighted this Alphabet Project along with some other fun kid's crafts in our September Crafts along with our Kids Crafts.
You also do not want to miss our 101+ Printable Coloring Pages For Kids and 101+ Printables For Kids full of Crafts and Coloring Pages.
Happy Signing!
Check out these other Alphabet Fun Projects!
Other Educational Worksheets You'll Enjoy
Download Free Alphabet Sign Language Printable
Enter your name and email address in the form below and take you directly to the full set of asl alphabet flashcards and asl hand sign representations pdf file.
*For personal use only
CONNECT WITH MADE WITH HAPPY!
Be sure to follow me on social media, so you never miss a post!
Facebook | Twitter | Youtube | Pinterest | Instagram
Looking for crafts to keep your child busy? Sign up for my 5 Ridiculous HAPPY Activities in under 30 minutes for your kids delivered directly to your inbox!
Find and shop my favorite products in my Amazon storefront here!
SIGN LANGUAGE ALPHABET PRINTABLE
PIN IT TO YOUR DIY BOARD ON PINTEREST!
FOLLOW MADE WITH HAPPY ON PINTEREST FOR ALL THINGS HAPPY!