This super cute DIY Round Blanket is what round beach towels dreams are made of!
Summer is here and we are loving every lazy moment in the sun. Like most of the country, we are in the midst of a heat wave and so water and heat relief are at the top of our list every day. For us its the beach, as I know for others it the pool and or lakes. In any case, I realized a few weeks back that while we have towels, we didn't really have a go-to blanket that we could take to the beach, picnics, pools, etc. When I went to look for one, they were all muted colors and pretty boring. What is up with that? Seriously you guys, why are all blankets the ugliest maroon and hunter green colors? It should come as no surprise, I don't do muted or boring and so I decided I was going to make our own awesome DIY Round Beach Blanket.
After heading to the fabric store, I realized there were a few different ways to make this pretty little round beach towel number your own. I will share with you how I made mine and then how you can vary it to fit your wants.
Supplies:
2 yards of fabric – I made one in both microfiber and terrycloth. Just make sure its absorbent.
5 yards pom pom trim
6 yards of double fold bias tape
Fabric Glue
Pencil
Scissors
Directions:
Fold your material in half and then in half again. Using a pencil, draw a curved line from one corner edge to the other corner edge. Using your scissors, cut along the line. This should create a large circle in your fabric.
From there, its time to attach the bias tape. Unfold the tape in the middle, and run a thin line of glue along one side of the bias tape and then attach to one side of the edge of the circle fabric.
Continue to glue along the edge making sure the end of the fabric is towards the middle fold of the bias tape. Once you have glued one side of the bias tape onto the fabric, run the glue along the other side of the fabric and the bias tape to secure the other side to the blanket.
Once the bias tape is dried and secured, then its time to add the trim. I love the look of this colorful trim with the mini pom poms. You will add the trim along one side of the bias tape using the fabric glue.
And once that dries my friends… you are done. Not a terribly complicated DIY, but just a little time waiting on the fabric glue to dry.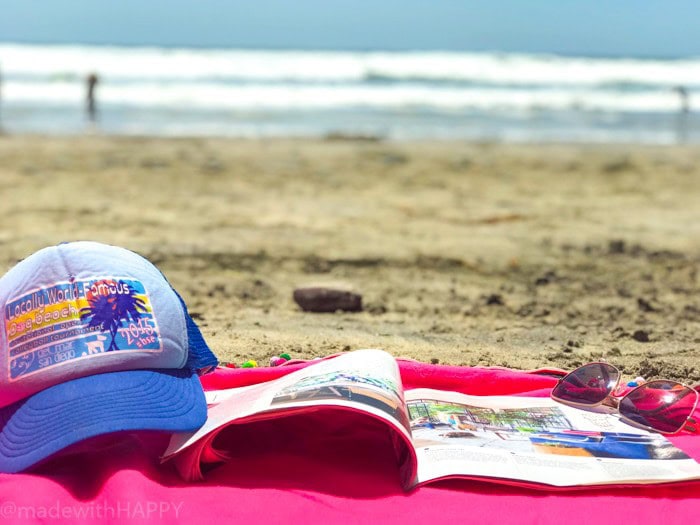 DIY Round Blanket
PIN IT TO YOUR CRAFTY BOARD ON PINTEREST!
FOLLOW MADEWITHHAPPY ON PINTEREST FOR ALL THINGS HAPPY!
Some other Summer DIY Favorites