These free printable I Am Thankful For worksheets are an excellent activity for kids of all ages! This thankful list worksheet is a printable worksheet version of the gratitude jar.
Here's a Free Printable Thanksgiving writing activity - I Am Thankful For Worksheet for Kids! Kids can use one of two templates to fill in things they're thankful for that represent each letter of the alphabet.
This worksheet is perfect for children in Kindergarten and above. Teachers can use this as classwork, homework, or a bonus writing assignment the week of Thanksgiving or throughout the month of November. Parents can also use this for fun at home or for homeschool work.
Download the two FREE printable worksheets below!
Check out these other Attitude of Gratitude Ideas!
Thanksgiving Writing Activity
The month of November, it's the perfect time to discuss being thankful with kids. Whether you're doing it at home or in a classroom, kids can really benefit from activities about being grateful. It's a great way to reflect and really focus on what matters the most to them.
That's why I love this writing activity. Kids can use this I Am Thankful Worksheet to write out things they're thankful for. The fun part is they have to find something for each letter of the alphabet.
It makes them really think, focus, and hone in on what's important to them. When they're done, they'll have down 26 things! Some letters will be tougher than others but I'm sure kids can fill in the entire page.
Free Printable I Am Thankful Worksheet
Click the button below to download the FREE printable PDF I Am Thankful Worksheet. There are 2 templates included, both are the same with a different Fall icon at the top. One is a cute squirrel and the other is a classic turkey. Choose one or both!
If you're doing this at home, consider doing one as a family. It's easier to fill the page when more than one person is contributing. Plus, it's a fun activity for the family members at the dinner table. It's a simple way to add a thankful activity to your Thanksgiving dinner.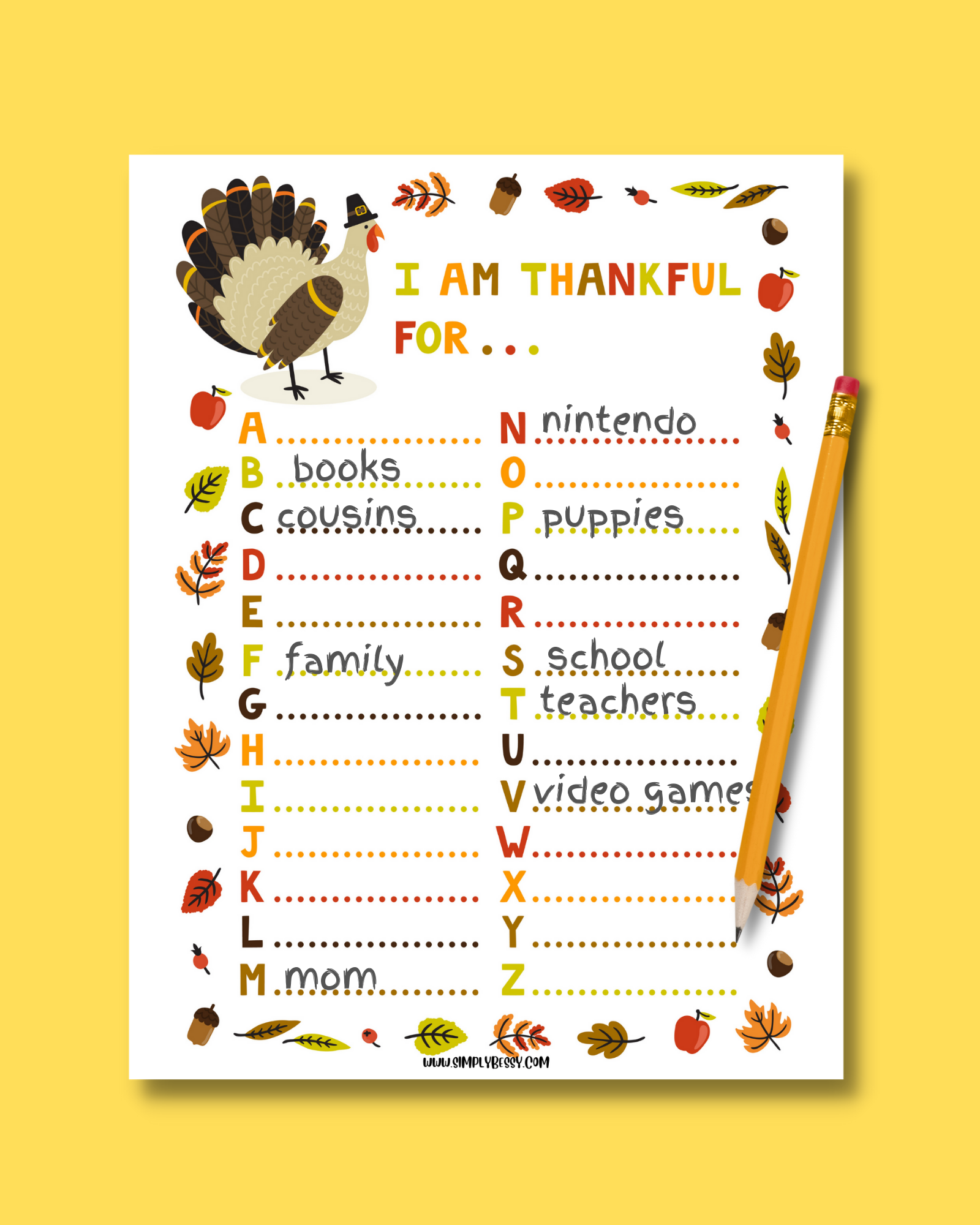 When it's complete, hang it up somewhere the whole family will see it. If someone is having a hard day at home, take time to go over the I Am Thankful Printables together and talk it out.
For teachers, use this as classwork or homework in the weeks leading up to Thanksgiving. For older kids, encourage them to use the things they list on this worksheet as a brainstorm for a longer writing assignment.
Things To Be Grateful For
Kids can choose some of the things they're thankful for to write a story and practice writing skills. They can use this kid's worksheet to think about all the good things happening in their life and to express gratitude.
I hope you love this Thanksgiving writing activity and use it with your kids or students for classroom use. This Thanksgiving worksheet is a fun way for each kid and family member to fill out the grateful worksheet and is perfect for this time of the year and the holiday season.
Our "I am thankful for" free printables are a great idea, especially for younger kids, to help them express gratitude from their thankful hearts. This activity encourages the entire family to reflect on what they appreciate and serves as a wonderful bonding experience, nurturing a sense of thankfulness in all participants.
We highlighted this Thanksgiving Crafts along with some other fun kid's crafts in our November Craft Ideas along with our 101+ Kids Crafts.
You also do not want to miss our 101+ Printable Coloring Pages For Kids and 101+ Printables For Kids full of Crafts and Coloring Pages.
Happy Thanksgiving!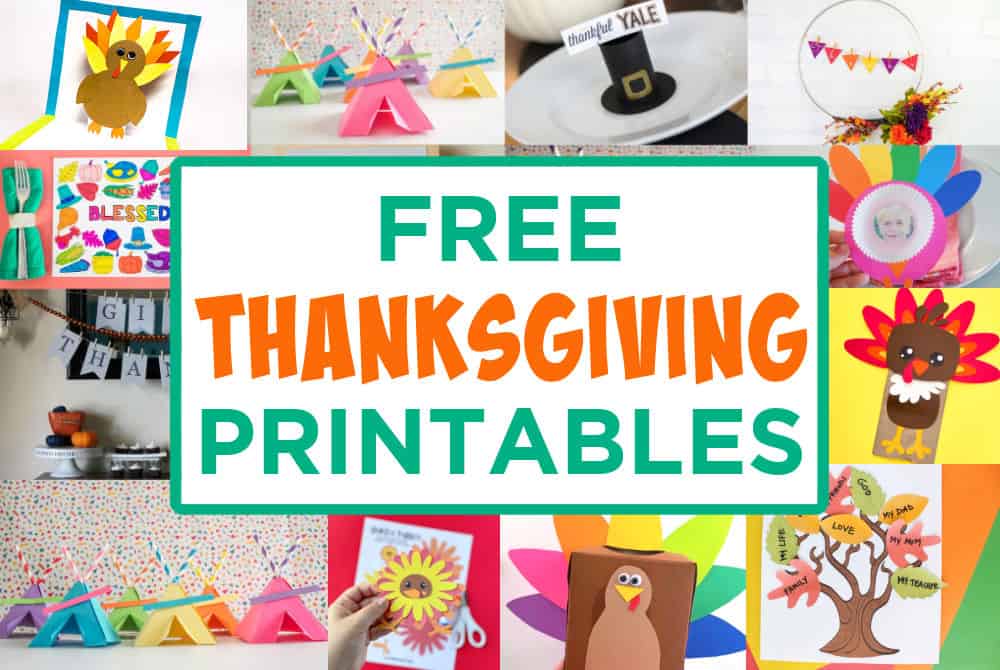 Download These Free I Am Thankful For Printable
Enter your name and email address in the form below to download the free PDF file. If you do not wish to enter your information, you can always find the i am thankful for free printable in our shop.
*For personal use only
CONNECT WITH MADE WITH HAPPY!
Be sure to follow me on social media, so you never miss a post!
Facebook | Twitter | Youtube | Pinterest | Instagram
Looking for crafts to keep your child busy? Sign up for my 5 Ridiculous HAPPY Activities in under 30 minutes for your kids delivered directly to your inbox!
Find and shop my favorite products in my Amazon storefront here!
I Am Thankful For Printable
PIN IT TO YOUR DIY BOARD ON PINTEREST!
FOLLOW MADE WITH HAPPY ON PINTEREST FOR ALL THINGS HAPPY!